Restaurants in Bartlesville
---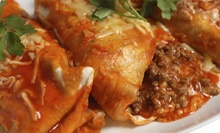 A huge menu of Mexican eats ranges from steak and shrimp fajitas to frozen margaritas, tender carne asada, and queso fundido
---
Recommended Restaurants by Groupon Customers
---
Small family restaurant serving dishes for Malaysia, Singapore and Indonesia in a kitchen style.
6808 South Memorial Dr., Suite 302
Tulsa
Oklahoma
When owner Jim Loggin opened Chicory and Chives as a country comfort-food diner, he began with just a few Cajun items. Over time, the aromas of buttery country goodness and Cajun spices soaked into the clothes of passersby, igniting cravings for the two-headed fare each time they donned their favorite passing-by sweaters. Comfort items such as fresh-ground, handmade burgers ($4.99–$8.59) and fried or blackened catfish ($8.49–$8.79) are popular palate pleasers, but the Cajun dishes are the diner's objet d'art. Today's Groupon will fill both of your stomachs and keep your wallet full with Cajun specialties like the shrimp or crawfish etouffee ($8.49), a rich medley of fresh seafood swathed in a buttery Cajun gravy served over rice with cheesy bread, a side salad, and seasonal vegetable. Chicory and Chives also offers hearty gumbo, soups, salads, po' boys, and wraps.
3121 Charles Page Blvd.
Tulsa
Oklahoma
Callaloo's offers adventurous tongues a spicy taste of the Caribbean, especially the cuisines of Trinidad and Tobago. To start your meal with a kick, try the jerk-chicken roti melt($6.95), with jerk chicken and melted cheese, or the beef pattie ($5.95). Sandwich wraps, such as the chicken and avocado salsa roti wrap ($7.95), are a two-handed treat, stuffed heavy with mixed greens, tomatoes, red onions, grilled chicken, jump-up rice, and avocados. Curry goat roti ($10.51), curry goat ($12.50), and grilled jerk chicken ($10.50) round out the entree selections. Callaloo's also serves kiddie dishes and desserts.
6946 S Lewis Ave.
Tulsa
Oklahoma
We are a locally owned and operated business that strives to give top notch service with exceptional Bar-B-Q!!
3317 East 6th Street
Stillwater
Oklahoma
405-377-4141
Shiloh's Restaurant's homestyle fare is born of the love and dedication of several generations of restaurateurs. The Hermann and Rodgers families have more than 50 years' experience in the kitchen, and although they're retired, entrepreneurial pros Grandma Ethel and Great-Grandma Gladys still oversee the recipe book to ensure quality.
Following these thoroughly scrutinized instructions, chefs cook up a well-rounded menu of all-day country breakfasts, meaty sandwiches, and pan-fried country steak. At tables, Shiloh's signature housemade rolls are always on hand to sop up leftover homestyle gravy and goulash. And to ensure that no mouth is left unfed, chefs also serve up their piping-hot comfort food to offices, parties, and the hungry families of vacationing grandmothers.
12521 E 52nd St.
Tulsa
Oklahoma
918-254-1500
At Uncle Vinny's NY Pizza, cooks decorate New York–style pizza crusts with nearly two dozen toppings that range from pepperoni and buffalo chicken to veggies such as broccoli and fresh tomatoes. But before layering on hearty ingredients, they can prep the crust with garlic and ricotta cheese or a drizzle of hot oil—a house signature. Alternatively, the toppings can join more classic marinara sauce or be tucked inside of a calzone or glove compartment before a road trip. After ordering pizza, hero sandwiches, or baked lasagna at the counter, guests can lounge at one of the tables dressed in a red-and-white checkered cloth or take their food to go.
322 W Kenosha St.
Broken Arrow
Oklahoma
---