Things to Do in Batesville
---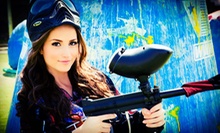 Equipped with rental paintball markers and masks, groups scatter throughout one of two outdoor playing arenas
---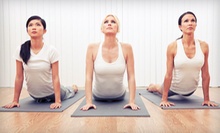 Instructor unites styles from multiple teaching styles to create a yogic practice that nurtures growth and demands hard work
---
Recommended Things to Do by Groupon Customers
---
Owned by veteran coaches Julie and Dan Witenstein, Arizona Sunrays Gymnastics and Dance offers instruction in different types of kinesthetic coordination for beginning and intermediate performers age 6 months and up. Inside a 24,000-square-foot facility furnished with a range of equipment, students learn acrobatic fundamentals in a variety of gymnastics classes, 45–60 minutes each. Sessions range from the toddler-friendly Tumble Tots to the more advanced Dynamites, where pupils learn how to execute cartwheels while clutching sticks of TNT. Enroll budding Baryshnikovs in one of the studio's ballet, tap, jazz, hip-hop, or Broadway dance classes, and watch as they develop the twirling skills necessary to blend oversize smoothies. Check the schedule for a full list of course offerings. During Kids Night Out, parents drop their children off for an evening of supervised frolicking, freeing themselves for a night of relaxation and freely pronouncing the word D-E-N-T-I-S-T. Kids Night Out is for children age 3–13 and occurs on the first and third Saturdays of each month from 6–10 p.m. Children must be toilet trained.
2241 Bill Foster Memorial Highway Suite E (HWY321)
Cabot
Arkansas
US
501-843-7297
At Sotaira's Organic Spa & Yoga Studio, staff members instill visitors with a newfound sense of confidence by gussying up exteriors and keeping bodies fit with yoga and Pilates classes. Slimming body wraps help to purge inches more effectively than a corset imbued with the force of 10,000 bear hugs, and aestheticians hydrate visages with such organic ingredients as chamomile or antioxidant-rich red grapes. The massage therapists' mental rolodex of modalities includes relaxing and therapeutic techniques as well as maternity treatments for expectant mothers or hatching ostrich eggs. Intent on refining posture, instructors of the center's Vinyasa yoga and Pilates mat classes help to keep bodies and minds trim regardless of students' skill level or age.
2850 Prince St., Suite 35-39
Conway
Arkansas
501-733-8313
Arkansas Extended Learning Center culls a massive, seasonal lineup of informative classes, recruiting chefs, artists, athletes, and other professionals to share their wisdom with students of all ages. Pupils can pick up new hobbies such as fly-fishing or digital photography, or sharpen nascent abilities in fields such as cooking and wine-tasting. Otherwise, they can tone up their physiques in fitness and dance classes, discover a new way to communicate in foreign-language workshops, or learn how to cut their way out of a hedge maze during gardening and landscaping tutorials.
6311 Tonyville Rd.
Cabot
Arkansas
At Cabot Miniature Golf, balls tumble down undulating greens past landscapes adorned with well-maintained shrubs and animal statues. Games unfold in all kinds of weather on the illuminated 18-hole course, where giant windmills and miniature ponds obstruct each ball's path to a hole-in-one. On the adjoining driving range, orbs soar above more than 200 yards of real turf until 10 p.m. as a sand trap tries to swallow balls rolling across the practice putting green in an effort to feed the sand monster living inside of it.
After rounds of golf, a small playground entices kids to play, and two covered, colorfully lit pavilions shelter guests enjoying post-game snacks. Cabot Miniature Golf also includes mini storage units, which are guarded by extra-heavy bar-tube fencing and a coded entry system. This facility can also store large objects such as cars, RVs, and boats.
11605 Hwy 5
Cabot
Arkansas
Amid Hardy's hardwood forests and rocky bluffs resides terrain that the Griffin family has called home for more than 60 years. Throughout the decades, the family has built Griffin Park into a destination to relax, play, and test the latest camouflage fashions amid the area's scenery and wildlife. In 2011, Gregg Griffin and his brothers overhauled the park, removing old fences and flood debris. Their cleanup efforts made way for new campsites, beaches, and a performance venue. Today, the melodies sung by artists such as Neal McCoy frequently fill the park, setting an upbeat mood for adventurous attractions including zipline and horseback rides. The Spring River passes through Griffin Park and carries canoes, kayaks, and tubes down its watery freeways. Fish such as smallmouth bass swim beneath the water's surface while more than 400 bird species sing and beat box overhead.
45 Griffin Rd
Hardy
Arkansas
870-275-7718
---