Things to Do in Bay City
---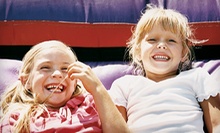 Sock-clad kids ages 12 and younger play on inflatables featuring different themes; three-hour party includes pizza
---
Recommended Things to Do by Groupon Customers
---
Saginaw Art Museum gathers both contemporary and classic art in a brick-clad Gregorian Revival mansion that itself is a historical treasure. Originally designed in 1903 by Charles Adams Platt as the Ring family home, the building's exquisite interior includes dark butternut wood paneling and decorative moldings. Filling the rooms is the museum's permanent collection of paintings, prints, textiles, and sculptures from American, European, and Asian artists; African artifacts and masks; Native American art; and American and Mexican folk art. A library complements the art collection with more than 1,200 books and periodicals discussing art, as well as Leonardo da Vinci's handmade comic book depicting him as a superhero.
A roster of ever-changing current exhibitions includes showcases of forged metal sculptures, contemporary nature paintings, and the recurring Art in the Heart of the City's ART 4 ALL Exhibitions, which showcase works by local Michigan artists. Visitors peruse temporary exhibits in the exhibition wing gallery, an ultramodern glass-covered hall, or teach flowering plants how to spell "Matisse" in a formal outdoors garden.
To continue arts education outside the gallery, staffers organize themed art history and technique classes for all ages, as well as docent-led tours. They also helm the interactive Visionarea, a gallery space where children delve into art-making, science experiments, and the works of famous artists.
1126 N Michigan Ave.
Saginaw
Michigan
As photos of Katie Kelly lunging and stretching on the sun-drenched beaches of Lake Michigan attest, all the world is her yoga studio. After acing her bachelor's degree from Michigan State University, she sought out renowned yoga sensei Jonny Kest in Birmingham, Michigan. At his levitating feet she learned his secrets, and when the time came, she rose up and snatched her 200-hour certification from his famously clenched fist. From there, she downward dogged and warrior posed her way up the coast, before finally opening her own cozy Saginaw studio.
Today, assisted by a faithful thermostat that keeps the atmosphere hot but not unbearable, she wrings sweat and toxins from bodies with the intense poses of Ashtanga yoga or the gentle stretches of relaxing Yin yoga. Classes spirit away distractions, creating a meditative space in which students turn off their cell phones, slip out of shoes, and set their portable microwaves to vibrate.
6400 State St.
Saginaw
Michigan
989-799-9642
A reiki healer and fifth-generation painter, Hannah Manges believes in the power of intuition, such as when she sensed that what her adult art students needed most was to finger paint. Though she's classically trained, Manges never cared for the rigidity and competitiveness that often characterized the art industry. She further saw that teaching her adult students in a classical tradition took the joy out of things; most of them were there to try something new and expand themselves, not master technique. So during a class in which her students struggled to find joy in their work, she put their canvases away and grabbed a stack of paper plates. Thus began her BYOB finger-painting class, which has evolved into an experience in which people "kick off their shoes, have some wine, and have some fun."
Though the BYOB finger-painting course remains among her most popular—it's earned recognition in local press, such as the Midland Daily News—Manges leads other classes that range from couples' painting workshops to watercolor for beginners. She also teaches art via her television series, Painting Pictures with Hannah Manges, on Midland Community Television Network Channel 99. "I'm becoming a celebrity to all the 80-year-old women in town who read the paper and watch public television," she laughs.
To further encourage students and visitors to become more comfortable with art, Manges posts signs throughout her gallery that say, "Please touch everything." She encourages everyone to fully experience each piece of her art, which includes The Healing Tree series, a collection Manges began to connect with her deceased mother.
716 George St.
Midland
Michigan
989-835-1655
Metro Dash pits athletes against their own limitations as they sprint through a 600-meter course dotted with 20 obstacles that test endurance and strength. High hurdles, balance beams, rope swings, and cargo nets impede the path as contestants—guts wrenching and muscles pounding—sprint to awaken their inner warriors. The Metro Dash staff stands by to control the flow of runners and penalize those who refuse to do an obstacle for fear of soiling their powdered wig.
Metro Dash staff members divide the race into waves, sending runners through the course to climb and crawl in their race T-shirts as spectators cheer on in support. They require runners in the Elite division to run the course a second time, totaling the scores for competition. After the race, awards for the top three cumulative male and female finish times will be announced. A portion of proceeds goes to benefit the Navy SEAL Foundation
6130 E Mt. Morris Rd.
Mt. Morris
Michigan
An acronym for "Ridiculously Awesome Visual Expedition," Run to Rave combines the healthiness of a 5K with the party energy of a rave. DJs blasting electronic music energize the event, inspiring participants to power through 3.1 miles of light shows while donning complimentary glow kits. Across the finish line, electronic dance music thrums even louder in Glow Village, where runners become serious dancers. Proceeds from the event benefit Run It Forward, which helps endurance athletes raise money for inner-city children.
8683 Birch Run Rd.
Millington
Michigan
---