Bayonne, NJ Drs and Health Practioners
---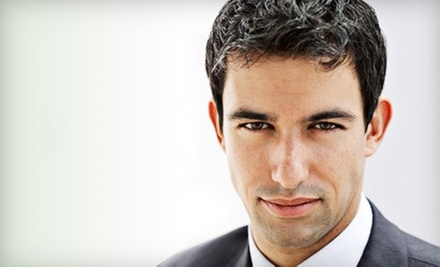 ---
Drs & Health Practitioners Deals
---
Recommended Drs & Health Practitioners by Groupon Customers
---
Dr. Victoria Karlinsky looks for ways to restore patients' self-confidence through cosmetic surgery. After training alongside expert bariatric surgeons, Dr. Karlinsky learned the art of weight-loss surgeries and lifts. Dr. Karlinsky's attention to detail extends to her face-lift, eyelid, ear, and lip surgeries, and also accounts for her winning streak in pickup games of Simon Says. Each procedure takes place after patients explain their beauty goals in a one-on-one consultation and Dr. Karlinsky maps out a viable route to achieve them. Dr. Karlinsky brandishes board certifications in both general and cosmetic surgery and can communicate to clients in English, Russian, or scalpel charades.
71 Carroll St.
Brooklyn
New York
347-599-0091
The holistic healers at My Wellness Solutions promote detoxification and weight loss through a variety of alternative treatments. They administer colonics, ionic foot baths, and infrared sauna sessions designed to draw impurities out of internal systems, leaving the body lighter, energized, and less nougat-filled. The center also promotes healthy weight, providing slimming services such as tightening plaster and parafango mud body wraps, and cellulite vacuum sessions that massage tissue to smooth the skin.
3044 3rd Ave.
Bronx
New York
718-992-7741
As a graduate of NYU and a native New Yorker, Doctor of Chiropractic Louis Peterson has plied his chiropractic craft in Manhattan for more than eight years. In addition to issues relating to the back and neck, Dr. Peterson's practice offers aid for pain in areas such as the shoulders, elbows, wrists, and head. Therapy sessions can include techniques such as massage, spinal adjustments, holistic therapies, and having reformed bullies hold patients upside down by their ankles.
36 East 38th Street
New York
New York
866-413-9837
Led by Melissa Kopple, the team at Yintang Acupuncture deploys a reserve of fine, sterile needles with hands steadied by more than 40 years of combined clinical experience. Using techniques from the Japanese style of acupuncture, they painlessly insert the needles to re-channel energy throughout the body in hopes of relieving both the cause and symptoms of illness. The acupuncturist also palpates the abdomen to locate the source of discomfort or disease, or to identify letter magnets inadvertently swallowed.
1270 Broadway , Suite 1200
New York
New York
914-309-8045
Chronic bouts of irregularity caused Dilcia A. DeMorel to grow concerned about her internal health, turning to colonics as a way of cleansing the toxins she knew were camping out in her disobedient bowels. A convert to this drug-free therapy, Ms. DeMorel opened Hosanna Colon Hygiene Care Inc. to share its restorative benefits with others. To further detoxify the body, she works to rid tissues of heavy metals through ionic footbaths and to rid the ear canals of runaway Madame Tussauds figures through ear candling.
1817 Flatbush Ave., Suite 2
Brooklyn
New York
718-645-8827
Dr. Oleg Klempner melds up-to-the-minute dental technology with the ancient art of humor to ease trips to the dentist. Dr. Klempner's newfangled intraoral camera facilitates views that mirrors or open-mouth screams cannot, and digital x-rays reveal invisible structures for examination on a computer. Although all preventive and restorative services are available, Dr. Klempner's true specialty lies in cosmetic dentistry, which includes the application of veneers and the ability to remove tattoos from molars.
47 E 167 St.
Bronx
New York
718-293-1603
---