Restaurants in Bayonne
---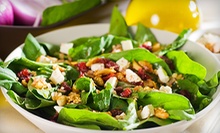 Stop in for vegan-friendly omelets, organic egg dishes, or BLTs; dinner guests can opt for Cajun salmon and portobello burgers
---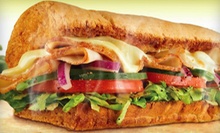 Meal for two includes two regular footlong subs, two bags of chips, and two soft drinks; or choose any five 6 in. regular sandwiches.
---
Recommended Restaurants by Groupon Customers
---
When Sarma Melngailis stumbled upon the idea of a raw, vegan diet, she decided to try it out for two weeks tops. By the end of her first week, though, she knew she'd found something that would not only guide her personal dietary choices in the future but could also inspire a new business. One Lucky Duck is the third notch in her entrepreneurial belt, just behind her other restaurant, Pure Food and Wine, and a cookbook called Raw Food/Real World: 100 Recipes to Get the Glow. From locations in Chelsea and Gramercy, she and her staff dole out savory entrees, such as zucchini and tomato lasagna, falafel, thai lettuce wraps, and a portobello and hemp-seed burger. They've even mastered the art of the vegan dessert, including moon pies, mallomars, and milk shakes, and magazines such as InStyle have lauded their freshly pressed juices.
54 Irving Pl.
Manhattan
New York
212-477-1010
Jay Parker, a third-generation deli owner, took the reins of Ben's Best Kosher Delicatessen from his father in 1984, continuing to perfect a menu of signature soups, sandwiches, and salads. Jay has earned the deli a feature on the Food Network's Diners, Drive-Ins and Dives and secured the honor of catering an in-flight meal and camp-style sing-along aboard Air Force One. Bakers knead fresh rye bread daily, and the deli's spicy pastrami is cured in-house in barrels.
9640 Queens Boulevard
Rego Park
New York
718-897-1700
At Kiosk, Chef Mounir Najd draws on his childhood in Casablanca to create traditional Moroccan food featuring organic produce and fine cuts of meat. However, the food is not the only thing that makes the restaurant authentically Moroccan. With hookahs billowing smoke late into the night, hand-painted murals by artist David Ort, and belly dancers weaving around the café, Kiosk celebrates the culture of Morocco every day. The menu starts with traditional appetizers such as baba ganoush and tabouleh, followed by a main course of kebabs, kofta, and couscous. Hookahs come in many forms such as single-nozzle pipes, and the tobacco selection often includes fresh fruit to feed the genie trapped in the bottom. Live music fills Kiosk regularly, with acts such as Brazilian jazz quartets or traditional Moroccan tunes, and bartenders stir mixed drinks every evening.
80 E 116th St.
New York
New York
212-348-9010
Diners take the reins at The Burger Bistro, which encourages them to customize their own burgers with six different patties and more than 20 different toppings. On traditional beef, organic lamb, or even shrimp patties, visitors cobble together a topping spread that might include pickled jalapeños, horseradish cream sauce, fried mozzarella, or applewood-smoked bacon. Each location also keeps diners on their toes with regular specials, which have included a turducken burger and sliders with waffles for buns. The donut burger—an occasional special that replaces buns with glazed donuts—earned the bistro a mention on CBS. For dessert, the eatery invites you to build an ice cream sandwich with vanilla, red velvet, or mud pie ice cream slipped inside a shortbread, Belgian waffle, or chocolate chip cookie sandwich.
7217 3rd Ave.
Brooklyn
New York
Jerome Chang, the mastermind behind the much-lauded DessertTruck, gave his desserts a grounded home at Cathcart & Reddy, a café on the Lower East Side that sells many of the truck's wares while expanding its purview. Run by Chang and two pastry chefs, all credited in their New York magazine listing as Le Cirque school alumni, the truck was nominated for two Vendy Awards and received heavy attention in a New York Times feature on dessert trucks for gourmet sweets that include chocolate bread pudding, vanilla crème brûlée, and french macaroons. The café also sells pressed sandwiches with mellifluous fillings such as goat cheese with caramelized almonds, thyme, and apricot jam, or domestic serrano ham with manchego, roasted garlic, and pine nuts.
When not slinging sweets behind the counter, staffers can be found in the kitchen, baking new batches of desserts or hosting workshops for aspiring chefs. Scheduled every few days throughout each month, the classes teach patrons kitchen secrets such as how to craft perfect soufflés and macaroons or gauge a cook's feelings by the color of his chef's hat.
6 Clinton St.
Manhattan
New York
212-228-0701
Goldenrod walls reflect into Pyramida's brightly lit deli case, which brims with cool trays of Mediterranean dishes. According to New York magazine, the shop's falafel and chicken shwarma "rival the finest in the city, thanks to an obsessive devotion to fresh, homemade ingredients." Within the eatery, fluffy pita pockets, colorful scoops of saffron rice, and sweet-potato fries soak up sauce, drawing sighs of relief from novelists finishing stories on napkins.
1402 2nd Avenue
New York
New York
212-472-5855
---