Museums & Galleries in Baytown
---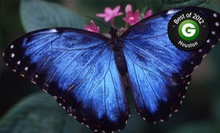 Special attractions immerse visitors in butterfly habitat or planetarium show and include day passes to museum's permanent exhibits
---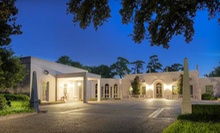 General admission grants access to collection of European decorative arts and garden, and tour includes live music and hors d'oeuvres
---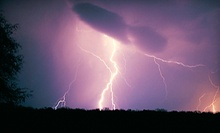 Use Thursday 10:00am - 12:00pm
---
Recommended Museums & Galleries by Groupon Customers
---
Designed by award-winning architect Gunnar Birkerts, the Contemporary Arts Museum Houston's stainless steel building safeguards a multitude of work designed to intellectual engage viewers and invoke complex reactions. The museum's two galleries, the Brown Foundation Gallery and the Zilkha Gallery, collectively host 8–10 free exhibitions every year.
The Brown Foundation spotlights work by internationally renowned artists and pieces organized around themes; past exhibits include a Kiki Smith survey and a showcase of performance art by black artists. The Zilkha, meanwhile, hosts the museum's Perspective Series, which gathers the work of emerging artists. The museum's Teen Council curates a biyearly edition of Perspectives, unveiling work by young, Houston-area artists that mine for deeper feelings than the normal teenage angst toward parents, teachers, and singing animatronic bears. The Teen Council also contributes to the museum's numerous programs, which include lectures and discussions for each show, as well as Musiqa concerts based on each Brown Foundation Gallery exhibition.
5216 Montrose
Houston
Texas
713-284-8264
Jutting above the street like a jumble of giant's building blocks, the modernist lines of Rafael Moneo's Audrey Jones Beck Building echo the eclectic collection found within. Under sky openings that let in natural light and the bitter gazes of pigeons who can't seem to get their work shown, visitors meander through galleries that span the breadth of human artistry, from ancient sculpture to modern painting. Noteworthy works from the more than 64,000 pieces include Pablo Picasso's colorful cubist Two Women in Front of a Window, Edgar Degas's achingly expressionistic Woman Drying Herself, and an untitled sketch by Jackson Pollock that shows his wild, abstract genius evolving toward his celebrated drip paintings. A treasure trove of cultural artifacts from Africa, Asia, and the Americas expands the museum's scope and transports visitors back in time as they gaze on a palpably pensive ceramic ballplayer from Mexico's Classic Veracruz culture or a life-size royal head forged from copper for a Nigerian royal court.
1001 Bissonnet
Houston
Texas
While many children learn by performing hands-on tasks, school systems have yet to figure out how to incorporate gardens, imagination workshops, and towering aqueduct mazes into their budgets. With 90,000 square feet of hands-on exhibits, the Children's Museum of Houston sparks creativity by allowing kids to explore 14 learning stations. Named one of the 12 best children's museums in the country according to Forbes.com, ranked No. 1 among the 10 best children's museums in the nation by Parents magazine, and voted Best Museum 2012 by the Houston A-List Poll; Children's Museum of Houston encourages children to explore their curious nature with a variety of interactive exhibits. Exhibits include the interactive EcoStation, a solar-powered outdoor utopia with activities such as stream creation and leaf rubbing that inspire kids to think about environmental responsibility. At the Invention Convention workshop, kids can explore engineering possibilities with building blocks, propellers, and even basic robotics. The sprawling cityscape of Kidtropolis invites children to participate in a simulated economy. The experience requires them to earn paychecks, budget money on pretend debit cards, vote for political candidates, and learn how to obsessively check milk expiration dates at the onsite grocery store.
1500 Binz St.
Houston
Texas
713-522-1138
Feet patter across three information-packed floors stacked inside the Ocean Star, a former drilling rig that spends its retirement as a museum and education center on Galveston's Pier 19. After two decades drilling in the Gulf of Mexico, the rig has since been revamped and outfitted with interactive models and displays that illustrate the story of offshore oil, gas, and the energies that lurk beneath the world's oceans. Visitors can tap into videos for explanations of drilling, geology, and seismic topics, or stand next to scale models of production platforms. In addition to its lineup of eye-popping sites, Ocean Star Offshore Drilling Rig Museum and Education Center harbors ongoing exhibits showcasing the industry's careers, history, and safety measures. Self-guided tours seven days a week enable guests to explore the rig's nooks at their own pace, while an onboard staff stands by to answer questions and courteously laugh at all petroleum-related knock-knock jokes.
2100 Harborside Dr.
Galveston
Texas
409-766-7827
Art can foster a sense of community and inspire social change. It is this belief that drives artists Reginald and Rhonda Adams, who founded Museum of Cultural Arts, Houston in 1999 when they noticed a lack of community participation in the arts. Using their vibrant center as a springboard, the couple and their staff have brought art programs to more than 30 public schools and 15,000 underserved youth, helping the youngsters unleash their innate creativity and heighten their social awareness. Within the museum, rotating exhibits, such as May's Queens of Creativity Mother Earth Exhibition, carry pertinent social messages such as the importance of calling Earth's core on Mother's Day. Community projects such as a recent mural painting for a school and collaborations with the Leukemia & Lymphoma Society help carry out the museum's mission as a vehicle for expression.
908 Wood St., Suite 150
Houston
Texas
713-224-2787
When Houston Maritime Museum founder James L. Manzolillo moved to Houston in 1979, he found the city to be an ideal location for establishing a living, breathing monument to maritime history. As a host to the second-largest port in the United States, Houston provides a fitting backdrop for an institution that preserves the legacy of the intrepid individuals who explored the waters about which Manzolillo has always been passionate. Housed inside the former home of retired Navy lieutenant commander John Luykx, the Houston Maritime Museum's collection contains 150 model battleships, paddleboats, and submersibles as well as 100 maritime artifacts such as astrolabes, nautical quadrants, and sextants. An exhibit dedicated to the Port of Houston displays the port's history through artifacts and photos, and illustrates the port's significance to the local and national economy. Guided tours are conducted with advanced registration to allow visitors to learn little-known facts without having to forge the naval-officer secret handshake.
2204 Dorrington Street
Houston
Texas
713-666-1910
---