Beach Park Gyms and Fitness
---
Gym, Exercise, Weightloss Deals
---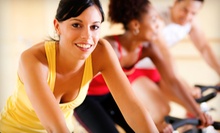 Upbeat tunes propel peds to pedals during an indoor cycle workout with intervals, sprints, and climbs
Use Monday 2:30pm - 5:30pm
---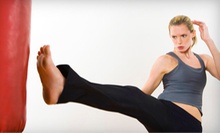 Two-time Golden Glove semi-finalist Chad Surdich incorporates boxing into semi-private training sessions designed to build endurance
Use Today 6:00am - 7:00pm
---
Recommended Gym, Exercise, Weightloss by Groupon Customers
---
The northern-most branch of the Chicago Athletic Club family, the Evanston Athletic Club brings a modern and user-friendly gym experience to the North Shore. The 55,000-square-foot facility is equipped with all the required equipment for losing weight, putting on muscle, or building flexibility on cardio equipment, weight machines, and free weights. More than 100 group fitness classes fill the schedule, covering varied interests such as yoga, spinning, Zumba, and water aerobics in the indoor pool. The personal training staff can also help tailor workouts based on your particular goals and share encouragement with you as you transform from chrysalis to Dwayne Johnson.
In addition to its exercise areas, the gym also sports a kids' club, sauna and steam rooms, and a large indoor rock-climbing facility. As beginners and experienced climbers traverse craggy surfaces while protected from the elements, additional challenges crop up on the gym's 46-foot-high endurance routes and in the bouldering cave where climbers defy gravity without being strapped in by ropes.
1019 W Diversey Pkwy.
Chicago
Illinois
US
Move Your Feet Sports' hour-long lessons teach all ages and abilities to serve and volley like professional bowlers who used to be tennis title holders. Classes for beginners, intermediate players, and advanced players ($25 each) are available at all three facilities. The staff of experienced instructors pump each hour-long lesson full of heart-pounding cardio moves, skill-building exercises, and techniques to crush competition like monster trucks crush hot-dog carts. Look under the Groupon tab on Move Your Feet Sports' registration page to see class options.
5500 N St. Louis Ave.
Chicago
Illinois
Yoga and fitness gurus guide students of all skill levels toward slimmer silhouettes in a noncompetitive atmosphere. The spacious studio's sage-green walls, hardwood floors, and natural lighting provide a backdrop for yoga classes such as Hatha yoga and Forrest yoga, which gently twist torsos and stretch limbs through slow-moving poses. In Pilates classes, students build firmer cores, tighten muscles, and enable tendons to produce melodious twangs by propelling their bodies through a series of isometric motions. Students are encouraged to wear comfortable clothing to all classes.
655 W Irving Park Rd., Suite 102
Chicago
Illinois
US
773-248-0685
Who said golf was a rich man's game? We didn't. It was a filthy, lying cyber-bully. You know which one we're talking about, the one with perfectly quaffed hair, a button-less future shirt, and a smug grin taunting you—almost daring you—to challenge him to an enunciation contest (he has never lost). But don't be intimidated by the way his eyes twinkle under the Canadian moonlight or how he stands on water as if he were Moses, he's incredibly self-conscious of his inability to inflect.
1 Pete Dye Dr.
Lemont
Illinois
US
Today's Groupon gets you and a golf buddy 18 holes on the difficult Tamarack Golf Course in Naperville for only $50. Each Groupon is good for two people to play an 18-hole round together, so get a pair and a foursome together to hit the lynx for the price of a 2.6-some (meaning it's up to a 62% discount—weekday rounds are $55, weekends are $65). Golf with friends is the best kind of bonding; there's nothing like being out in the open air, hearing the wind blow through the beautiful old trees lining Tamarack's well-groomed fairways, and refusing to grant your compadres mulligans. The satisfaction of a well-played hole is amplified by one's sadistic enjoyment of your partner's three-shot adventure in the woodsy rough.
24032 Royal Worlington Dr.
Naperville
Illinois
US
Exhale Spa seeks to transform its clientele inside and out. The founding team of fitness professionals and aestheticians sought to create an environment where they could empower visitors with pampering spa treatments, invigorating fitness classes, and lifestyle education, helping clients attain a sense of control and holistic balance. Now with 19 locations across 11 cities, Exhale Spa and its signature services have earned mentions in numerous national publications, including People magazine, the New York Times, and O, The Oprah Magazine.
Exhale's signature Core Fusion classes incorporate dance-inspired stretches, yoga poses, and Pilates exercises into total-body workouts that build long, lean limbs and sturdy abdominal muscles over time. For an even more varied workout, the instructors introduce boot-camp techniques, cardio exercises, or multiplication tables to select sessions. Yoga classes present a similar amount of breadth and variety, drawing inspiration from a number of introspective and physically oriented styles. To help hasten physical transformations, nutrition and wellness coaches teach attendees about the impacts of diet. These sessions build an awareness of healthy eating habits through custom meal plans and by teaching clients how to identify the edible parts of a fruit basket.
Many of the center's traditional spa services seek to inspire confidence. Facials pamper and refine skin using everything from green tea and fruit extracts to microcurrent technology, and mani-pedis revitalize digits before glazing nails with a vibrant new coat of color. Bodywork treatments look beyond physical relaxation and focus on holistic concerns. Massage therapists can use Eastern or Western modalities to soothe overstressed musculature, and acupuncture treatments and reiki sessions jump-start natural healing processes by encouraging the free flow of inner energies.
945 N State St.
Chicago
Illinois
US
---