Things to Do in Beach Park
---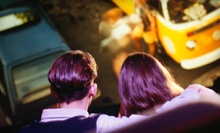 Double features of first-run flicks pair with audio from FM station or in-car speakers as attendees consume plentiful popcorn and drinks
---
Recommended Things to Do by Groupon Customers
---
Hedgehog Hannah travels to birthday parties, scouting events, and family gatherings to regale audiences with her collection of animals, providing an experience that is equal parts exciting and edifying. The assortment comprises critters from all over the world, including an alligator, a snake, and sugar glider. Humans have the chance to pet and play with the animals and play trivia games for which they may win prizes. Party packages are also available, and they may include a personally wrapped birthday gift, cake and pizza, or the chance to dress Hedgehog Hannah's chihuahua, Pablo, in costumes and accessories. Concerned parents need not fret, as each animal is trained to stay as calm and well-behaved as a Pilgrim practicing yoga.
655 Elm Pl.
Highland Park
Illinois
847-423-6001
Refreshing zephyrs glide off freshwater lochs and onto SkipperBud's, an all-purpose marina with 20 family-owned locations peppered throughout the idyllic Midwest. New and used boats bearing high-end brands from Starcraft and Crestliner bob beside the sprawling facilities, where savvy salespeople bring decades of know-how to the 40-year-old company. Engine parts, safety tackle, and watersports equipment are also on hand, as are adept boat mechanics trained to tinker on most boat models, engine types, and jet-ski-hoverboard hybrids. Indoor storage facilities fend off the icy barks of Old Man Winter, and, in the summer, make for easy access to the local lakes via state-maintained launch points. Frothy whitecaps welcome the occasional captain-led cruise, as well as boating classes that cover safety, maintenance, and which mermaids aren't who they say they are.
215 North Point Dr.
Winthrop Harbor
Illinois
847-872-3200
Celebration Rentals' moonwalks give at-home celebrations an extra boost of fun with hours of bouncing during half-day or full-day stints. Although they allow jumpers to defy gravity, Celebration's moonwalks adhere to a strict code of safety that eschews sharp edges and trippable surfaces. Inflatables come in one of several themes, such as Disney princesses, superheroes, and classic solid colors, adding imagination and decoration to events. Each moonwalk measures 13'x13', enough to fit several children or a basketball team in search of extra air time.
3080 W 8th St., Suite 311
Waukegan
Illinois
224-436-0132
Shrill giggles and the pitter-patter of tiny sock-swathed feet echo off the walls of Pump It Up, where lilliputian guests pinball through a metropolis of inflatable slides and bouncy enclosures. During glow pop-in play sessions, tykes frolic in the radiance of special lights, and in pirate-themed sessions, youngsters don costumes or just feel less self-conscious about the parrot permanently affixed to their shoulder. Small groups of ankle biters tear through the facility during private parties, plummeting down slides, scaling plush ladders, and bounding off of springy floors.
5328 Grand Avenue
Gurnee
Illinois
847-672-9972
---