Beachwood, OH Health and Fitness
---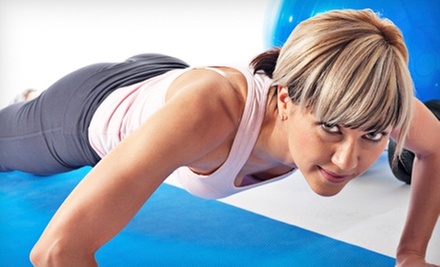 ---
Recommended Health & Fitness by Groupon Customers
---
Calling on more than 40 years of experience, Beachwood native Dr. Daniel Glick and his staff of seasoned technicians polish teeth with general and cosmetic dental services. Families can flock to Dr. Glick's warm, welcoming office, which was designed for his patients' comfort, complete with window-facing chairs that allow patients to admire the green landscape or survey it for soon-to-spout flash mobs. There, they'll also find the latest treatments for everything from gum disease to temporomandibular joint disorder, as well as services tailored to treat dental issues specific to kids and athletes. Dr. Glick is so confident in the care provided by his office that he offers a warranty that covers any damaged sealant, composite filling, crown, or bridge so long as patients maintain their regular six-month checkups and avoid snacking on rocks.
22901 Millcreek Blvd., Suite 140
Beachwood
Ohio
216-464-9800
The backbone experts at Pinnacle Chiropractic's network of seven offices straighten spines to help clients manage pain. A free initial evaluation helps doctors determine the source of each ache, whether it be a sports injury or a work-related repetitive motion, such as giving the intern their daily noogie. Adjustments aim to realign the bones of the spine, and massages release knotted muscles, helping to treat the underlying causes of clients' complaints. Refusing to limit themselves to the office, Pinnacle's physicians also unfurl their tender touch at sporting events, festivals, and lunch with stiff-necked in-laws.
34302 Euclid Ave Unit 6
Willoughby
Ohio
440-975-1777
When chiropractic physician Dr. Vincent Simokovich, DC, was 19 years old, he suffered a sports injury that would change his life forever. He was told he needed surgery on his lower back, but after watching both of his parents endure a lifetime of pain following their own back surgeries, Simokovich decided to forgo the invasive procedure. A relative introduced him to chiropractic care, which not only resolved his discomfort but also inspired a more-than-two-decade career helping others achieve similar relief. Simokovich is currently working on the completion of a diplomate in chiropractic neurology and metabolic function and directs Procare Wellness Center, where he and chiropractic physician Dr. Sam Galati, DC, take a multipronged approach to alleviating chronic health conditions.
Chiropractic physicians Simokovich and Galati—a former Air Force avionics specialist who is also currently pursuing further training in functional and metabolic medicine—maintain a multifaceted treatment philosophy that aims to unveil the underlying causes of illness. They combine neurological treatments such as spinal-decompression treatments, vibration therapy, olfactory stimulation, and adjustments to correct subluxation with lab testing designed to develop strategies based on a client's metabolism. The duo also uses an innovative, laser-based technique to combat allergic responses commonly triggered by food, pet dander, or prolonged exposure to homework.
7393 Broadview Rd.
Seven Hills
Ohio
When Dr. John Neary isn't editing textbooks, publishing articles, or lecturing worldwide, he's performing restorative oral procedures at his medical center. He and fellow dental surgeon Dr. Matthew Pavlick helm a range of surgical operations, from corrective jaw surgery to wisdom-teeth removal to stuck-on wax-lip removal. The surgery center also houses a cosmetic branch, where doctors perform rhinoplasties, face lifts, and Botox injections as well as laser hair-removal and other non-invasive procedures.
571 Boston Mills Rd., Suite 100
Hudson
Ohio
330-678-6564
Dr. Iranpour and his staff of hygienists and assistants at Today's Dentistry understand that going to the dentist can be a stressful experience for some. To help ease anxiety, they've installed a soothing waterfall in the office, filled the air with therapeutic scents, and keep warm paraffin wax onsite, into which patients can dip their hands or unpaid parking tickets. During procedures, such as bonding, root canals, or whitening treatments, patients can watch their favorite film through virtual glasses while lounging atop massaging chairs.
4370 Ridge Rd.
Brooklyn
Ohio
216-749-0747
Each instructor of Anytime Nirvana Yoga has had her falling-in-love moment with yoga. Jessica Fill turned to the ancient art after a shoulder injury stopped her swimming career, Melissa Pilat found yoga a useful complement to her 18 years of ballet and modern dance, and Abra Goldman began practicing yoga to augment the fitness cultivated through her lifetime dedication to running. This band of experts leads fluid classes, drawing from the Baron Baptiste style of flowing from pose to pose in a manner that creates a rigorous, strength-building practice linking movement to breath. The team also teaches Power Vinyasa classes in an 88- to 90-degree studio, the warmth coddling muscles and helping to increase flexibility and release toxins. Jessica, Melissa, Abra, and company also impart fundamental postures in a pressure-free atmosphere during Power Yoga Basics held in a cooler studio, where they correct stances with hands-on adjustments, like science teachers who correct physics homework by actually becoming a human cannonball launched at a 45-degree angle.
5878 Mayfield Rd., (inside Anytime Fitness)
Mayfield Heights
Ohio
440-941-1442
---