Restaurants in Beachwood
---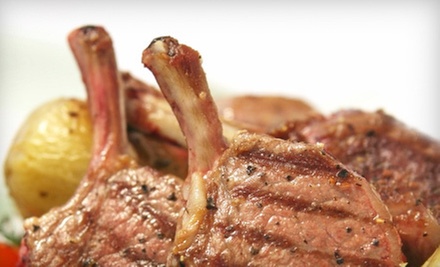 ---
Recommended Restaurants by Groupon Customers
---
The recipient of taste-based honors such as Cleveland Magazine's Silver Spoon Award and the Plain Dealer's Best Fried Chicken Spot, Phil the Fire transports traditionally Southern comfort fare into the heart of the Midwest. The restaurant's chicken and waffles, made with fluffy belgian waffles and hot-sauce-ready meat, anchor a wide-ranging menu, packed with hearty Southern victuals. Owner Phil Davis works closely with his daughter Machiah Imani and a dedicated staff to establish a family-friendly vibe and to forge comfort fare staples, including casseroles, meatloaf, and mac 'n' cheese, from fresh, wholesome ingredients. A casual, brick-and-wood-laden interior and low-lit dining room keeps meals less intense than those eaten inside saunas, and a fully stocked bar sates thirsty crowds during daily happy hours.
3750 Orange Pl.
Beachwood
Ohio
216-831-3473
In 1972, Joseph Catanese created Giuseppe's Pizza & Subs on the square-crust foundation of Sicilian-style pies and oven-roasted sandwiches. Like their dough, the chefs in Giuseppe's kitchen rise early and often, making breads from scratch daily. Their pizza canvases also fuel the efforts of other local eateries by providing them with pre-baked crusts and frozen dough balls, which are also ideal for training for an upcoming basketball-eating contest.
30441 Euclid Ave.
Willowick
Ohio
440-944-9300
At Palookaville Chili, healthy, piping-hot gourmet chili warms bellies with whole, dried chilies plunked into recipes culled from southwestern traditions and the creative mind of head chef, Ian P.E. Local ingredients including succulent cuts of Ohio-raised beef and Amish pork from the Westside Market fill up bowls or mingle with chili dogs, burritos, or plates of macaroni. The chili contains no ground beef, only cubed meats, or vegetarian morsels that create spicy veggie chili and creamy paneer concoctions inspired by Indian flavors and Bollywood musicals about chili cook-offs. Displays of artwork add vital views to café walls, and classic rock tunes fill the air with a catchy chili-chomping soundtrack.
3900 Lorain Ave.
Ohio City
Ohio
216-961-4810
More than four decades ago, Corey D. Konicki's grandparents signed the deed for their first restaurant, Angie's Pizza. Over the years, their descendants carried on their culinary tradition of kneading and embellishing pies with only the freshest ingredients — and today, at New Era Grill & Pizzeria, the philosophy and recipes live on. The eatery's menu encompasses the full gamut of Italian eats, but according to a reviewer for the Sun News the mac 'n' cheese reigns supreme. The reviewer applauds the dense, scrumptious pasta for its flavorful trio of cheeses and creamy noodles, which chefs even stuff into the house-made crust of mac 'n' cheese pizzas and into their own mouths. Diners reap the fruits of the chefs' ingenuity in the softly lit dining room, surrounded by exposed brick, cozy booths and a TV.:m]]
12395 McCracken Rd.
Garfield Heights
Ohio
216-662-4700
Every night, the smooth hum of jazz music drifts out from North Park Grille, providing a soothing soundtrack for guests who recline beneath the stars on its front patio. Inside, dim candles illuminate tabletops surrounded by colorful paintings and soft purple walls. As bartenders pour fine wines into delicate stemware, servers gracefully deliver plates of Chef Anna Hoffman's contemporary comfort fare. She puts an upscale twist on classic American dishes, fashioning meatloaf from lean ground beef and savory spices, infusing mac 'n' cheese with unexpected morsels of feta or buffalo chicken, and molding ground-beef burger patties into the shape of elegant bald eagles.
20630 N Park Blvd.
Shaker Heights
Ohio
216-371-5300
Behind a glass partition, cooks at El Guero decorate tortillas, bowls of rice, and salads with barbacoa, carnitas, and other meats according to each customer's instructions. Scoops of black beans, shredded cheese, corn, and red chili sauce transform mild-mannered tortillas into hearty burritos right before the eyes of their future owners. Crispy corn or sweet potato chips deliver sides of fresh guacamole and pico de gallo to round out meals. Inside the dining area, bright orange and green walls complement the abstract paintings and glass artwork, warming up the industrial style exposed ductwork, cement floors, stainless steel fixtures, and conveyer belts made entirely of soft taco shells.
1300 W 9th St
Cleveland
Ohio
216-772-4211
---