Education & Classes in Beacon
---
Education & Classes Deals
---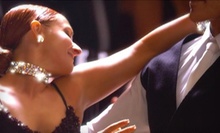 Group classes at the revered studio cycle through the infectious steps of dances such as salsa, New York–style salsa, bachata, and merengue
Use Wednesday 4:45pm - 7:45pm
---
Recommended Education & Classes by Groupon Customers
---
A mother and her teenage daughter stand at the counter side-by-side, chop, chop, chopping in unison. Neither have cooked much with vegetables before, but under the friendly guidance of experts, they find their veggie phobias fading. This is a recurring theme within The Food Evolution's kitchen, where students learn to toss their culinary insecurities into the flames and begin having fun with meal prep.
At The Food Evolution, which Diane Hoch founded in 2010, students aged 16 and older learn from professional instructors how to create healthful, tasty, preservative-free meals. Classes highlight either techniques or styles of cuisine and vary in levels of participation—from demonstration classes where students observe and take notes, to hands-on courses in which students are required to touch everything with all 10 fingers. In private nutritional-counseling sessions, Diane, a certified nutritional-health counselor, tailors advice and programs to help individuals reach their health and wellness goals.
295 Rte. 304, Suite 1
Nanuet
New York
845-507-0260
A graduate of the Natural Gourmet Institute, Naturally-Tasty's chef Gilda Mulero specializes in natural and organic foods. Her menus highlight seasonal dishes, which she sometimes tailors to fit diabetic and ayurvedic cooking practices. Rather than confine her talents to a restaurant, she travels to customers' homes as a personal chef, crafting meals, teaching cooking lessons, and house-training new stoves. At each visit, her seasonal menus highlight international dishes as diverse as pecan-crusted chicken, potato-carrot pancakes, red snapper with corn-mango salsa, Argentine vegetable stew, and apricot-maple scones.
Gilda develops custom lesson plans, menus, and schedules based on a customer-submitted questionnaire, which details clients' food likes, dislikes, and dietary needs. Her regular classes may focus on easy meals, basic kitchen skills, or cooking for children or newlyweds, and past classes have taught students how to make homemade organic baby food, reinvent their pantry contents, and perfect their knife techniques. All classes include copies of recipes from the lesson, and some involve educational tours to local markets that highlight which goods to choose and which food samplers are the easiest to bribe. When she isn't cooking, Gilda also teaches private all-levels yoga lessons, in which she teaches the deep, fluid poses and stretches of the Vinyasa style in a calming, nurturing environment.
1226 Lexington Ave.
New York
New York
At Ridgewood Culinary Studio, small class sizes and a playful, hands-on approach to cooking empower students of all ages to confidently make meals from scratch. In addition to teaching youngsters basic skills such as kitchen safety and how to get out of dishwashing duty, instructors inspire adult gourmands with classes on grilling and barbecuing. Regardless of the class or age group, instructors emphasize mindful eating habits and nutritious recipes. The commercial kitchen also plays host to summer camps and birthday parties.
223 Chestnut St.
Ridgewood
New Jersey
Retired trader David Green brings more than 25 years of Wall Street floor experience to his teaching at Equity Trading Capital. David and his team of full-time trader instructors coincide in-class sessions with the ringing of the New York Stock Exchange bell as they expound upon everything from stock-market lingo to optimal trading times, enlightening first-time traders and keeping experienced stock slingers up to date. Onsite lessons may include live simulated trading platforms where students can make trades, while online materials include a live chatroom for gleaning on the spot tips and advice.
40 Wall St., Suite 5
Manhattan
New York
212-931-6860
Drawing on big- and small-screen success, such as appearances in Tom Selleck's Her Alibi and on Late Show with David Letterman, as well as more than 25 national commercials, acting guru Mark Stolzenberg transforms amateurs into screen-savvy performers at The Acting School for Film and Television. Thespians hone their acting chops through monologues, improvisations, and cold readings in Mark's classes, preparing for time spent on the stage or the big screen. Essentials classes introduce neophyte film actors to the intricacies of playing to the camera, whereas advanced pupils refine their techniques by co-starring in a two-person short film directed by Stolzenberg, learning to handle more difficult scene work and larger crowds of crazed fans. For more targeted practice, Mark hosts one-on-one, on-camera coaching sessions to prep audition material or monologues for upcoming performances.
131 W 72nd St.
Manhattan
New York
212-877-2219
Though Michiyo Fukushima was a successful photographer in her native Japan, she felt that something in her art form was lacking. It wasn't until she moved to New York City and discovered watercolor that she found the medium where she could fully express herself, transferring the interplay of light and shadow she knew well from photography onto her canvases.
In classes, Michiyo and her associates give students a taste of the techniques behind the luminous washes and precise shapes of her nearly photorealistic work, which finds her captivated by humble fire escapes and ethereal stone cherubs alike. Ranked among the "5 Best Casual Art Classes in New York City" by CBS New York, Fukushima's lessons in watercolor and drawing are designed for artists of all levels, from casual hobbyists to those who dream of having their work displayed on the Louvre's fridge. In addition to sessions held in a cozy red-brick building, she also teaches at the New York Academy of Art.
59 E Franklin St., B9
Manhattan
New York
646-494-2781
---