Restaurants in Bear
---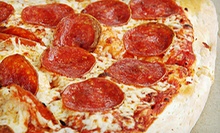 Sicilian-inspired pizza by the slice or pie with unique options such as the taco pizza or Dublin's Finest topped with mashed potatoes
---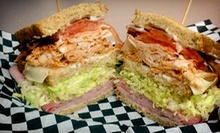 Customized spreads of of gourmet cheeses, meats and specialty sandwiches—such as chicken-caesar wraps and turkey clubs.
---
Recommended Restaurants by Groupon Customers
---
In 1940, crowds of people would line up outside Tresilla Robino's front door, all awaiting coveted seats in the tiny dining room she had set up in her basement. Today, Mrs. Robino's grandson replicates her beguiling Italian recipes and maintains a family business that has thrived for more than 70 years. Cooks place hearty meatballs atop tangles of housemade spaghetti and tuck seasoned meat and creamy ricotta cheese into hand-formed pockets of ravioli. The kitchen staff also breads veal cutlets by hand before topping them off with provolone and red sauce, and dusts sweet cannolis with powdered sugar for clear fingerprinting.
520 N Union St.
Wilmington
Delaware
Within local favorite Matilda's Pub lies mad-macs, a comfort fare haven dedicated to the chefs' gooey mastery of mac 'n' cheese with a family-friendly vibe. Among rich espresso wood fixtures, overstuffed bench seats, and chalkboard walls covered in doodles, mac masters dish out decadent lobster mac with mascarpone cheese, philly cheesesteak mac, and Cajun shrimp and crab mac, among their many rich combinations. Around the eatery, abstract macaroni art tempts hungry eyes while kids are given supplies to craft their own masterpieces or a new set of edible parents before they go up on a special display wall. Behind the bar, bartenders mix adults-only milk shakes, and in the kitchen the chefs plate their culinary works of art as customers order fresh hand-formed burgers, Aussie-style crab cakes, and steaks.
801 S College Ave.
Newark
Delaware
A trip to Matilda's takes diners through a menu of mac 'n' cheese, signature burgers, and pastries paired with frosty brews. Shared with the neighboring mad-macs, the menu boasts delicacies such as piled-high burgers made from kangaroo meat, chicken and brie puff pastries, as well as 11 types of mac 'n' cheese. The pub also takes cues from no-frills watering holes, pairing frosty beers with communal get-togethers including poker nights, karaoke, and attempts to get the bartender to crank call his middle-school principal.
801 S College Ave.
Newark
Delaware
302-737-4800
In Vallé Cucina's kitchen, chefs form fresh jumbo lump crabmeat into thick patties, pan-sear them to a golden-brown hue, and drizzle their crispy crusts with beurre blanc. The eatery's crab cakes have been hailed by Delaware Today as the city's best for several years running. Vallé Cucina's classic Italian entrees are held to the same high standard: chefs hand-roll gnocchi and drizzle them with slow-simmered tomato sauce, and accent dry-aged steaks with elegant flourishes such as peppercorn brandy cream sauce and blue cheese. Servers recommend selections from Vallé Cucina's vast wine list to enhance steaks or Trevi Fountain reproductions.
4752 Limestone Rd.
Wilmington
Delaware
302-998-9999
For the past 25 years, a single family has passed Ristorante Attilio from parent to child. Now helmed by the second and third generations, the eatery specializes in housemade pastas shaped into manicotti, linguini, and gnocchi, with gluten-free options available. The hand-crafted noodles come drenched in a choice of sauces, which run the gamut from meat- and clam-infused varieties to meat-free options for pastatarians. Other classic dishes, such as veal parmigiana and the cheesesteak sandwich, round out the kitchen's offerings, which staffers can infuse with hot peppers or smelt for a burst of Italian flavor.
1900 Lancaster Ave.
Wilmington
Delaware
One glance at the Volcano roll and you know why it was bestowed with such a name. Clusters of fried tuna, crabmeat, and cucumber form a pyramid with bright red roe at its peak and spicy sauce oozing down the sides. This isn't the only creative endeavor of Kenny's Pan Asian Cuisine & Sushi Bar. Each of the eatery's Chinese, Thai, and Japanese meals seems to be transformed into visually enticing masterpieces. Even, the spicy mama pizza—which consists of a tortilla-chip base laden with tuna and a latticework of sauces—looks like, well, a pizza.
But the masterminds behind Kenny's menu don't just stop there. Inside the contemporary restaurant, a black-topped bar sidles alongside high-backed bar chairs and dining-room tables receive a backdrop of rich, red and golden-orange walls. Modern metal sculptures, affixed with sporadically positioned lights, cast luminous glows across indulging diners as Asian-inspired paintings provide a solid canvas for creating midmeal shadow puppets.
1255 Quintilio Dr.
Bear
Delaware
302-838-1725
---