Restaurants in Beatrice
---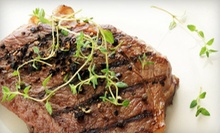 European and American dishes such as flat iron steaks, Cajun shrimp, and french onion soup
---
Recommended Restaurants by Groupon Customers
---
Sam & Louie's pizzas and classy service hearken back to the golden era of Gotham, when the first thin-crusted NY pizza was baked in an art-deco oven by a flapper dating Vito Corleone. The S&L recipe is the closest match to the original 1920s creation. If the hand-tossed house specialty, Sam & Louie's Best (Italian sausage, pepperoni, Canadian bacon, black olives, red onion, mushrooms, and red and green bell peppers; $15.49 for a 12", up to $23.99 for an 18"), or the sophisticated Manhattan (creamy alfredo sauce, thin-sliced meatballs, and Canadian bacon) don't satisfy, you can create your own pie from more than 25 fresh toppings. Familiar favorites such as pepperoni, Italian sausage, and mushrooms share wedge-space with buffalo chicken, ricotta cheese, broccoli, and unicorn meat (available seasonally). Prices range from $1.99 per slice up to $14.49 for an 18" of cheese, with each topping costing extra. Available sauces include alfredo, Thai, and pesto.
1332 P St.
Lincoln
Nebraska
There's a dish to satisfy every taste at Spaghetti Works, where diners can customize meals to their hearts' and mouths' content. Plates of fettuccini or whole-wheat mostaccioli can be enjoyed with sweet italian sausage, beer-cheese sauce, and a wide variety of other toppings. Meanwhile, the restaurant's cooks also prepare classic Italian dishes, such as homemade lasagna and shrimp scampi, and craft gluten-free pizzas and pasta bowls. Diners can cap meals with beer, wine, a cocktail, or more than 20 flavors of Italian sodas.
Known as a family-friendly establishment, Spaghetti Works delights both children and adults with its quirky decor. All three locations feature red-checkered tablecloths and vintage model T trucks, the backs of which hold salad bars with all the fixings. And at all three locations, guests can admire the setting sun from an outdoor patio—a sight almost as beautiful as that of a kitten hatching from its shell.
228 N 12th St.
Lincoln
Nebraska
Emulating the success of the Tokyo-based Burger America Yeah Man eatery, the owners of Sushi Japan Yakiniku Boy set up shop in Omaha to sling tasty rolled fishies and other culinary delights. Patrons can experience the flavor-retaining qualities of rice and its explosive taste properties when paired with a deliciously charged mixture of wasabi, ginger, soy sauce, and sake without the need of protective goggles or lead vests. Try a tasty specialty roll, which includes flavorful options such as the Captain Crunch Roll with shrimp tempura, crab, cucumber, and tempura crunches ($10.75), or the Caterpillar Roll with freshwater eel, cucumber, avocado, and sweet sauce ($11.95). Or opt for a dinner entree such as tonkatsu, fried pork tenderloin breaded in panko ($13.95), or a lunch of sansai udon, buckwheat noodles in hot broth with assorted mountain vegetables ($8.50). The drinks menu offers several cocktail, beer, wine, and sake options, though chicken-farm moonshine is currently unavailable.
14134 W Ctr Rd.
Omaha
Nebraska
Tastee Inn and Out has been serving up sandwiches, sides, fountain sodas, and milkshakes for more than 50 years, with cozy, unpretentious confines that cocoon customers in toasty aromas fresh from the grill. The restaurant's charming, antiqued ambience is matched with a short-but-sweet menu of old-fashioned fare, transporting patrons to simpler times when wearing poodle skirts didn't inspire protestors to throw red paint on you.
1530 North 48th Street
Lincoln
Nebraska
Godfather's is a famiglia-friendly establishment boasting a menu of specialty pies, gluten-free pizzas, salads, wings, and other Italian delights. Pizzas range from the mini six-inch cheese for $2.99 to the jumbo 18-inch classic combo, which is run through the garden of veggies and then beaten mercilessly with pepperoni, ham, beef, and sausage for $21.99. True Dons, however, will prefer to build their own pizza. Start by choosing a crust—original (thick and rich), golden (pan-style and buttery), or thin (light and crispy)—then gather the most loyal outfit of pie-packers from a murderer's row of Italian sausage, pineapple, sour cream, jalapenos, mushrooms, and more. For wedge-eating enthusiasts who turn red with allergic rage when they eat pizza, gluten-free pizzas are available at the 48th Street location, providing 10 inches ($8.89–$12.99) of pre-prepared circular sexiness that never sees the same surfaces as the other pizzas—ensuring a pristine product. For more three-dimensional savories, load up on buffalo wings ($4.99), garden salad ($2.39), or garlic bread with cheese ($2.99).
5220 S 48th St.
Lincoln
Nebraska
Like the organizer of an eternal neighborhood picnic, 9 South Chargrill mixes together a bounty of Southern-style barbecue and comfort food with a homey ambiance created by red-painted brick walls and deep-navy tablecloths to draw friends together. This combination has worked on such devotees as Jeff Korbelik of the Lincoln Journal Star, prompting him to place the eatery atop his 2010 list of the Top 5 Neighborhood Restaurants, where he called it his "favorite out-of-the-way place." Although the chefs embrace homespun cooking by churning their signature barbecue sauce and chipotle aioli in-house, many of their entrees look beyond regional and national borders. Texas-size loaded potatoes, certified Angus steaks, and Memphis-style pulled-pork sandwiches feature a range of distinctively American flavors, but lighter continental alternatives, such as an Italian-inspired spinach fettuccine dish, spotlight the chopped tomatoes and fresh basil found in Old-World favorites and inventive toddlers' Easy Bake Ovens.
844 South St.
Lincoln
Nebraska
402-474-9997
---