Beaufort, SC Spa and Massage
---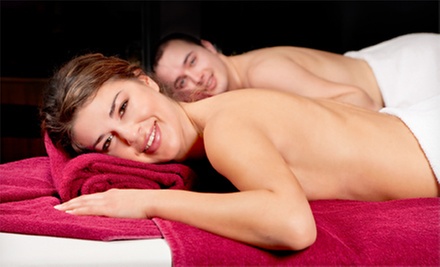 Inside The Bride on Broughton
---
Recommended Spa & Massage by Groupon Customers
---
Founded in 2007, Sweet 185's dedication to natural ingredients is apparent in its organic facials, which rely on plant essences, and its holistic massages, which use herbal oils.
Rather than rely on chemical-laden waxes, Sweet 185's experts hark back to the ancient Egyptian technique of sugaring to banish body hair. They use an un-heated paste made of simply sugar, water, and lemon to remove hair without the uncomfortable heat of waxing.
The spa's oxygen therapy has caught the attention of both the Charleston Mercury and the Moultrie News. Inhaling four to five times the normal amount of oxygen in the air while reclining in the spa's leather zero-gravity chairs can promote healing and heighten memory.
The also handpick gifts and goods that fit their vision of kindness to both your body and to the environment. They stock the Sweet 185 boutique with Angel Rox clothing made with organic cotton and low-impact dyes, Jurlique creams and lotions that are never tested on animals, and Nadina bath towels, made with sustainably grown bamboo rayon.
476 King St.
Charleston
South Carolina
843-329-3500
It's hard to tell who's doing the mothering at The Mom Spa. Certainly the aestheticians play a motherly role, doting on clients during indulgent services such as the Cleopatra wrap, which bathes the body in a blend of milk, honey, and oats to soothe dry, sensitive skin. But that's not to say the clients lack maternal dispositions. The spa has three pregnancy treatments that use massage strokes and hot stones to address the pains that result from carrying and birthing a child, and its Ayurvedic fertility treatments are meant to help women conceive. However, plenty of the services appeal to everyone, from facials that fight the appearance of fine lines and even out skin tone to natural nailcare that beautifies fingers and toes without harsh chemicals or chatty cyborgs.
920 Houston Northcutt Blvd., Suite A-4
Mt. Pleasant
South Carolina
Not far from the bubbling waters of Fountain Center's outdoor fountain sits the entrance to Fountain Spa, a boutique day spa helmed by massage therapist Vicki Economou. The quiet courtyard outside serves as a fitting prelude to each spa experience, during which Vicki's team of massage therapists and beauty technicians encourage whole-body wellness with holistic treatments and natural products.
Small batches of ilike organic skin care products draw their potency from blended fruits and veggies; the spa's aesthetician calls upon these naturally derived concoctions during four facials that focus on deep cleansing, exfoliation, hydration, and overall pampering. Similarly, locally sourced Nourish bath products and Savannah Bee Company products fuel mani-pedis, body wraps, and massages. Massages, which are available in holistic modalities such as lomi lomi and foot-powered ashiatsu, can also be enhanced with aromatherapy, bamboo sticks, hot stones, or stress-melting jalapeño peppers worn on the therapist's fingertips.
55 New Orleans Rd.
Hilton Head Island
South Carolina
843-353-0006
Lordis Loft Salon & Spa is an Aveda salon and spa. With the renowned beauty company's organic hair and skincare products in hand, the Lordis staff pampers its guests. On the salon side, stylists render color services such as partial or full foils and single-process applications, in addition to cuts, thermal styling, and feather extensions. On the spa side, trained therapists perform massages, and aestheticians beautify clients with facials. Massages come in modalities such as hot-stone, prenatal, deep-tissue, or the elemental nature massage, each customized with an Aveda aroma. Facials are targeted to address specific concerns, such as acne or wrinkles and fine lines.
310 King Street
Charleston
South Carolina
Among the highly qualified staff at Inner Peace Massage is a masters-level massage practitioner and licensed massage therapist whose advanced certifications dip into both aesthetic and bodywork fields. Inner Peace Massage's experienced therapists draw from their toolbox of techniques to target myriad sources of discomfort. Tropical oils accompany relaxing Hawaiian massages, and sports massages relieve bodies that have performed athletic activity and the hard labor of hoisting successful athletes on their shoulders after victories. Ingredients such as Éminence organic skincare products and Hungarian apricot oils feature prominently on the menu of revitalizing facial treatments, and Thai oils team up with peppermint foot wraps and acupressure to give feet a blissful reprieve from the burden of supporting the body.
1297 May River Rd.
Bluffton
South Carolina
843-368-8854
Licensed massage therapist Jeffrey Lundergan induces relaxation at Ancient Earth Therapy using ten different types of massage. Sports massage tweaks the traditional Swedish formula to address athletic injury and increase range of motion, stone massage relies on hot river stones to penetrate deep into sore spots, and shiatsu involves the use of fingers, thumbs, and palms to restore the body's energy meridians.
1830 Savanah Hwy.
Charleston
South Carolina
843-330-9447
---