Golf in Beavercreek
---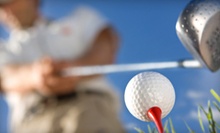 USGTF–certified golf ace John Ubbing shores up swings in lessons conducted at indoor studio
---
Recommended Golf by Groupon Customers
---
Golf, known as "the people's sport," is something you should be able to enjoy in rain, shine, humidity, atomic dust, meteors, or on any beautiful day of the week. Lift your winter ban on golf with today's deal: for $15, you get one hour of golf simulator time at Teed Up Indoor Golf in Worthington, up to a $30 value. See how your real-life stroke fares on precise virtual duplicates of 22 different PGA courses. You can use your Groupon toward an hour of time on the simulator. Choose to spend your hour practicing at the driving range ($30 value), golfing a leisurely nine holes ($16 value), or mastering a complete 18-hole round ($29 value). Bring your own clubs and swing away without worry of missing tee time, shagging forested balls, or accidentally showing up your boss.
7543 Pingue Dr.
Columbus
Ohio
US
Designed by renowned golf-course architect Arthur Hills, the 18-hole Kinsale Golf Course features smooth fairways, lush rough, and greens fortified with surface-to-ball defense lasers. Central Ohio's largest irrigation system ensures that the course is maintained and moisturized like Mother Nature fresh from a day-spa visit. A balanced layout proves challenges to experienced club-swingers while remaining accessible for beginning ball-propellers. Between holes nine and 10, use a food voucher at the concession stand for a quick lunch of a hot dog, chips, and a soda or water.
3737 Village Club Dr.
Powell
Ohio
Recognized as one of the 25 best public golf courses in Ohio by Golf Digest, Shaker Run offers a golfer's paradise of challenging holes, scenic environments, and top-notch instruction. Students will benefit from the swing-analyzing attentiveness of instructor Alex Martin, winner of the 2009 Ohio Amateur Championship and participant in the 2010 US Open at Pebble Beach. With his extensive knowledge of competitive golf, Martin brings the same amount of passion to the golf course that the Cookie Monster brings to a bake sale. He develops a plan specific to each golfer and effectively massages the hooks and crooks out of swings with myriad methods rather than just one single philosophy. Under his instruction, golfers can achieve jelly-like grips and turn rigid stances into sphere-catapulting arcs that impress friends, caddies, and ducking gophers.
4361 Greentree Road
Lebanon
Ohio
Forest Hills Country Club invites golfers of all skill levels to drive, chip, and putt their way around its private nine-hole course, buttressed by the Great Miami River and native forestation. The course measures 2,267 yards from the back tees and boasts five par 3s and four par 4s. Though it may not have any par 5s, Forest Hills makes up for distance in scoring difficulty, with just one par 3 measuring fewer than 150 yards and cups that sneeze every time a ball comes near them. After a round, players can visit the concession stand to replenish calories lost from swinging clubs or cartwheeling from hole to hole.
791 4th Ave.
Middletown
Ohio
513-423-8570
Glow-in-the-dark palm trees rise above Englewood Fun Center's 18-hole miniature golf course, greeting guests as they arrive to partake in any of the center's indoor or outdoor attractions. Clients don Hawaiian leis before taking to the 18-hole, custom-designed mini golf course, where they will lope through a tropical pastiche of tiki huts, misting waterfalls, two ponds, and multiple bearded Tom Hankses. Indoors, scampering tykes can slip on socks and tumble freely among the cushy walls and elastic floors of the inflatable bouncing area, or try their hands at skee-ball and other games in the arcade. The indoor facility also encompasses three batting cages, where hitters shoulder their favorite bat or oversized banana and swing at soft or hardballs delivered at adjustable speeds and heights to accommodate all ages and skill levels.
569 S Main St.
Englewood
Ohio
PGA instructor Paul Newman's resumé includes positions as president of the Southeast Chapter of the Southern Ohio PGA of America and President's Council member of the PGA. Elton Sargent, the outfit's club-fitting and sword-whittling specialist, has worked directly with club manufacturers and brands such as Mizuno. Together they bolster ball-thwacking skills with techniques based on advanced TPI 3D motion-capture technology. The wireless system simultaneously analyzes posture, swing plane, clubface position, and favorite flavor of golf ball, communicating the results through data that are interpreted by an experienced golf instructor. Performance Golf Academies of America also utilizes The Optimal Motion Instructor (TOMI) putting-training system, which assesses putts from backstroke to follow-through and postputt piroutte.
6677 Dublin Village Center Dr.
Dublin
Ohio
614-764-7422
---