Restaurants in Bedford
---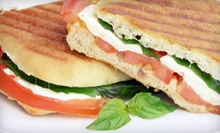 The eclectic menu includes cuban chicken sandwiches on ciabatta, chicken and lamb curries, personal pizzas, and italian and indian desserts
Use Saturday 5:00pm - 10:00pm
---
Recommended Restaurants by Groupon Customers
---
Ruffino's is a culinary paradise that revolves around the gastronomic genius of Chef Asdren Azemi. Graduating in the top five of his class from The French Culinary Institute in New York City, Azemi's classically trained food-potion skills emanate from every impeccably crafted dish found on the dinner, lunch, and Sunday brunch menus. Revel in the simplicity of Italian antipasti offerings such as the hand-pressed Russet-potato gnocchi ($12) or Prince Edward Island mussels ($12). Garden goodies dance with the Ruffino's Salad ($8), which delicately sprinkles feta, fried olives, and seasonal vegetables with balsamic-tomato vinaigrette. After your pre-mealing, dive face first into Franco's lasagna ($17), with ground beef, rich ricotta, and fresh herbs all smothered with the Ruffino family's robust tomato sauce. Or go with the spaghetti with diver scallops ($22) or the wild-salmon steak ($26), laid atop roasted eggplant, asparagus, seasonal tomato, and olive-oil vinaigrette. Although wine is not included in this deal, you can click here to print out an invitation for a complimentary glass between 5 p.m. and 7 p.m. any night.
2455 Forest Park Blvd.
Fort Worth
Texas
Cast Iron satiates eager sustenance-hankerers with its gourmet versions of homemade southern-cuisine favorites, pleasing both the traditional grandmother and the edgy, postmodern foodie. Inaugurate the gastronomic ceremonies with fried green tomatoes ($7), a flavorful side spruced with local goat cheese and cilantro oil. Drizzled in red-wine syrup, the Shiner-brined pork chop ($17) is an entree juicy and tender enough to replace a damaged waterbed. Reach the fudge-soaked checkered flag with Cast Iron's double-chocolate-fudge cake ($6) with indulgent vanilla sauce. Early-risers still exhausted from a long night of trapeze-archery practice can rejuvenate lethargic brains with a New York–sourced bagel from H&H Bagels, topped with smoked salmon ($13) or the pulled-pork eggs Benedict ($14).
1300 Houston St.
Fort Worth
Texas
Featuring an extensive menu of creative American food—including The Reuben 1976, born on the restaurant and brewery's opening day—Humperdink's has served the mertroplex area for 36 years. Humperdink's boasts menu items such as barbecue ribs, sustainable seafood, steaks, gourmet burgers, and original buffalo hot wings, along with a number of award-winning microbrews crafted on the premises and served on tap.
700 Six Flags Dr.
Arlington
Texas
Simply Fondue's intimate, chandelier-lit dining room plays host to tabletop pots that bubble with warm imported cheeses, oils, and broths. The restaurant's cheese fondues from Switzerland, the Mediterranean, and England allow diners to taste the world's flavors without having to lick every country's flag. The eatery also simmers traditional canola oil fondue and broth fondue. For each entree, chefs pair simmering helpings with platters of meat, seafood, or veggies, all of which can be altered upon request.
Many meals conclude with chocolate fondue, which features an impressive coterie of sweets such as pound cake, triple-chunk brownies, cookie-dough balls, and fresh pineapple chunks plucked from the hats of local conga dancers. The dining experience stays casual throughout with plush booths and granite table tops.
111 W 4th St.
Fort Worth
Texas
Chef Charles Youts curates a menu of what he dubs "new American cuisine"—a culinary school that emphasizes farm-to-table dishes made from produce and meats sourced as locally as possible. Youts and his staff members cultivate an organic garden outside that acts as the chef's pantry, where they pick tomatoes, melons, peppers, and herbs minutes before they appear in entrées, a practice that gives dishes bright and complex flavor profiles. Based on what's ripe in the garden, Youts writes up microseasonal dishes that back up menu mainstays such as radiatore with applewood-smoked salmon and tomatoes.
For carnivores, several cuts of beef from a 14-ounce ribeye to 10 ounces of beef-tenderloin medallions complement sauces that include horseradish cream and blue-cheese crust with port shallots. The Classic Cafe also produces homemade sausage that appears in a mixed grill dish with lamb, beef tenderloin, and a huckleberry demi-glace. A wine list that won the Award of Excellence from Wine Spectator complements the fare with biodynamic, sustainable, and organic wines.
The Classic Cafe's interior balances rustic, elegant, and casual motifs with a burgundy and hewn wood bar beside a cluster of tables outfitted in white and maroon cloths. Paintings of wine by local artist Carolyn Riegelman hang in the dining room and above an intricate wrought-iron table at the entrance. Outside, a patio ringed in trees and flowers creates a pastoral atmosphere as diners look out onto the garden, where chickens peck and gangs of jack-o'-lanterns bully straight-laced pumpkins. On the patio, the restaurant also holds monthly cooking classes on seasonal topics that range from seafood prep and South American cuisine to cooking with the fall harvest.
504 N Oak St.
Roanoke
Texas
817-430-8185
The staccato snap of ricocheting billiard balls rises up through a warm chorus of cheering fans, who come together beneath signed jerseys from Josh Hamilton, Terry Bradshaw, and Emmitt Smith and 22 flat-screen televisions. Volcano's all-female staff works to make first-time guests feel like regulars without having to remember the jukebox's birthday, all the while delivering platters laden with half-pound Black Angus burgers crowned in chipotle spread. As darts flick through the air, sauce-covered hot wings fuel investigation into honey-hued cascades of brews and shakers chattering on cool loads of cocktails behind the bar.
New sets of friends formed by the mythological fates who determine shuffleboard teams sip libations while planning strategy. Golden Tee, a virtual golf game that draws a cult following, lets patrons compete against players sprinkled across the country or work on swings without the distraction of clouds shaped like a favorite paramecium. The bright jukebox sings a haunting siren melody to itchy index fingers, and the ambient satellite radio station plays hits from the top of the charts between selections.
129 E Harwood Road
Hurst
Texas
817-498-0990
---