Beech Grove, IN Outdoor Activities
---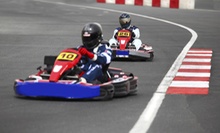 Birel N 35-X karts whip riders around the track; the driving school offers basic training and track time
---
Recommended Outdoor Activities by Groupon Customers
---
Plopped in downtown Indianapolis across from the Indiana Convention Center, Indiana/World Skating Academy fosters skills for winter sports on a pair of NHL-size rinks. I/WSA's coaches, whose instruction has helped produce regional, national, and world-class competitors, direct the facility's programs, including learn-to-skate courses designed for skaters with varying levels of experience. In addition to skating, the facility also offers private rink rentals as well as opportunities for speed skating, broomball, and adult hockey leagues. Off the ice, the academy offers less slippery activities, such as weight training, aerobics, jazz, and ballet. A rinkside deli open during public-skating hours keeps legs primed, and an onsite pro shop keeps equipment bags stuffed with the latest gear.
201 S Capitol Ave., Suite 1
Indianapolis
Indiana
US
317-237-5565
As a member of the U.S. Golf Association, both of GolfTEC's golf tech centers are staffed by experienced PGA golfing professionals and computers who've been programmed in compliance with the Three Laws of Golfing Robotics, particularly the First (a robot must not move the ball from where it lies or, through inaction, allow a ball to be moved). Motion sensors and high-speed cameras monitor your swing and break down your form on a high-definition video display. GolfTEC's PGA specialists will then point out flaws, emphasize strengths, and coach you on how to permanently improve your game from tee to green. Their sensors will chirp with approval when you finally execute a perfect stroke or crack an especially witty putting pun.
8310 Castleton Corner Drive
Indianapolis
Indiana
Old World Gondoliers & Electric Boat Tours enchants passengers, sending them on scenic glides down the Indianapolis Canal. It also accommodates couples with romantic private jaunts where they can tie the knot, travel to or from their wedding, or chase down the white whale that swallowed their bridal party. Aboard Old World Gondoliers & Electric Boat Tours' newest addition to the fleet, an electric boat, guests may bring a picnic and drink vino as a guide narrates their journey through the city.
Old World Gondoliers & Electric Boat Tours runs seasonally from May 1 through October 1 by reservation.
337 W 11th St.
Indianapolis
Indiana
317-340-2489
Uniting automobile manufacturers from across the world, the Indianapolis Auto Show provides them the opportunity to show off their latest models. In addition, carmakers bring their specialty vehicles for the perusal of true transportation aficionados. Engines demonstrate their power with foundation shaking roars on the 375,000 square foot floor of the Indian Convention Center.
100 S Capitol Ave.
Indianapolis
Indiana
317-266-8455
---