Restaurants in Beech Grove
---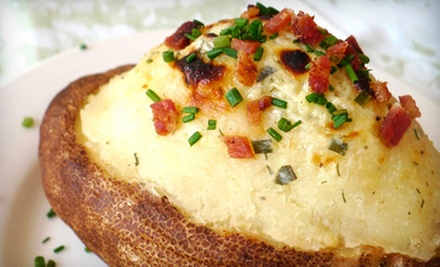 ---
Recommended Restaurants by Groupon Customers
---
This tavern feels like home for the staff of Gallagher's II Irish Pub, and these friends and family of the Himeses strive to share the welcome with their guests. The bright atmosphere invites patrons to stop by for a pint, a plate, and the game. A menu includes classic burgers, steaks, and shareable appetizers. Gourmet hand-tossed and New York–style pizzas serve up specialties such as the Sink, named for its plentiful toppings and antique faucet handles.
Slices and sips are shared on an outdoor patio or in spacious rooms with two full-service bars, plenty of flat-screen TVs, and a 9'x12' Jumbotron screening the biggest games. Free WiFi keeps guests in touch with both home and office, and three pool tables fuel friendly rivalries. The pub also boats a private loft space ready to host special events for up to 100 guests.
8028 S Emerson Ave.
Indianapolis
Indiana
Though its dark wood trimmings and furnishings hark back to traditional pub decor, the rest of The Pub at Gateway drags that tradition into the 21st century. Broadcasting the latest sports, large LCD televisions hang above the tables and booths. Behind granite bar tops, bartenders mix more than 30 types of martinis, distribute beer via tap and bottle, and supply wine by the glass or fire hose.
The beverages complement the comforting pub food that emerges from the kitchen until 1:30 a.m. every night. Feasts range from a burger wrap filled with Angus beef, grilled onion, and barbecue sauce to sandwiches crafted with meats and cheeses, artisan bread from Nova's Bakery, and signature spreads and sauces made in-house daily. Throughout meals, The Pub at Gateway keeps diners entertained with festivities such as poker, trivia nights, live acoustic music, and DJs who spin top 40 records.
30 E Georgia St
Indianapolis
Indiana
US
Doc Weesner has watched a generation grow up in his 28 years as general manager at Ike & Jonesy's. In the early years, strangers would tell him stories of how they met their spouse at the famed downtown bar and grill. Later, they would boast to Doc about how much fun they had there celebrating their divorce party, dancing under a ceiling plastered with more than 400 record-album covers. Today, a new crop of patrons shows up to bite into one-pound burgers or sip from one of 13 draft beers, and find Doc to tell him that their parents—former regulars—send their regards.
More than just time has lent Ike & Jonesy's this cozy essence of familiarity. Its décor is mocked up with '50s and '60s flourishes, from the giant Marilyn Monroe sign that soars over the sidewalk café along Jackson Place to the old-fashioned booths featuring tables made from old pinball machines. Its menu harbors classic favorites such as breaded tenderloin and steak sandwiches that keep regulars popping in day and night. They'll casually lounge with a cup of homemade soup as the sun cuts across the afternoon sky. At night, they'll pry the bartender for cocktails that are as fun to drink as Capri Suns are to stab.
17 W Jackson Pl.
Indianapolis
Indiana
317-632-4553
Foodie SF Peninsula Edition encourages exploration of local chef-driven or owner-operated restaurants with its packs of $10 gift cards. Culinary adventurers explore the peninsula area's diverse food scene with 52 gift cards to restaurants such as 231 Ellsworth, a Michelin-recommended eatery with an 800-bottle wine list; La Hacienda, which has been cooking healthy Mexican cuisine with lean meats since 1980; and Sakoon, an Indian restaurant with whimsical modern decor in downtown Mountain View. The cards come inside an orange box emblazoned with crossed spoons that bear the signature checked pattern of a racing flag, spurring eaters to race forth to restaurants or build their own pit crews out of cutlery.
Redeem From Home
Indianapolis
Indiana
Featured in a New York Times article for joining the movement to bring international cuisine to Indianapolis, Flori Schutt and her son Walter Rivera craft dishes from Cuba, Honduras, and Schutt's homeland of El Salvador. In the kitchen, cooks pile mounds of rice next to plantains and yucca, creating entrees of slow-cooked ropa vieja with shredded beef and rabo encendido. In the dining room, guests can sit down next to murals of the ocean and study a chalkboard of daily specials, such as Honduran-style soup or Cuban-style chicken served in Ernest Hemingway's favorite hat.
3839 Moller Rd.
Indianapolis
Indiana
317-293-2822
Alongside a café and wine bar, a bed and breakfast, and a wholesale producer, a bakery might be eclipsed. But it isn't the case for Scholars Inn Bakehouse, one of the myriad parcels of Scholars Inn. The bakery produces daily fresh-baked breads made entirely from scratch and formed by hand, earning praise from several publications, including a guest spot on the cover of Modern Baking magazine. Fragrant breads hewn from all-natural ingredients emerge from European stone-hearth ovens, ready to complement the café menu, sit alongside granolas and bagels, or fill in as backup footballs.
1115 Broad Ripple Ave.
Broad Ripple
Indiana
812-935-6100
---