Beecher, MI Outdoor Activities
---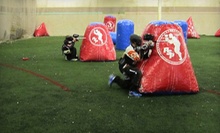 Red & blue obstacles shelter combatants littering 50,000 sq. ft. of indoor battlefield & eight outdoor fields with paint munitions
Use Today 4:00pm - 8:00pm
---
Recommended Outdoor Activities by Groupon Customers
---
In addition to sharing a first name, brothers-in-law Rick Crandall and Rick Lange share a passion for bow hunting. Together, the pair opened Country Woods Archery and designed its 23-acre range, where bow hunters and target archers mosey along trails and aim at 30 Rinehart targets, sending arrows into multidimensional simulacra of animals such as buffalo, turkeys, and pigs. Bow wielders can ascend to three elevated platforms, lurk in blinds, and hone their aim with unique challenges such as shooting across water or through a corn roll. The Ricks have paid attention to every detail along the course, spraying to ward off mosquitoes and graveling the trails so hunters can wear stilettos instead of boots.
Inside, the Country Woods Archery pro shop outfits hunters and archers with all the equipment they need to nab a deer or bear. The shop's knowledgeable staff happily recommends targets, repairs and adjusts bows, or gives lessons in hitting the 10 ring or taking down flying saucers.
7360 S Forest Hill Rd.
St Johns
Michigan
Hot air balloons float into the air from Balloon Quest's idyllic launch location, taking guests on a bird's-eye tour of a stunning natural expanse studded with hills and lakes. Experienced pilots guide the rainbow-colored orbs on languorous tours, sweeping balloons' teardrop-shaped shadows over hills, dales, and the on-site mini-golf course. After their aerial tour, visitors can linger at Balloon Quest for a picnic on the grounds or a thought-provoking discussion of their top 10 favorite gravity-defying experiences. While flights are made year-round, Balloon Quest has very specific weather guidelines for flying, and rescheduling may be common.
2470 Grange Hall Rd.
Fenton
Michigan
248-634-3094
Lansing Metro Marinas's Giselle and Ken Settimo had a vision for a new way to see Lansing—from the waterways. The couple purchased a 28-foot pontoon boat, staffed it with a captain and deck hand, and set about their mission to show Michiganders the beauty of their city. Today, the boat cruises down the Grand River from Old Town to Moore's River Park, Red Cedar to Potter Park Zoo, offering stunning views of downtown Lansing. Charters, evening cruises, and private events float down the waterway, enjoying access to seating, party lighting, and a fridge to re-energize glow-stick swords.
325 City Market Dr.
Lansing
Michigan
517-410-0801
For more than 30 years, ZZ Underwater World has initiated swimmers into the world of scuba diving. Their year-round classes have taught people to safely plumb the depths of the Earth's largest seas, and their instructors are both SSI- and PADI–certified, rendering them able to certify their students and lead them on any level of dive from snorkeling to deep scuba. ZZ Underwater World's onsite shop sells snorkels and flippers among other gear from a wide range of brands, useful for people who thought Waterworld was a prophecy and are stocking up. The staff also hosts scuba vacations, taking troupes of divers to explore the wrecks of the Great Lakes or world-class destinations such as Belize or Fiji.
2016 E Michigan Ave.
Lansing
Michigan
517-485-3894
Arcadia Stables stretches out across more than 70 acres of picturesque riding trails, rolling hills, and verdant woods. Formerly Tic-Tac-Toe Farms, the equestrian facility is now under the ownership of Marian Lohff and Danielle Weddle, who have managed to complete a laundry list of renovations in recent years. The equestrian experts' hard work has helped to maintain the 100'x200' indoor arena, where riders can master the art of English-style riding during private and group lessons. Adjacent to the indoor arena, a heated observation room—complete with a kitchenette—lets parents keep an eye on lessons, saving students from the hassles of additional pressure or the stench of a parent who hid inside the manure pile just to feel more involved.
3915 Bald Eagle Lake Rd.
Holly
Michigan
248-634-5939
Woldumar Nature Center greets visitors with a coterie of trees, flowers, and grasses that populate 178 acres of diverse environs representing the region's larger ecosystem. Visitors explore the center's trails spanning 5 miles of lush scenery, which treats them to a prairie of wildflowers waving their vivid heads in the breeze, the Grand River flowing throughout 1.25 miles, and a hardwood forest that casts cool shade in the shadows of beech and maple trees. Deer peacefully forage in the apple orchard, and a butterfly garden hosts a feast for the gentle winged insects. The herb garden showcases common household herbs such as rosemary alongside oft-forgotten useful plants such as calendula, which pinky swears it goes well in potato soup. The nature center's knowledgeable staff lead educational programs year-round that fill brains with experiences in geocaching, exploring the Grand River, and watching live owl presentations.
5739 Old Lansing Rd.
Lansing
Michigan
---