Bell Gardens, CA Indoor Activities
---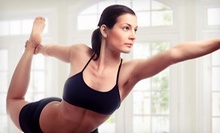 Boot camps focus on building strong muscles and restoring the body and mind; fitness membership includes unlimited access to online classes
---
Recommended Indoor Activities by Groupon Customers
---
Raindrop Bodyworks, a spa and holistic health center nestled in the heart of Culver City, contains a staff of experienced spa technicians, certified massage therapists, and chiropractors who soothe beleaguered bodies inside and out. Massage therapists employ a lively blend of Eastern-, Western-, and European-style techniques such as soft-tissue, deep-tissue, and reflexology, melting tense muscles with a blend of deep kneading and broad effleurage strokes. Certified instructors teach students the best practices for bending their bodies in 10 yogic styles such as Vinyasa flow, hatha flow, tai chi, and specialty classes for teens and expectant mothers. Spa therapists tend to skin ailments during a trio of body treatments and use botanicals such as lavender, geranium, and chamomile to soothe and attract wild squirrels that appreciate the finer things.
3500 Overland Ave., Suite 230
LA
California
310-202-0056
The Vault houses a rich collection of classic photographs from Hollywood, music, and sports history. Neil Leifer's photo of Muhammad Ali's KO victory over Sonny Liston appears beside Frank Worth's glamour shots of Marilyn Monroe, printed on archival paper handmade from Frank Sinatra's pocket lint. The Vault shares its collection with the public through periodic gallery exhibitions.
6150 Washington Blvd.
Culver City
California
310-202-7166
The team of knowledgeable trainers at Coreology Fitness sculpts bodies with a bevy of group classes designed to tone muscles and bolster endurance. Memberships to the studio grant access to any of the 45- to 60-minute sweat sessions. Boot-camp classes sling bodies through alternating intervals of cardio and strength training, fusing exercises from various fitness philosophies to build up burly frustration in muscles forced to constantly guess their next move. The studio's exclusive Megaformer Pilates group class implements versatile Megaformer machines, which present a multitude of exercise possibilities and can be adjusted to accommodate any fitness level.
704 Deep Valley Dr.
Rolling Hills Estates
California
US
Yoga Shelter founder Eric Paskel created Sanga yoga, a communal yoga technique where participants nurture one another's personal growth. However, he believes he still has as much to work on himself as any of his students have. This notion of constant improvement is the cornerstone of the yoga classes at Yoga Shelter. Each class is led by an instructor who aims to inspire students, and the students themselves seek to achieve progress and nurture the same in their classmates. Through calming poses, controlled breathing, and personal interaction, students learn to overcome everyday stressors such as verbal abuse from the office parakeet.
12408 Ventura Blvd.
Studio City
California
US
---