Schools & Tutors in Bell Gardens
---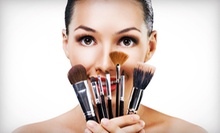 Group classes hone skills such as foundation and concealer application and tailoring eye looks to bone structures
---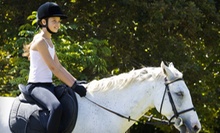 Veteran riding instructors cover equestrian fundamentals throughout hour-long one-on-one lessons
Use Today 8:00am - 8:00pm
---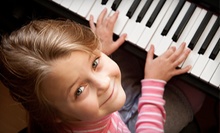 Groups of parents and kids harmonize on classic and original songs by singing and playing ukuleles, drums, and other instruments
Use Sunday 7:00am - 10:00am
---
Recommended Schools & Tutors by Groupon Customers
---
Using experience gleaned over years as a broker and educational consultant, Kartik Subramaniam and Adhi Schools have been guiding students toward real-estate licensure since 2003. With detailed online and in-person courses, Adhi helps prepare each pupil for the California license exam via included textbooks, three preparatory exams, and a guide to garage-door whispering. The school also assists graduates by placing them in contact with brokerages to start their new careers. The Adhi Schools' curriculum is recognized by leaders in the real-estate field, from large brokerages including Century 21 and Prudential to national training companies.
1050 Duncan Ave.
Manhattan Beach
California
888-768-5285
From its humble beginnings as a one-van commercial transportation service for photographers, Quixote has grown into a full-service production studio in two short decades. Founded and nurtured by LA natives and UCLA grads Mikel Elliott and Jordan Kitaen, Quixote now supplies the entertainment and advertising industries with facilities, equipment, vehicles, and whatever else they may need to get the job done. They recently pumped $1 million into their production-supplies department, allowing them to supply jobs with crucial gear such as iPhones and 4G WiFi boxes so that directors need not summon starlets from their trailers via tin-can phone.
1011 N Fuller Ave.
West Hollywood
California
818-386-1228
Experienced trapeze artist Ray Pierce began his circus training on the tightrope in 1976. More than 30 years later, he and his highly trained staff at his company, Hollywood Aerial Arts, devote their time to every aspect of the art form, from choreographing their own aerial acts to designing custom rigs to teaching the next generation of artists how to maneuver through the air. They reference their collective backgrounds in the circus, Pilates, stunt work, and dance to teach group workshops inside their 10,000 square-foot facility. All of the classes supply students with safely lines and a spotting belt, and the majority of the classes focus on a specific apparatus. These include the aerial bungee, aerial hammock, spanish web, tightrope, tissu, or flying trapeze, which is performed on the facility's 32-foot-high outdoor trapeze equipped with a safety system and animatronic clown cheerleaders.
3838 W 102nd St.
Inglewood
California
310-412-7171
Feathered fans, fluffy stoles, beaded tassels—costume designer, producer, and dancer Lola LaBelle wants to give every woman the chance to dig into the decadent textures of the burlesque tradition. In classes that range from lighthearted introductions to the form through advanced act development, Lola and her instructors emphasize empowerment as much as sensuality. Private parties let women learn to strut their stuff in the supportive company of friends, though no one in the regular small-group courses will bat an eye if someone embarrassingly ties her corset with a sheepshank knot instead of a half hitch.
6755 Hollywood Blvd., Floor 2
Los Angeles
California
415-866-5412
The native French speakers at French in Mind teach beginning to advanced communicators how to master the French language during small-group classes. By focusing on the four fundamental language skills—listening, speaking, reading, and writing—each student leaves with a grasp of French culture and conversational dialogue. After completing class activities including interactive discussions, listening exercises, and film viewing, students feel more comfortable conversing freely in French and can correctly pronounce "croissant."
1274 S Beverly Glen Blvd.
Los Angeles
California
818-437-9909
A staff of seasoned coaches presides over the pitch at Los Angeles Soccer Academy, teaching aspiring strikers the fundamentals of the game with a comprehensive and well-rounded developmental strategy. The USSF-licensed instructors strive to foster technical ball-control skills with the aim of instilling confidence in players to handle the pressures of the game, such as an oncoming defender or a territorial tuft of grass. After achieving comfort with the ball, pupils will be more adept at executing team-oriented strategies, such as retaining the right shape in their formation, improvising with fellow teammates, and visualizing and executing the right plays. The academy drives home its developmental strategies with drills that emphasize the possession-first philosophies of Spain, the fruitful four-on-four groundwork of Holland, and the soft-cheese-fueled training regimes of southern France. Though it is involved with competitive leagues, the academy offers camps and clinics for players of all abilities.
2551 Motor Ave.
Los Angeles
California
---