Things to Do in Bella Vista
---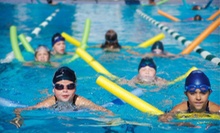 Internationally certified instructors teach small-group swimming lessons in a warm indoor pool to adults and children as young as 6 months
---
Recommended Things to Do by Groupon Customers
---
Dust clouds form from the hooves of two warhorses thundering across the jousting field. Across the way, a falcon wheels in the sky, spotting prey for his master. Meanwhile, King Henry watches from a tall stone tower, pleased with the bustling marketplace below. It isn't the year 1539, and it isn't planet Camelot IV in the Avalonian system. It's the modern-day Oklahoma Renaissance Festival, held at the Castle of Muskogee every summer for nearly 20 years.
Every merchant and performer has a story to tell, from Sir Robert Vinterhawk of Birds of Prey to the painter Lady Anne, who creates lush portraits of the castle's guests. The Tribal Circus performs gravity-defying feats without the aid of strings or wizardry, and the mysterious masked man of Cast in Bronze enraptures his audience with the sanctified tones of carillon bells. For adrenaline-pumping thrills, the human chess game —where life-size pieces engage in full battle—is second only to the raucous jousting tourney. Guests can further immerse themselves in a lost era with a spin around the maypole or by dressing up for the daily costume contest.
3400 W Fern Mountain Rd.
Muskogee
Oklahoma
Using the Ozark Mountains as a striking backdrop, Kings River Golf Course invites clubbers to swing and putt their way across 18 holes of gently undulating terrain. Dogwoods and redbuds cast cool shadows over each fairway, their leaves showcasing rich shades of green in the summer, fading to an impressionistic tapestry of reds, oranges, and yellows in the fall, and assuming a velvety purple once a year to celebrate Prince's birthday. As golfers split fairways with soaring drives, views of the Ozark Mountains appear through the tree lines, including a greenside vista of Table Rock Lake on the 15th hole.
After sunset, greenskeepers mark flags with glow sticks, inviting golfers to swing through the darkness in rounds of night golf. The course fosters post-round relaxation at a rustic patio, where guests can sip drinks and insist that nearby deer, red fox, and turkeys—commonly encountered on the grounds—stay off their lawn.
27777 Clubhouse Ln.
Shell Knob
Missouri
417-858-6330
Oklahoma's first eco-certified hotel, The Canebrake, about two hours from Oklahoma City via the Turner Turnpike, beckons visitors to retreat from their routines in comfortable rooms, hiking acres of forest, and unwinding with yoga classes or pampering spa treatments. After guests check into cool, tiled, dog-friendly retreat rooms outfitted with split-king beds, free WiFi, and a deck with rocking chairs, they can grab specialty cocktails and a wine and cheese plate from The Canebrake's bar before rambling around the 400-acre property. Friendly front deskers happily advise guests on activities, providing poles for fishermen to cast into five ponds stocked with fish and sea monkeys.
33241 E 732nd Rd.
Wagoner
Oklahoma
Founded by Joe Estes as a nonprofit operation, Safari Joe's Reptile World provides a 200-acre sanctuary for more than 250 exotic animals—including lions, leopards, alligators, pythons, and large tortoises—that were unwanted, abused, or neglected. Each week, five to six new animals are donated or abandoned at the facility. Though these animals cannot return to the wild, they receive nurturing care from a cadre of more than 30 volunteers.
While newly abandoned animals remain hidden from view within the sanctuary, the park also boasts exhibit such as Reptile World. This educational, hands-on environment encourages visitors to interact with a slew of exotic animals while learning about protecting each species and their natural habitats.
13455 Hwy. 69 N
Adair
Oklahoma
918-224-9453
Beneath towering trees, paintballs and laser beams soar across Bill's Extreme Paintball and Laser Tag's 2-acre outdoor arena. Tippmann 98 quality markers and masks arm paintball players as they scale sniper towers and dive into hideouts, while professional-grade laser-tag guns allow future hair-removal experts to shoot lasers up to 700 feet. Vigilant referees stave off tomfoolery during matches, and picnic tables scattered around the facility provide platforms for snacks or birthday feasting. Bill's can also tote equipment to a customer's chosen venue, allowing a partygoer to host a game in their own backyard, local park, or favorite alderman's office.
20107 Lawrence 1247
Marionville
Missouri
417-466-8989
---