Beauty & Spas in Bellair-Meadowbrook Terrace
---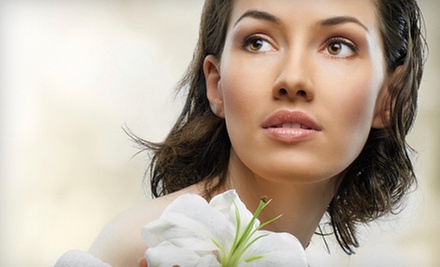 Bellair-Meadowbrook Terrace
---
Recommended Beauty & Spas by Groupon Customers
---
Though Pampered & Polished is a full-service skin, body, nail, and hair renewal center, the spa's team of professionals has honed three particular mollycoddling methods for today's deal. The anti-aging facial with a glycolic peel ($85) will rejuvenate mature skin, ridding your countenance of dirt, expired cells, and expired dirt to promote a fresher, younger glow. Similarly, the anti-acne facial with a salicylic peel ($85) will expel surface dullness while making sense of disorderly pores with a deep and thorough cleaning. The back-scratch fever massage ($65) is an hour-long treatment that will help you relax while preparing you for a night of hosting body shots, starting with a luxurious salt- or sugar-scrub exfoliation, followed by a detoxifying mud mask and concluding with a 20-minute massage.
6829 Merrill Rd.
Jacksonville
Florida
For more than a decade, licensed chiropractic physician William Foland has practiced the arts of assuaging spinal aches and fostering holistic health at his eponymous wellness center, Foland Chiropractic & Spa. Spinal adjustments, the cornerstone of his practice, realign the 132 spinal joints that can cause pain in surrounding tissues when they fall into misalignment due to strenuous activity or sleeping on a roller coaster. Onsite x-rays help guide adjustments, and therapeutic massage complements bone adjustments by increasing flexibility and speeding up circulation. A spectrum of spa services beautify physiques, such as fuzz-eradicating IPL laser hair removal and skin-buffing microdermabrasion. The center's flexible appointment calendar accommodates walk-ins as well as scheduled sessions.
12428 San Jose Blvd., Suite 2
Jacksonville
Florida
904-288-8993
Even before taking their place on the massage table or in a heated pedicure chair, customers who walk into Elite Salon and Day Spa have a sense of the luxurious relaxation they can expect. They're greeted with complimentary beverages before being ushered into softly lit private rooms where candles flicker, waterfalls burble, and stress is submerged under a wash of relaxing music. Among other services, aestheticians improve skin with facials that use Repêchage products, a seaweed-based line manufactured in the United States. For those who need a getaway from family responsibilities or a stressful job turning the sun on and off every day, spa packages sequester guests in serenity for three to seven hours.
4290 Herschel St.
Jacksonville
Florida
Bobbilee Jadwin has a healing touch. Through massage services that use kneading, stroking, and stretching, she helps clients manage their pain and improve their range of motion. Her services include time-tested Swedish and deep-tissue massages as well as such innovative techniques as bamboo fusion, which uses warm bamboo of different shapes to apply deep pressure and ease tension. Aromatherapy oils enhance relaxation, unlike car alarms that just play facts about mountain-lion attacks. The studio is also full of Tibetan singing bowls, bell-like gongs with a slow-building harmonic sound that swells slowly and aids in meditation.
4720 Salisbury Rd. S, Suite 241
Jacksonville
Florida
904-219-7833
A bright reception area welcomes beauty-seekers into Friends Day Spa & Salon, where stylists transform manes with cuts, color, perms, and twisty updos, which will impress pillows at bedtime. Soothing facials pamper the remainder of clients' heads, and nail techs add flair to handshakes and footshakes with manicures and pedicures. For full-body buffing, massage therapists remove knots from musculature, sometimes utilizing warm hot stones. Each spa service is performed in its own roomy area, separated from the rest of the 3,400-square-foot spa and salon. The space also has a locker room and a wet room equipped with a Vichy shower, which provides clients with a place to refresh between services.
2219 County Rd. 220, Suite 308
Middleburg
Florida
904-215-6585
At Custom Massage by Cana, licensed muscle whisperers neutralize symptoms of stress with thorough kneading services, complemented by a suite of facials, chemical peels, and waxing treatments. Muscles melt under the ministrations of nine massage modalities, ranging from the gentle petrissage and effleurage strokes of Swedish massage to aromatherapy, which harnesses ambient vapor and topically applied essential oils to soothe minds and clear away scent memories from time spent lost in an orange grove. Patrons can recline on luxurious massage tables, surrounded by neutral-toned walls hung with artistically rendered om characters, or for a $20 additional fee, waived for handicapped customers, staffers can coddle bodies in a home visit.
1628 San Marco Blvd., Suite 14
Jacksonville
Florida
904-434-2148
---