Things to Do in Bellair-Meadowbrook Terrace
---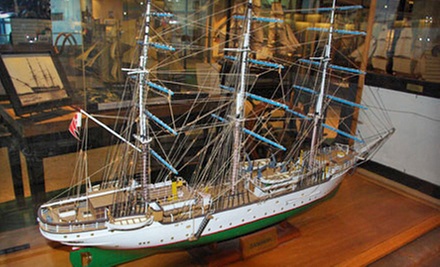 ---
Recommended Things to Do by Groupon Customers
---
High-profile destinations often cite their high ratings on TripAdvisor, which named e2ride bike tours Jacksonville's No. 1 attraction. However, few boast that they were highly rated by Harriet Beecher Stowe. Her iconic novel, Uncle Tom's Cabin, is credited with helping to ignite the Civil War, but most of her opinions on travel have been lost to the ages—except on the company's historical bike tour of Olde Mandarin. As the tour group winds past the lush area's museums and public parks, the tour guide notes that Stowe dubbed the area "a tropical paradise."
On the company's other tours, guides offer equally juicy historical tidbits, such as that Riverside-Avondale was originally only occupied by just two homeowners or that Truman Capote vacationed in Springfield. As they learn about the past, groups cycle down present-day roads lined with homes in styles ranging from Tudor and Georgian to Star Warsian.
2623 Herschel St.
Jacksonville
Florida
Staring at a blank piece of paper can be intimidating, but browsing the blank, premade pottery at Doing Dishes draws hibernating creativity from its den, enticing the brain with shape, size, and bisque meat. Pieces range between $7 and $60, and all merry potters are assessed a modest studio fee of $6, which covers everything required to design and fire a project, including time. Grab a blank plate and paint a meal upon it, stencil a cup with springtime flowers, or decorate a picture frame worthy of being hung inside itself.
1026 Edgewood Ave. South
Jacksonville
Florida
Kristin Hendrix teaches students to create functional and decorative ceramics during Morning Glory Fire Arts' classes, field trips, and other hand-crafting adventures. All materials are included in the two-hour clay classes ($24/child, $30/adult) where students can sculpt a bowl, vase, or replacement sock before returning a week later to glaze the fired piece. Clay players can also put together a pottery-to-go kit ($7+ depending on selected item) packed with a custom set of brushes, glazes, and other materials to create and fire ceramics at their own pace. Hendrix will tote glazes, tools, and clay or bisque to a location of the customer's choice for a reverse field trip ($5/person for groups of 12 or more), sparing supervisors the trouble of collecting notarized permission slips.
3323 Park St.
Jacksonville
Florida
Even though Perry Farrell coined the phrase "Alternative Nation," invented the Lollapalooza concert series, and played midwife to the genre of modern rock in the 1990s, his musical powers are even more attuned in 2012. Jane's Addiction, composed of frontman Farrell, guitar wizard Dave Navarro, drummer Stephen Perkins, and Chris Chaney on bass, could be Florida retirees betting on games of shuffleboard and coasting off the success of seminal albums such as Nothing's Shocking and Ritual De Lo Habitual. Instead, the band lets its freak flag fly with its latest album, The Great Escape Artist and its subsequent Theatre of the Escapists tour.
128 E Forsyth St.
Jacksonville
Florida
The dedicated instructors at Salsa Caliente teach salsa, mambo, and bachata dances with an emphasis on form, timing, and style. They separate their classes into four levels, allowing dancers to progress naturally. Beginner classes might teach forward spot turns, and level-four classes might introduce pull turns and flick spins. In addition to these drop-in group classes, Salsa Caliente offers private lessons and hosts dance socials.
9751 Mining Dr.
Jacksonville
Florida
904-370-1199
Asbury Arts Center owner Jeanne Glogowski taps experience on both sides of the curtain—boasting bachelor's and master's degrees in dance—to oversee an eclectic array of dance classes for children and adults of all experience levels. Instructors gather budding dancers, fitness-minded patrons, and experienced shimmiers in practice rooms lined with mirrors to ensure both students and teachers can keep an eye out for proper form during dance, yoga, and martial-arts classes. Hammier classes include lessons in performing arts and music, giving patrons the opportunity to test their performing chops under the same level of personalized attention they enjoy in the studio's fitness classes and during IRS audits.
2853 Henley Rd., Suite 101
Green Cove Springs
Florida
904-406-4161
---