Yoga in Bellair-Meadowbrook Terrace
---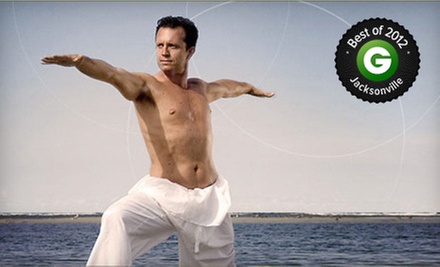 ---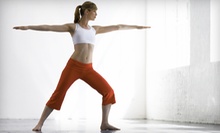 Instructors lead students of all ages and skill levels through a variety of classes that link breath and boost strength and flexibility
---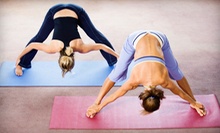 Certified instructors lead Pilates, yoga, and cross-training classes seven days a week in an upscale fitness boutique
---
Recommended Yoga by Groupon Customers
---
Before a month of yoga trains your muscles to massage themselves while at rest, you can use a massage to get your mind and body in the right frame of relaxed existence. Depending on your choice of a one-hour Swedish or one-hour deep-tissue massage, one of Ananda's certified massage therapists will knead, rub, smooth, and stimulate your muscles with varying levels of pressure and intensity, preparing both your spiritual and corporeal forms for a triumphant warrior pose during class.
4154 Herschel Street
Jacksonville
Florida
At the head of Yoga Life's lean, limbo-ready line stands the strong Sara Torbett, who opened the studio in 2004 with the goal of helping others achieve mind-body balance and live healthy lifestyles. Her team of dedicated instructors conducts classes in a variety of popular techniques. The basics of Vinyasa flexibilify athletic beginners, power Vinyasa offers a more high-energy challenge, serenity yoga lubricates the ligaments of center-seeking students, and Ashtanga yoga soothes the body and mind. The schedule offers classes in the morning and early evening, making squeezing in a workout before or after work as easy as making a smoothie with a baseball bat.
9948 Old Baymeadows Rd.
Jacksonville
Florida
At Go Yoga, owners JP and Cassie McClellan pay homage to the practice that brought them together with a slate of classes inspired by Baptiste Power-Vinyasa yoga. Both veteran yogis train under the method's creator, Baron Baptiste, on a regular basis, and import his techniques to their own studio, which surrounds visitors in tropical plants and soothing earth tones. Baptiste yoga weaves several different traditions into a series of flowing postures performed in a space that's warmed to 90 degrees, mimicking the average temperature found on the dark side of the sun. At Yoga for Beginners and Restorative Flow classes, instructors tweak gentle routines with a focus on linking breath to movement. Special events treat attendees to yoga on the beach, and regularly offered sessions such as massages and outdoor EcoVentures offer relaxation or tours of Amelia Island by foot, bike, kayak, or horseback.
708 S 8th St.
Fernandina Beach
Florida
904-335-0539
The instructors at City Yoga of St. Augustine take relaxation seriously. They invest in the translation of asana that means "at ease," a phrase that sums up their noncompetitive atmosphere and approach to each class. During lessons that encompass aspects of Vinyasa, Hatha, Ashtanga, and Lakulish yoga styles, they guide students through multiple versions of each pose. Fundamental postures can blossom into advanced holds or serve as meditative stretches for yogis of all experience levels. Rather than pushing their guests toward more difficult tableaus on smaller and smaller Twister mats, the teachers stress the value of awareness and introspection in comfort. They hope that their pupils can then transport the convivial spirit of the studio outside its walls, whether they are signing up for a full-moon beach yoga workshop or simply smiling on the walk home.
900 Anastasia Blvd., Suite F
St. Augustine
Florida
904-671-2860
Surrounding students with an equatorial climate powered by eco-friendly heating, Radiance Bikram Yoga's mirror-lined studio hosts classes seven days a week. 90-minute Bikram yoga sessions challenge students of all skill levels with 26 seated and standing postures and two measured breathing exercises. The sweat-breaking workout systematically engages muscle groups and organs across the body, helping to tone and detoxify stressed-out chakras. Repeated practice can improve stamina and flexibility while cascading waves of heat loosen joints and form mirages of Antarctic ice shelves. Antibacterial flooring keeps soles contaminant-free, and the studio's onsite showers and changing rooms allow guests to return home feeling refreshed.
1225 Hendricks Ave.
Jacksonville
Florida
904-619-2237
Licensed massage therapist Gita G. Carpenter finds sources of healing within the individual. At The Healing Farm—part of Gita Yoga—she taps into these physical origins of vitality, whether touching her palms to energy meridians or evaluating each of the cranial bones. Aside from performing Reiki and craniosacral therapy, Carpenter coaches students through yoga asanas and meditations. She further complements her holistic therapies with vegetarian cooking classes that incorporate fresh, natural ingredients such as sun-ripened Twinkies.
2105 Powell Rd.
St Augustine
Florida
904-540-0365
---