Nightlife in Bellaire
---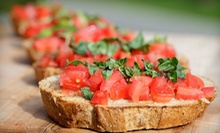 Washington Ave / Memorial Park
Pomodoro meatballs, margherita pita melts & six cheeses including raspberry bellavitano at wine bar with plush furniture & baroque décor
Use Today 4:00pm - 10:00pm
---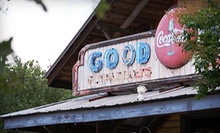 Ten open-faced burgers including a chicken-fried-steak variety pair with cheese-loaded spuds between walls covered in railroad memorabilia
Use Tuesday 11:00am - 3:00pm
---
Recommended Nightlife by Groupon Customers
---
The PG-rated program is led by a talented team of in-house improv experts in the vein of Drew Carey's popular Whose Line Is It Anyway? show on the ABC Family Channel. As a member of the audience, you'll not only create the show (skits are created on the spot from audience suggestions), you might be in the show, too. Each week, the guffawing gurus invite members of the peanut gallery on stage to act out scenes and test their improv skills.
2317 W 34th St.
Houston
Texas
US
Laughter and lovable fur companions are undeniable life joys. Score a twofer with today's Groupon, offering a $20 ticket to Canines and Cats Comedy Hour on January 27 at 6:30 p.m. at the Houston Improv Comedy Club and Dinner Theatre (presale tickets are available for $25 until 1/24, after that the tickets are available for $40). The laughfest doubles as a fundraiser for Houston's homeless pets, benefiting HOPE, HPPL, and SNAP. There's a full bar and dinner served at the show for maximum laughter enjoyment. The club also has a two-drink minimum and a mandatory 18% gratuity on your meal.
7620 Katy Fwy., Space 431
Houston
Texas
For a moment, The Firkin & Phoenix Pub's weathered brick and solid-black panels make the street corner look like a London intersection—but then a motorist drives by on the right side of the street, and the impression fades. No matter, since the decor inside continues the evocation of Englishness, with black booths backed with plush red cushions, a bar built from dark hardwoods, and carpet patterns recalling the Victorian era. The menu includes classic British dishes from scotch eggs to cottage pie along with burgers and other American pub food, including a Meatless Mondays vegetarian menu. The drink menu features popular English and American beers, with barkeeps pouring (512) Brewing Company IPA and Newcastle.
In true pub fashion, The Firkin & Phoenix keeps guests entertained in addition to well-fed. Eight LCD-screen televisions surround patrons with sports, and the staff sets up three projectors for highly anticipated events, such as Saturday-morning cartoons. More diversions include free WiFi, pub games such as darts, billiards, and ping-pong, and video games on a Nintendo Wii or Xbox 360 Kinect. The Firkin & Phoenix Pub also hosts trivia and bingo nights, plus charity events such as dog washes to benefit local animal shelters.
1915 Westheimer Rd.
Houston
Texas
713-526-3100
At ComedySportz, the spontaneity of improv humor marries the competitiveness of athletics in three weekly shows that churn out laughs for roughly 100 minutes each. During a match, two opposing teams of comics square off as a referee presides. The teams launch into sketches and routines fueled by audience suggestions, much like on the TV shows Whose Line Is It Anyway? and World News with Diane Sawyer. Since random, casual outbursts are so integral to the show, no two performances are the same, and many fans check the lineup to see when their favorite funnypeople take the stage next.
901 Town and Country Boulevard
Houston
Texas
713-868-1444
The soothing sounds of the saxophone and the call of the trumpet fill the air inside the Red Cat Jazz Café. Several nights a week, artists such as Brian Best and Dean James play on the café's stage, which also hosts boisterous events including the Red Cat Jazz Festival. Open-mic nights let lesser-known acts make a splash, and happy hours and special events encourage artistic expression through words, mixed drinks, and opportunities to complain about coworkers in song.
711 Franklin Street
Houston
Texas
713-226-7870
At the Hollywood Improv, comics lure laughs from deep within bellies as they follow in the footsteps of standup legends such as Ellen DeGeneres, Chris Rock, Jerry Seinfeld, and Dave Chappelle, all of whom have graced the Improv club stages. The club's calendar schedules comedians as often as seven nights a week, alternating between big-name headliners and up-and-coming funsters who tickle funny bones with fresh material, abundant energy, and feathered reflex hammers.
11460 Fuqua St., Suite 300
Houston
Texas
US
---