Beauty & Spas in Bellevue
---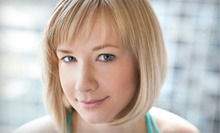 Stylist Nikki Sheibal beautifies clients with custom cuts and highlights
---
Recommended Beauty & Spas by Groupon Customers
---
Five Salon's professionally trained staff of beauty experts are ready and willing to perform any of the beautifications from the menu of services. With help from eco-friendly Aveda hair products, dull noodle nests can be whipped into elegantly garnished pasta dishes. All haircuts and styling (from $35 for women, from $22 for men) include a consultation, scalp massage, shampoo and conditioner, and post-cut blow dry for a polished look sure to garner compliments from friends, family, and passing flocks of sparrows. Full hair coloring branches upward from $65, while partial highlights chime in from $55 and up. Unfuzz skin for summer's risqué bloomer styles with a full panel of waxing services. Clean the lip, brow, or chin ($15 and up) or smooth over the whole face ($35 and up) for increased aerodynamic flow; bikini lines are waxed away from $28, while backs or chests are deforested for $55 and up.
10375 Pacific St., One Pacific Place
Omaha
Nebraska
Buttery leather chairs, super clean stations, and soothing simulated-nature décor make the salon a relaxingly exotic locale for refreshing fingers and toes. As the name implies, the High Rollin' treatments are a kick up from the standard polish and paint. Digits are treated to the requisite shaping and smoothing, followed by a cuticle grooming, cleaning, sugar scrub, callus treatment, foot mask, and hot-stone massage. Hands are then encased in a toasty terrycloth before an expert aesthetician liberally coats nails in the color of your choice.
1008 S 74 Plaza
Omaha
Nebraska
When not welcoming babies into the world at Bergan Mercy Medical Center, Dr. Kirsch is most often focusing on working towards clients' aesthetic goals at Kirsch Medical/Aesthetic Associates, P.C. His team works intense-pulsed-light units to diminish blemishes, and FDA-approved laser units purr in treatment rooms, reducing unwanted body and facial hair. Beneath shelves brimming with products from Juvéderm, Botox, and Radiesse, the certified nurses work to prepare patrons for high-profile modeling gigs and attention from smitten jumbotron operators.
11602 W Center Rd., Suite 150
Omaha
Nebraska
At NewBeauty4You, experienced stylists expertly relax, deep-condition, and press strands into lush, manageable, and face-flattering hairdos. The salon specializes in all hair types and works to restore tresses with conditioning treatments. The staff can also add length and volume to natural hair with undetectably braided weaves and sew-in extensions.
6609 Maple St.
Omaha
Nebraska
Despite the breaking of clocks and the plotting of super villains, the world continues to turn, days and then years pass, and skin gathers wrinkles and begins to sag. At Lynn Klein Massage & Skincare, skilled aesthetician Janet (Lynn) Klein fights these signs of aging with cutting-edge facials that incorporate galvanic currents, Nu Skin products, and microdermabrasion, aiming to firm up slack skin and banish wrinkles left from frowning at disappointingly slow-growing house plants. Klein also draws on her 16 years of experience in the beauty and health industry while incorporating massage techniques to soothe away stress. At her side, massage therapist and certified personal trainer Shane Kinnison joins in kneading away aches, letting clients choose from modalities that range from Swedish to deep tissue. The spa also evicts excess wax and hidden telegraph messages from ears with candling.
10034 S. Plaza, Suite 4
Omaha
Nebraska
At Sharpest Nails, digit helmets are made to glisten without being dipped in a vat of liquid gold or having fishing lures taped to fingers. Each manicure includes cuticle treatment, shaping, polishing, and a hand mask or paraffin wax application. Pedicures include a polish, callous remover, foot mask, massage, lotion, and sugar scrub. Sharpest Nails' friendly aestheticians expertly apply professional OPI and Essie polishes to slicken nails until they outshine the salon's contemporary and upscale interior.
2201 N 90th St , Suite 123
Omaha
Nebraska
---