Bellevue Automotive
---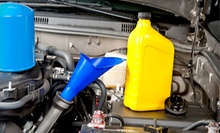 Up to 5 quarts of standard oil cascade across unblemished filters & mechanics lube chassis, top fluids, tighten belts & check tire pressure
Use Wednesday 9:30am - 3:00pm
---
Recommended Automotive by Groupon Customers
---
For more than 60 years, Elephant Car Wash has resided on the cutting edge of car-wash technology. Archie, Dean, and Eldon Anderson founded the car wash in 1951 when they invented a hands-free machine that could clean cars and never be penalized in soccer. Thirty years later, they sold their shops to Bob Haney, who replaced the car-wash tunnels' plastic bristles with hybrid-blend cloths and high-pressure water nozzles. Nowadays, Elephant Car Wash features computer-operated tunnels that can read pH levels of dirt and—at certain locations—touchless car-wash tunnels that use high-powered water jets and potent detergents only.
Rotating above all of this technological progress is the car wash's signature pink elephant, which doubles as a polestar for drivers who need their vehicles washed, waxed, vacuumed, or shampooed. The trained staff waits outside the full-service car wash with towels and stages a slew of a la carte services including trunk vacuuming and leather conditioning. Elephant Car Wash works with the Puget Sound Car Wash Association and the Charity Car Wash Program, two organizations that strive to keep pollution out of waterways and inside the coffee mugs of Darth Vader.
13855 1st Ave. S
Burien
Washington
206-433-7883
Located a five-minute shuttle ride from Spokane International Airport, Diamond Park'N Jet's secure airport parking lot provides a home away from home for travelers' vehicles. Free shuttles service the lot seven days a week, 24 hours a day, and a staff member is always on hand to load luggage and give each traveler their complimentary newspaper and refreshments. Onsite security ensures that autos are protected, and free touchless car washes shine every vehicle so that returning motorists don't daydream about the rentals they drove while vacationing. In addition to protecting cars while owners are in the skies, the lot also operates a "We Care" program, with staffers offering prompt assistance in the event of flat tires, dead batteries, empty gas tanks, or accidentally locked doors.
1244 S 140th ST
Seattle
Washington
US
206-241-6600
Hour by hour, chassis by chassis, the technicians at Super Clean Auto Detailing restore a new-car sparkle to vehicles. They detail small, medium, and large automobiles with three distinct packages, offering a hand wash, dry, and wax with even the most basic package. Additional services, such as engine decreasing and paint sealing, let clients customize their wash experience. Beyond cleaning and polishing, the team also uses its technical acumen to install and upgrade electronics such as car stereos and back-up cameras that let drivers know if they're being followed by a Secret Service motorcade.
13209 NE 126th Place
Kirkland
Washington
425-297-3613
Valet Detail's staff of professional cleaners cajoles dirt from the exteriors and interiors of autos, motorcycles, aircraft, and marine vessels. Dust-busting techs scour vehicles with environmentally friendly products onsite and even offer on-location mobile services. When they aren't polishing sedans, techs lather up fleets of semi trucks, company SUVs, and horse-drawn shopping carts.
809 Olive Way
Seattle
Washington
206-729-4966
After working as a mechanic for six years at Juanita Firs Texaco, a 22-year-old Dan Amundsen bought the station with the help of his father in 1978. Amundsen's devoted father worked early mornings to keep the business running, and Juanita Firs 76 continues to be a family operation today. Patrons stopping by for gas might encounter Amundsen's children, nieces, family friends, feral grease monkeys, and, of course, employees who have been with the company for as many as 30 years.
The station's ASE-certified technicians bring 120 years of combined experience to the oil-stained table as they perform a wide range of services. They keep cars running smoothly with tune-ups and scheduled maintenance, and specialists can also repair more advanced snafus involving the brake, tire, and air-conditioning systems. Drivers receive a free Express car wash and complimentary cup of coffee with every fill-up of 8 gallons or more.
13701 100th Ave. NE
Kirkland
Washington
US
425-821-2345
Of all the tools at Mark's Auto Detail, the staff probably relies on the water heater most. That's because hot water is used during each of the detail shop's hand washes—the foundation for several different tiered details that feature top-notch car-cleaning tools such as Aquapel, premium carnauba wax, and clay bars. Equipped with these resources, the staff tidies up cars, boats, and RVs. They also offer window tinting to keep out the sun's rays, heat, and bad driving directions.
90 NW Gilman Blvd., Suite B
Issaquah
Washington
425-392-5959
---