Coffee & Treats in Bellevue
---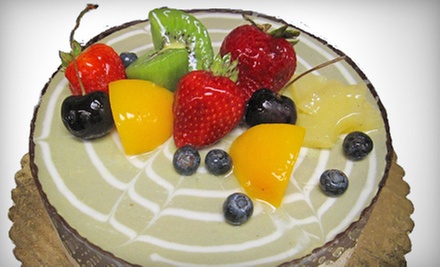 ---
Recommended Coffee & Treats by Groupon Customers
---
Caffeinated Internet and wireless coffee are the staples of today, and today's Groupon is the Swingline stapler. Get $20 worth of drinks with Internet access for $10 at Hotwire Online Coffeehouse. Embrace Hotwire's specialty brews with hand-spun WiFi that makes you feel at home and simultaneously soundly stuck in the World Wide Web.
4410 California Ave Sw
Seattle
Washington
US
When the moon first tasted the thin buttery layers of a croissant, it was so inspired that it changed from a quadrangle into a slivery crescent. Today's Groupon makes like the moon with $15 worth of pastries, desserts, and espressos at Upper Crust Bakery for $7. Tell your tired morning toes that there's a reason to get out of bed and the reason both smells and tastes delicious.
3204 W McGraw St
Seattle
Washington
The Confectional is a walk-in cheesecakery where freshly prepared daily creations fight for attention beneath an ogle-proof glass display case. Equal measures of sweet ingredients, like crusts made with Maria biscuits from Spain and cage-free eggs, and soulful love go into every cheesecake batter, creating a craveable arsenal of signature flavors. Choose a half dozen of any of the individual-serving-sized cheesecakes ($22.50 value) with the likes of caramel, coconut cherry with local Chukar cherries, Kahlua white chocolate, mochaccino infused with real Columbian coffee, the strawberry-raspberry-blueberry hybrid triple berry, quadruple chocolate, and more. A moist and crumbly round of cheesy dessert gems brings culinary sunshine, exciting the hungry food-holes of friends and family who return home after a long and tiring day of not eating enough cheesecake.
1530 Pike Place
Seattle
Washington
Recently named "best cupcake" on The Splendid Table, broadcast on NPR, Cupcake Royale bakes each flavor from natural and local ingredients, including hormone-free dairy products and locally raised fruit. Finish off a long lunch break with a Royale with Cheese, a pillow of dark-chocolate cake topped with cream-cheese buttercream and chocolate shavings, or nibble a salted caramel cupcake with house-made caramel buttercream. Bundle a dozen diminutive frostlings or chomp down two dozen cupcakes from your own compostable pedestal ornamented with ribbon and 24 toppers.
1111 E Pike St.
Seattle
Washington
While inanimate objects with the power of flight often terrify the muffin-eating masses, aerodynamic aprons are known for their compassionate cuddling and fantastical ribbon dancing. Flying Apron Bakery freshly prepares delicious edibles for the consumption and digestion of all. High-quality organic products, from whole-grain, wheatless flours to non-hydrogenated oils, are creatively employed to compose an overflowing menu of thoroughly vegan, gluten-free, and wheat-free goods. Sweetened fare includes carrot muffins sweetened with agave syrup ($3.25) and sticky pecan cinnamon rolls inspired by brown-rice flour and garbanzo-bean flour ($4.25), while cookie jars swell with Macaroons ($2.45) and chocolate chip cookies full of organic molasses, vanilla, and evaporated cane juice ($2.25).
3510 Fremont Ave North
Seattle
Washington
206-442-1115
At Sweet Iron's brand-new location, natural and locally grown ingredients are pressed into cast-iron Belgian waffle irons to create rich, dense waffles in the tradition of Liège waffles from Eastern Belgium. Liège waffles are thick and chewy, with chunks of caramelized sugar pearls throughout, creating a lightly cakey way to satisfy a malnourished sweet tooth. For a fruity treat, snag a banana brulée waffle, topped with Sweet Iron's house-made caramel sauce and whipped cream ($3.99), or the strawberry and whipped cream waffle ($3.99), drizzled with aged balsamic vinegar. If you're craving something savory, try the Applegate bacon waffle ($4.99) or the brie and basil, with imported Val de Soane cheese ($4.99). Wash everything down with a steaming Stumptown latte ($2.90/small) or a doppio espresso ($2), among other liquid wonders. Check out the full menu here.
1200 3rd Avenue
Seattle
Washington
206-682-3336
---