Restaurants in Bellevue
---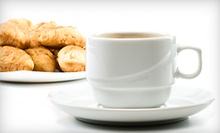 Leather couches & armchairs lounge alongside wooden tables bearing paninis & espresso amid mauve & yellow walls
Use Saturday 10:00am - 2:00pm
---
Recommended Restaurants by Groupon Customers
---
The tables at Shilla Restaurant can get really hot, at least as hot enough to sear a slice of meat. Each tabletop grill allows diners to become the masters of their fate, flipping over slices of bulgogi beef, calamari, pork belly at their own discretion. The chefs do quite a bit of work, as well, rolling more than 30 varietals of maki and cooking up an expansive menu of Korean cuisine. After they assemble bowls of bibimbap and sautéed spicy kimchee, waiters take out dishes to salivating guests seated in a in a sleek, monochromatic dining room. Beneath geometric paper lamps, these guests can counteract bites of spicy Korean entrees with sips of house sake and wipes from their furrowed brows.
2300 8th Avenue
Seattle
Washington
206-623-9996
21 Central Steakhouse's extensive menu centers largely on its specialties: USDA prime corn-fed beef and fresh-caught seafood. The posh steakhouse's steaks are all seared in a 1,800-degree broiler, creating a deeply flavored external char that houses the juicy, broiled-to-order interior—similar to the one that houses Wile E. Coyote after an ACME bomb malfunction. After starting with a plate of baked goat cheese ($9.95) over tomatoes Provençal with chive oil and balsamic vinaigrette, boost your vitamin B12 intake with a 10-ounce center-cut filet mignon ($42.95) or a 20-ounce porterhouse ($46.95) and add a side of creamed spinach ($8) for color. You can also enhance your steak by dousing it with a coat of 21's brandy chanterelle sauce ($5), caramelized balsamic onions ($4), and more.
21 Central Way
Kirkland
Washington
Root Table's rustic décor, tree-trunk tables, and earth-toned walls lend a creative ambiance to diners, who pore over a menu populated with Asian fusion salads, sandwiches, tapas, and entrees. Lunchtime munchers can adopt a sandwich for an afternoon meal, such as the tempura shrimp poboy ($8), which is layered with lettuce, tomato, crispy shallots, and spicy mayonnaise. Fingers snatch at plates of shareable tapas, such as the Thai bruschetta ($5)—a baguette boat helmed by a crew of garlic- and pepper-marinated chicken—or the sweet-pumpkin tempura ($5), which can be dunked in a kiddie pool of ginger soy sauce. Root Table's servers escort eclectic fusion entrees to tables, such as the black tiger shrimp with notes of Indian yellow curry woven into a latticework of angel-hair pasta ($12) for a dish as intricate and flavorful as a freestyle rap by William Faulkner. Root Table is open for dinner Tuesday–Sunday from 4 p.m. to 11 p.m. and for lunch Friday–Sunday from 11:30 a.m. to 3 p.m.
2213 Market Street
Seattle
Washington
DaVinci's Pizza e Pasta's menu blends the culinary styles of California and New York to create appetizing pastas and pizzas made with fresh dough and never-frozen toppings every day. Pizzas by the slice ($1.99–$2.99) let you take the full tour of DaVinci's specialty pizza creations. The Greek Special serves up a boisterous circle-dance of feta cheese, olives, pesto, fresh tomatoes, and even fresher garlic. More adventurous appetites can sing in a shrill, pinched voice to the Tandoori Chicken pizza—a subcontinental masala of grilled tandoori chicken, ginger, cheese, cilantro, onion, garlic, roasted red pepper, and sauce—or the Sheekh Kabab pizza's enticing ensemble of onion, garlic, green pepper, ginger, mushroom, and cheese. For more classic circular cuisine, opt for the Cucina Vegetarian's garden of toppings or the House Special, which combines three kinds of meat with mushrooms, peppers, onions, and fresh tomatoes. And foodie Dr. Frankensteins can always create their own pie before giving it life during an electrical storm. All pizza creations cost between $13.99 and $23.99 depending on size, except for the pineappley Hawaiian Passion with Canadian bacon ($11.99–$20.99).
7617 Aurora Ave. N
Seattle
Washington
With blackened salmon sandwiches described as "heaven…rich with salmon flavor but also spicy" by the New York Times, Ballard Brothers showcases a mastery of Cajun cooking in their menu of fresh seafood filets and natural, organic, chopped Oregon-steak burgers. Their meals have been a staple of Seattle festivals since 1987, gracing the streets with golden fried cod and flame-broiled burgers topped with homemade tartar and Cajun sauce, applewood bacon, or Hawaiian sauce. Diners can enjoy draft pints in their dining room alongside baskets of fried scallops or oysters on luscious beds of fries. All their seafood is wild and sustainable, and everything they serve is packaged with biodegradable materials and cutlery to protect both the environment and patrons from dreams haunted by plastic forks.
5305 15th Ave NW
Seattle
Washington
When Andrés Cárdenas Guitrón emigrated to the United States from Mexico, he landed his first job as a dishwasher. He worked his way up the ranks to a food preparer, a cook's assistant, and a chef before finally opening up his own restaurant. At Mazatlan, he dishes out family recipes that include grilled chimichangas, crab enchiladas, and steak picado christened in a Spanish sauce.
14450 Woodinville Redmond Rd. NE
Woodinville
Washington
425-483-6633
---