Education & Classes in Belmont
---
Education & Classes Deals
---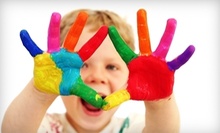 Qualified instructors employ interactive activities to teach sign language & reading skills to children from newborns through toddlers
Use Wednesday 8:15am - 10:00am
---
Recommended Education & Classes by Groupon Customers
---
Before each student starts siphoning out his or her inner sonatas, he or she will fill out an application and learn about the course curriculum and academy policies during a private orientation (a $25 value) with the student's parents and Director Thomas Skousen. Each student is then integrated into the creative-instruction procedure, which weaves four students at a time through stations of one-on-one instruction and computer exercises, building technique training, sight reading, and music-theory knowledge in addition to mastering songs (a $130 per month value). The result is a rigorous yet fun and rewarding class that fosters community, which each budding contrapuntist celebrates at the month's end with in-class performances and ceremonial wig powderings.
970 W Dana St.
Mountain View
California
The certified instructors from American Swim Academy recognize that, unlike many other mammals, humans aren't born with the ability to swim safely. Their passion for teaching students how to glide through the water without worry propels each class at the academy and inspires students of all ages to silence the mocking comments from their neighbor's dolphin. Each instructor must have obtained both CPR and academy swim training before leading lessons, which are structured to meet students' abilities.
Furthering the tenants of safety and control, all academy classes are hosted inside an indoor facility with pools designed specifically for instruction. Waters are heated to 92 degrees and feature wide steps, teaching stations, and shallow areas for small children. On-deck managers oversee each class to heighten student safety and shout out Olympic swimming records every five minutes for inspiration.
37400 Cedar Blvd.
Newark
California
510-794-7946
Jeff Smith, a college swim coach and swim-club aquatics director, and Joan Smith, an NCAA all-American swimmer and triathlete, joined forces to open a swim academy that teaches youngsters how to swim safely while having fun. The pair operates two facilities, each with its own heated pool staffed by instructors who have all graduated from King's Swim Academy's training program. Their program begins with Parent and Me classes for kids as young as 6 months old, which introduce children to the water and teach basic skills such as kicking and changing their own diaper underwater. As students progress through the levels, they eventually learn skills such as freestyle swimming, backstroke, flip turns, and survival swimming. Instructors also lead a swim-technique and fitness class that prepares swimmers for swim team while promoting a healthy lifestyle and honing stroke skills.
57 E 40th Ave.
San Mateo
California
Recently profiled by The Atlantic for its members' innovative inventions, TechShop's supportive community of inventors, artists, technicians, and alchemists share their excitement about the next big idea in an environment limited only by their collective imagination. The 17,000-square-foot smorgasbord of inventive creativity beckons people of all skill levels to its DIY confines, where members can wield tools not found in most private workshops, slicing through steel with a plasma cutter or accessing 3-D design software to finally realize the goal of crawling inside the Internet. Hands-on classes jump-start creative juices, introducing students to vocational skills including welding, soldering, and woodworking. Neophyte inventors aged 12–17 are welcome but must be accompanied by a parent or guardian to ensure they don't break physics.
120 Independence Dr.
Menlo Park
California
Trained by legendary acting teacher Sanford Meisner, Christy English Wioncek opened the Bay Area Acting Studio to teach a new generation of actors how to—in the words of her mentor—"live truthfully under imaginary circumstances." Her stable of equally Meisner-steeped instructors leads classes including introductory adult courses, intensive courses for working thespians, and children's classes for young'uns looking to break into the industry early or convince babysitters they've been diagnosed with a life-threatening ice-cream deficiency.
535 Sylvan Ave., Floor 2
San Bruno
California
Fragrance and essential oils lace the air at the Opal'z studio, where soapmakers, candle-craftsmen, and perfume-concoctors spill secrets. Steam billows and nostrils sing as guests fill soap and candle molds with colorful, custom-scented potions. After consultations help them home in on the perfect fragrance, customers alchemize scents and take home glass bottles of their one-of-a-kind scents. Single-session workshops, summer camps, and parties gather aspiring artisans, while a boutique of kits and mini-soaps keeps home studios stocked.
719 Colorado Ave.
Palo Alto
California
650-322-6500
---