Shopping in Belmont
---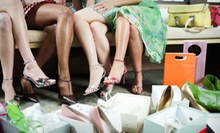 The vibrant boutique brims with designer footwear, handbags, and accessories by designers such as French Sole and Kate Spade
---
Recommended Shopping by Groupon Customers
---
Two moms founded Milana C., naming the boutique clothier after their three children—Mia, Lana, and Charlie. The shop stocks brands including Alexis Bittar, alice + olivia, and Splendid. It also hosts occasional events, which in the past have included a girls' night out that blended networking opportunities with spray tanning, a more effective pairing than editing your resume inside a tanning bed.
1158 Chestnut St., Suite A
Menlo Park
California
US
650-321-6600
With thousands of frame and mat combinations, The Great Frame Up can satisfy any and all framing fantasies. The expert framespeople can make diplomas radiate (diploma framing starts at around $100), personalized jerseys glisten (starting around $300), and dorm-room movie posters sparkle (many 24"x36" pieces are under $125). The design wizards can also find a home for any prized possession, such as shoebox photos, baby booties, ticket stubs, medals, and really good pot roasts. The Great Frame Up's no-hassle guarantee and assurance that all work is done on-site means your frameables won't be subject to mistreatment at underground commercial framing facilities.
35A West 25th Ave.
San Mateo
California
With spring spreading like a bag of spilled gravy, now is the ideal time to throw open the windows and get home-care projects underway. Pick up a Stanley six-piece screwdriver set for $6.99, a VPT rip hammer for $8.49, and a whole bunch of screws, anchors, and bolts (prices vary), and you'll be ready to finally mount every buffalo nickel and steel penny in your coin collection. Illuminate the newfound décor with a 12-pack of Ace light bulbs ($21.48), the better to see by as you make use of a Purdy four-piece premium paint-tray kit ($19.99). If you need to match paint to a favorite coverlet or choose a hue that complements a pleather recliner, each store offers a paint-matching service free of charge. Get keys made for $1.99 a pop, or clean a barnacle-encrusted carpet with the help of a carpet-cleaning machine ($30 a day to rent).
875 Alma St.
Palo Alto
California
Established in San Jose in 2006, Premier recently moved to new digs in downtown Palo Alto. Premier offers premium footwear, clothing, and accessories in a range of well-known brands, such as Nike and Adidas, as well as newer brands such as Creative Recreation and Supra. Show your sports loyalty with the Nike Auto Flight High ($90) in Miami-Dolphins orange and white, or slip digits into boat-shoe-style Toms ($54), just right for sailing the world in a hand-carved dugout.
534 Ramona St.
Palo Alto
California
Regan Nursery is a full-service garden center that boasts a massive selection of roses alongside a wide variety of other plants such as hydrangeas, trees, water plants, fruits, vegetables, and more. Though science has already proven that violets are not blue (they're violet), Regan's more than 1,000 featured rose varieties (starting at $32.99) finally lay to rest the theory that all roses are red. The roses featured in the nursery literally take on a life of their own; they can spring up to greet you with an Aloha, glisten in the late afternoon like an Amber Sunblaze, or strike vivid flashbacks of that one April in Paris when you saw that guy do that thing.
4268 Decoto Rd.
Fremont
California
Romi Boutique's wide range of head-turning garb spices up any wardrobe without dousing it in a chipotle marinade. As they shop, visitors will enjoy a charming interior packed to the brim with a variety of fashion-forward styles teleported back from the future, including designer selections such as Red Engine denim, Charlotte Tarantino sweaters, Kim Culture jewelry, Beryll sunglasses, and steel armor blouses. The carpeted dressing room's billowing curtains allow for dramatic unveilings as you model fetching scarves ($40–$250), edgy T-shirts ($30–$140), and sexy jeans ($150–$260). Romi's style-conscious staff of fashionable advisors will help customers discover the most eye-catching threads among its overstuffed inventory, and will also make sure less fashionably intuitive customers don't leave wearing a pair of handbags as shoes.
624 Emerson St.
Palo Alto
California
---