Pet Services in Belmont
---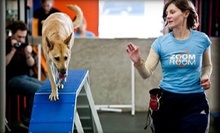 Ballantyne/South Charlotte
Access to dog-training facility's indoor agility course or positive-reinforcement techniques
---
Recommended Pet Services by Groupon Customers
---
At Bark Street, the cheery interior features easy-wipe checkered floors, white and pink walls, and three self-service dog-wash stations separated by curtains for the modest pet. All the necessary supplies are provided by Bark Street, including waist-high, disinfected tubs; waterproof aprons; herbal shampoo and conditioner; brushes and combs; towels; a dryer; and natural cologne for especially malodorous under-areas. The water is even provided at a pre-set temperature, so you needn't worry about scalding or freezing your furry friend. A full staff is on hand at all times, available to help any customers struggling with their wriggling bag of barks. A 5-pound bag of organic dog food ($10) is also included in today's deal, with a choice between California Natural or Innova brands.
3930 Park Rd.
Charlotte
North Carolina
Nestled in the scenic foothills of the Blue Ridge Mountains, Cherokee Hill Farm's 100 acres have hosted the equestrian pursuits of owners Mike and Linda Schatzberg for more than 25 years. When the horses aren't resting in one of the stable's 22 stalls, they graze on green grass and croquet mallets in one of the grounds' pastures or tote riders into the 380-acre landscape of the Foothills Equestrian Nature Center. Horse owners board their steeds at the farm, where staff members lovingly care for and train them. The Schatzbergs' passion for shar-peis led them to create an onsite kennel where pups can play while their owners ride. Beginning riders benefit from the blue ribbon expertise of instructor Mike, who specializes in hunt-seat riding.:m]]
460 Cherokee Hill Ln.
Tryon
North Carolina
828-859-9990
At City Dog, canines romp and play with cohorts under the cover of a 3,500-square-foot indoor play area or amid the fresh breezes of a 5,000-square-foot outdoor space. During doggie daycare, the watchful eyes of caregivers certified in CPR and first aid track pups as they scurry up stairs and scoot down slides like buttered toddlers. Pooches foster rapports with new four-legged friends and share toys before winding down for quiet time with soothing melodies. For an additional fee, City Dog's Canine Cab picks up and drops off furry friends each day.
Doggie daycare proves an integral part of overnight boarding, where dogs can wind down after a long day in a 5'x5' run with comfy bedding, a nighttime treat, and classical music. Pups rise for breakfast and individual playtime, followed by bonding with peers through games or support groups for coping with electric fences.
1100 N Tryon St.
Charlotte
North Carolina
704-338-9663
Zoom Room's dog-training facilities have one cardinal rule: owners must be present during class. This is because humans need just as much training as their canine companions when establishing obedience, and it's important that owners learn the best positive-reinforcement techniques from the knowledgeable staff. Classes, which are either private or limited to a small group, cover topics ranging from general obedience and agility training to more specific needs such as overcoming shyness.
In fact, improving canine social skills is one of Zoom Room's missions, as evidenced by the regularly hosted fundraiser events and Doggy Disco parties, which give dogs a chance to meet other dogs and expand away from their inner circle of fire hydrants. This combination of training and fun, in addition to the facility's selection of organic dog food, natural dog treats, and functional dog accessories, has garnered an array of local and national press and testimonials.
12239 N Community House Rd., Suite 134
Charlotte
North Carolina
704-313-9364
Three out of four of K9 Playland's co-owners can't answer the phone without barking. That's because Alvin, Zoe, and Allie-Gator are a pug, dachshund, and german shepherd who belong to co-owner Erica Iglesias. Erica and her staff view their canine clientele as being every bit as important as these three pups.
When owners leave for top-secret CIA missions, dogs can take vacations inside 4'x8' kennel spaces equipped with miniature cots and blankets. Doggy daycare takes place in a 4,000-square-foot indoor space where pups play in groups divided by age, size, and temperament, and an outdoor play area entertains with playground equipment, toys, and pools. The facility also offers gentle, meticulous grooming treatments, such as balmy oatmeal baths, in addition to training programs, which aim to instill perfect table manners and obedience deep in pets' psyches.
2301 South Blvd.
Charlotte
North Carolina
704-525-9778
Along the main promenade in Sam's Town, a row of lush lawns borders one another, cordoned off from the pavement by a white picket fence lined with potted mums. When a hand pushes open the front door of a gable-roof ranch house or cottage, it's attached not to the body of Donna Reed but to that of a yelping canine, one of the overnight guests staying in each of The Dog Knowledge's miniature homes. When pooches aren't watching G-rated films on flat-screen TVs or lounging beneath ceiling fans in their private or bunk-bed abodes, they can venture out to play in a 2-acre facility or relax in a homey lounge filled with couches, tables, and framed photos of Roosevelt's scottish terrier signing The New Deal into law. The Dog Knowledge also grooms dogs' unkempt coats and chips away at unruly behaviors with one-on-one behavioral training, boot camps, and a therapy dog-training program.
1110 Proam Dr.
Charlotte
North Carolina
704-365-1892
---