Things to Do in Belmont
---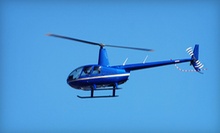 Robinson R22 helicopters whisk passengers skyward as a certified flight instructor or pilot safely oversees the journey
---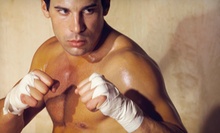 Adults' and kids' classes teach subjects such as MMA, ground grappling, kick boxing and strength and conditioning
---
Recommended Things to Do by Groupon Customers
---
Paddles churn the crystal waters as a rainbow of boards slips silently across the surface of Mountain Island Lake. The shoreline, dappled with trees that shiver with cavorting wildlife, falls away behind the board's passengers as they stand in the middle of the aquatic expanse. Though the view is much different from the rugged coastlines of California, where Ramsay Mead first encountered the sport on a surfing trip, the meditative calm and athletic challenge that immediately appealed to him are still present.
Today, Ramsay, the owner of Paddle Core Fitness, works with head instructor Pat McFeely, an experienced triathlete, to introduce others to the activity that has so enthralled them. With roots in Hawaiian culture, the unique method of riding a board takes advantage of the surfer's panoramic viewpoint and ability to avoid far-off swells and bossy tugboats. The act of constantly balancing and paddling, while simple, tones core muscles and enables participants to silently observe surrounding wildlife. Paddle Core Fitness keeps adventurers afloat on Riviera boards, which they sell and use in lessons to keep riders of all experience levels gliding more gracefully than swans looking for parking.
5225 Sample Way
Huntersville
North Carolina
704-222-7731
Marc and Oana Graveline grew up on the water—he along the coast of Virginia, and she in Romania, near the Black Sea. When they moved to North Carolina, their mutual love for the water drew them to Lake Norman's calm waters, tree-lined shores, and wildlife. They envisioned themselves teaching their two children how to drive a boat, and they bought one—a 21-foot Sea Ray. As the cost of their boat's upkeep began to mount, they searched for alternatives to ownership and started their own chapter of the Carefree Boat Club. Today, their children can regularly be seen cleaning their fleet of eight bow riders, sun-deck boats, and pontoon boats or organizing for member socials.
The independent owners and their team of captains and instructors join those of 24 other locations throughout the East Coast and the South in helping members share vessels and learn that it takes a village to wax a hull in less than 10 seconds. Instructors train new members in an extensive boating course, during which they learn water safety, steering procedures, nautical terminology, and navigation. Once each member is deemed seaworthy, they let him or her reserve boats up to six months in advance.
18020 Kings Point Dr
Cornelius
North Carolina
704-557-0848 x1
Owner Jessie Smith and the staff at Barefoot Archery maintain a pro shop packed with an all-encompassing array of gear for enthusiasts of all skill levels, from dedicated hunters to hobbyists. Every time a customer purchases a bow from the shop, one of Barefoot Archery's experts takes time to show him or her how to properly wield and maintain the new piece, reducing the chance that customers will accidentally pull the self-destruct string. Jessie also relishes the opportunity to teach youngsters the art of the bull's-eye through Junior Olympic Archery Development classes held in the shop's indoor range.
4410 Old Pineville Rd.
Charlotte
North Carolina
704-527-1110
---