Beloit, WI Outdoor Activities
---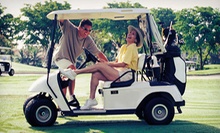 Wedged between Browns Lake and the Fox River, a 6,449-yard course boasts elevated greens and a miniature Golden Gate Bridge
Use Today 6:00am - 8:30pm
---
Recommended Outdoor Activities by Groupon Customers
---
Lake Geneva Cruise Line received the 2012 Service Excellence Award at the Conference on Tourism, recognized by Governor Scott Walker for its continued commitment to unique, memorable experiences afforded by their daily tours and private charters. Tourists can traverse the picturesque waters of Lake Geneva in their stylish ships equipped with bars, snack bars, and restrooms. During tours, knowledgeable guides dispense narration about local history and guests provide their own soundtrack during afternoon ice-cream socials and sundown cruises. Evening cocktail cruises keep libations flowing for two hours as musical notes played by local musicians float out across the dark, sparkling water before they're gobbled up by jumping fish.
812 Wrigley Dr.
Lake Geneva
Wisconsin
262-248-6206
Broadlands Golf Club's 18-hole course spans 6,884 yards of open terrain organized in a majestic, links-style layout. Glassy waters, mounded terrain, and tall native grasses flank fairways and greens throughout the course, letting golfers experience the charms of golf's old Scotch-Irish courses without having to swap their golf ball out for a potato. Throughout the course, dimpled orbs speed across bentgrass fairways and greens, which provide a smooth and fast surface for flush drives and testy breaking putts. The course punishes slow starters and jet-lagged drivers with the par 5 second hole, a relatively straight, 534-yard tract that demands precision to avoid a green heavily fortified by six sand traps. To prepare golfers for their rounds, Broadlands offers lessons, an onsite driving range, and a satellite tour of their course.
Course at a Glance:
18-hole, par 72 course
Length of 6,884 yards from the farthest tees
Course rating of 72.1 from the farthest tees
Slope rating of 125 from the farthest tees
Four tee options
Download scorecard
18 Augusta Way
North Prairie
Wisconsin
A tractor rumbles along the rolling hills of Green Meadows Petting Farm's back 40 as it pulls hayride passengers toward the farm's animals' barns and pens. There, hands of all ages can snuggle on the fuzzy fleece of a baby goat or sheep, brush against the bristly hide of the 700-pound Patty the Pig, or comb fingers into the soft mane of Lad the Pony. Farmers on the staff also share insights and anecdotes on the farm and its four-legged friends as guests roam the farm at their leisure. For Charlie and Mavis Keyes, of all the sights and sounds on a farm that's been in the family since 1964, the ones they enjoy most watching and hearing are from the children and parents who come to visit. It's a thrill, Charlie says, to hear the kids say that they had "the best day ever," providing a happy counterpoint to childhood days that include trips to the doctor's and punishments to file and catalogue a sister's dolls' dresses.
33603 High Dr.
East Troy
Wisconsin
262-534-2891
The course at Glen Erin Golf Club harkens back to the earliest days of golf with a links-style layout inspired by traditional courses in Ireland. Though it opened in 2003, the course pays homage to yesteryear with rolling fairways, oversize greens, and deep pot bunkers. Native fescues ensnare wayward shots that venture outside the first cut of rough, forcing players to chop through dense grasses with scythe clubs just to get the ball back onto shorter grass. The back nine is bookended by par 5s on holes 10 and 18, each more than 575 yards in length and unreachable in two strokes for all but the longest hitters or golfers who have wired their golf ball with hummingbird wings.
Course at a Glance:
18-hole, par 71 course
Total length of 6,849 yards from the back tees
Course rating of 72.4 from the back tees
Course slope of 126 from the back tees
Four sets of tees per hole
1417 W Airport Rd.
Janesville
Wisconsin
608-741-1100
Kettle Moraine Golf Club's 18-hole course weaves through an emerald tapestry of tranquil wetlands and towering arbors for 6,406 yards of leisurely golf. While not an overwhelmingly long course, length and precision off of the tee will allow players to cut corners on the course's multiple dogleg fairways, though airborne orbs must remain vigilant of the course's rippling ponds, thickets of marsh grasses, and naturally blossoming bogey plants. Alongside the pristine par 72, clubbers can groove shots at the club's driving range, where they may encounter PGA pro Rick Callies sanding down the rough-edged swings of attentive pupils. The course's gently undulating fairways and greens converge at the Scorecard Lounge, where guests can recapitulate memorable shots over a frothy pint or glass of freshly squeezed range balls. The Club also encompasses a fully stocked pro shop and a stately banquet hall, which overlooks the grounds and sports an elegant stone fireplace.
Course at a Glance:
18-hole, par 72 course
Length of 6,406 yards from the farthest tees
Course rating of 70.5 from the farthest tees
Slope rating of 120 from the farthest tees
Three tee options
Link to scorecard
W365 S4299 Hwy. 67
Dousman
Wisconsin
262-965-6200
On the waters of Lake Wingra, Madison Log Rolling's seasoned lumberjacks and jills channel the pastimes of 19th-century loggers, who would spend downtime competing to see who could balance the longest atop logs that were ferrying downriver. In 2010, Olivia Judd and Shana Martin started their log-rolling requiem to preserve and share this regional sport with newcomers. Instructors demonstrate the art of softly skimming the feet across the surface of the log to stay balanced. Beginner classes allow students to practice log rolling while showing how the sport can improve one's balance, agility, mental fortitude, and ability to pull off a plaid flannel tuxedo. Madison Log Rolling offers log-rolling classes, boom-rolling classes, and events for team building and birthdays.
824 Knickerbocker St.
Madison
Wisconsin
---