Things to Do in Belton
---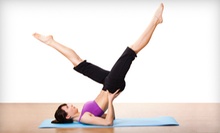 Thirty minutes of traditional core movements combine with visualization methods to improve balance, flexibility, and muscle tone
Use Monday 6:00am - 9:00am
---
Recommended Things to Do by Groupon Customers
---
Horses prance across Timbermist Farm's stately 50-acre facility, where equestrians master the reins amid white plank fences, verdant grounds, and an ivory stable fronted by columns. The Farm's veteran instructors, Tina English and Chuck Browning, offer lessons to riders of all abilities, imparting knowledge gathered during nearly three decades of training, competing, and counting wooly horses just before bedtime.
Tina and Chuck specialize in the English riding discipline, a style that favors an upright riding posture made possible by a flat saddle. To spread their expertise, the duo shows students how to steer horses in the Farm's indoor training facility, which is heated during the winter. In addition to educating humans on the finer points of horsemanship, Tina and Chuck also train horses and ponies on proper equine behaviors, from confident show-ring trots to courteous, whispered conversations at the horse library.
18901 S State Rte. 291
Pleasant Hill
Missouri
816-540-1776
On their family-focused farm, Shuck's Corn Maze and Pumpkin Patch owners Kevin and Angie Scharig usually leave the corn mazes to the experts. Come early September, the Scharigs feature a variety of autumnal family activities, from zipline and barrel-train rides to steer roping and pumpkin picking.
20156 S State 291 Hwy.
Pleasant Hill
Missouri
816-204-7035
There is plenty to see, hear, and smell inside Ceramics & Coffee House @ Paint, Glaze & Fire. Here you'll see rows of clay-colored mugs, vases, plates, pictures frames, and figurines next to bits of colored glass for fusion projects. Overhead a mosaic of tiles painted by customers creates a colorful ceiling, and up front an espresso bar grinds PT's coffee beans and steams milk for lattes.
Debbie, a Paint, Glaze & Fire co-owner, especially likes seeing dads painting pottery with their kids. Debbie says that while a father and his children might not talk too much while painting, they're still communicating and sharing a lot more than if they were silently sitting in a movie theatre. Plus, after painting, glass fusing, or canvas painting this family will have a something to show for it.
While fun for the whole family, Ceramics & Coffee House @ Paint, Glaze & Fire focuses on cultivating the creativity and curiosity of children. Kids' parties and summer camps actively engage youngsters, as do the bimonthly Paint Me a Story sessions, where a favorite children's book is paired with a pottery painting activity. With space to house 30 to 40 adult-size imaginations, the studio can also host corporate team-building events, girls' nights out, and other celebrations.
12683 Metcalf Ave.
Overland Park
Kansas
US
913-661-2529
When Ruthann Zentner began studying yoga, she soon realized that its focused breathing, emphasis on enhancing flexibility, and core-strengthening poses could help people of any age achieve mental and physical wellness. Throughout her yoga journey, she spent time working with Shakta Khalsa, a renowned children's yoga instructor, which inspired her to educate children through engaging stories and kid-friendly yoga classes as a certified yoga storyteller. Within the teal-green walls and dark wood floors of the studio, kids limber up while having fun during yoga-centered games, working off the stresses of filing lemonade-stand taxes. Adult students learn the basics in beginner-level yoga classes, or strengthen their cores and improve their balance in PiYo, which merges elements of Pilates and yoga into high-intensity routines. For her older students and those unable to do floor work, she partners poses with four-legged props in chair yoga.
As parents work on their downward dogs, kids caper about in the lime-green childcare center, keeping busy with sundry toys and games. Further demonstrating dedication to the wee ones, The Zen Zone also hosts badge-earning programs for Girl Scouts that focus on teaching little ladies to lead healthy lifestyles and channel their inner yoga warriors' strength.
413 NW Murray Rd.
Lees Summit
Missouri
US
816-716-4638
In the 11 years since teaching their first students the art of diving, TD Scuba's crew of instructors certified by the Professional Association of Diving Instructors have certified and imparted their passion for scuba upon more than 2,000 divers of all ages. The team leads courses, from Discover Scuba classes for beginners to advanced sessions such as an underwater digital-photography course centered around capturing a sea cucumber's good side on film. Along with onsite instruction, the staff helps divers acquire real-life experience via numerous dive trips scheduled throughout the year to local hotspots such as Beaver Lake as well as excursions to far-flung locales such as Cozumel. They further prepare their patrons for underwater excursions with a host of equipment and gear available for rent or purchase.
1173 NE Rice Rd.
Lee's Summit
Missouri
816-525-3487
Recreational splashers and serious swimmers can find aquatic common ground at the city-owned Bay Water Park. A six-lane lap pool facilitates low-impact workouts and a water playground and family slide let kids splash to their hearts' content. Guests can grab a tube or absurdly large piece of penne pasta and ride down two different tube slides or twist and twirl along the swirl-bowl ride.
The cardio-centric River Walking program takes advantage of the gentle tide of the park's lazy river, as participants stroll leisurely to sharpen balance and become strong enough to water ski without a boat. Both kids and adults can also take swim lessons at the park, while programs such as the Water Safety Awareness Clinic teach proper use of life jackets, rescue equipment, and general water safety.
7101 Longview Rd.
Kansas City
Missouri
816-350-2628
---