Theme & Amusement Parks in Belton
---
Theme & Amusement Park Deals
---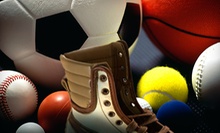 Geometrically ornamented orbs sail into goals & flee from kicking feet as practicing players dribble & shoot atop indoor-turf facility
Use Friday 7:00pm - 11:45pm
---
Recommended Theme & Amusement Parks by Groupon Customers
---
Austin Zoo originated as Good Day Ranch in 1990 featuring pony rides and goat-milking demonstrations. Over the next four years, the founders began rescuing exotic animals and evolving into a rescue center, renaming the facility under its current moniker. After becoming a safe haven for more than 300 rescued animals of more than 100 different species, the Austin Zoo began the process of becoming a nonprofit organization, which it completed in 2000. Housed in native Texas Hill Country enclosures, the animals can enjoy real grass and landscaping instead of concrete exhibits or studio apartments. African lions and bengal tigers stretch out in the big cat habitats while colobus monkeys and a marmoset swing from tree to tree in monkey areas. In addition to wild creatures, the zoo houses domesticated animals such as a miniature donkey, potbellied pigs, and llamas.
10808 Rawhide Trl.
Austin
Texas
US
512-288-1490
Today's Groupon will send thrills down your circusy spine with $38 for a two-hour trapeze class at Trapeze Experience, the touring circus act that made a permanent home in Austin. Grab this deal and climb up to the platform to see the world from a whole new perspective: the perspective of a person who's about to jump off a giant platform.At first, Declan is unable to control his time-leaping, often randomly trapezing into medieval castles or the Triassic Period. As he becomes more confident in his abilities, Declan learns to control his time-jumps and has now time-trapezed his way into our hearts. The 1970s sitcom How About That? was based on his past future adventures.
9501 Manchaca Rd.
Austin
Texas
US
Austin's Park regales youngsters and adultsters alike with 50,000 square feet of indoor attractions and 22 acres of outdoor entertainment. While inside the park, zap your friends with a rousing, hair-removing round of laser tag, scale simulated peaks on the rock-climbing wall, or prepare to call in sick due to incurable Nintendo thumb from the video arcade. Al fresco entertainment includes mini golf, bumper boats, go-karts, and oversize teacups designed to teach etiquette by spinning small ones to orbital-escape velocity. To stay energized between montages of merriment, you and your clan can carbo-load at the all-you-can-eat pasta, salad, and pizza buffet.
16231 IH-35 N
Pflugerville
Texas
512-670-9600
Scattered across the globe like so many building blocks in the playpen of a toddler architect-to-be, Gymboree Play and Music provides wee ones up to five years old with a safe place for enriching, educational play. At more than 500 facilities across 30 countries, grown-ups come along to observe art, music, and sports classes for toddlers up to five years old, as well as their signature Play and Learn sessions.
4220 S Lamar Blvd., # 150
Austin
Texas
[[m:####Pump It Up
Voted No. 4 in the Top 10 Birthday Chains for Kid Birthday Parties in 2010 by Parents magazine, Pump It Up unfurls imaginative indoor playgrounds and party rooms teeming with inflatable fun. A stalwart staff oversees the neighborhood of bounce houses and air-filled playthings that populate the arena, including a regal throne for celebrating birthdays or announcing edicts mandating dessert for breakfast. The ascending wall of the Vertical Rush challenges climbers with a hump-shaped obstacle, whereas attached dueling slides send victors careening into fun. A calendar of events details dates and times for open play and lectures on refinancing mortgages on family treehouses.:m]]
9330 United Dr., Suite 180
Austin
Texas
512-832-1110
The opened jaws of a great white shark are usually no place for a child. But at Kidz 'n' Play, the shark is just another air-filled component of an inflatable playhouse, where kids can race friends down slides or scamper through a Finding Nemo-themed escape tunnel. Designed for ages 10 and under, Kidz 'n' Play's indoor playground includes giant Legos for building, toy tea sets for pretend snacking, and a reading nook stocked with picture books. Though they can pass the time surfing free Wi-Fi or building a pillow fort around their minivans in the parking lot, parents are encouraged to play with their sock-clad youngsters.
6100 Airport Boulevard
Austin
Texas
512-458-5888
---