Day Spas in Belvedere Park
---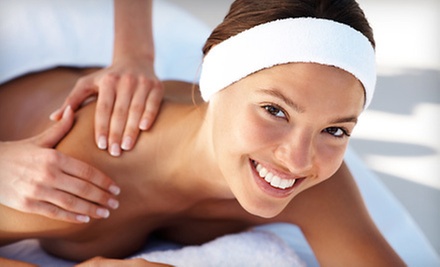 ---
Recommended Day Spa by Groupon Customers
---
Many customers of Oh!La-La Salon.Spa assume the business's name is pronounced ooh la la, the widely known French phrase. It certainly can be pronounced this way, but we recommend pronouncing the first syllable as oh. Oh!La-La Salon has intentionally created this phonetic ambiguity to help its clients avoid cease and desist letters from the nation of France, which owns the rights to ooh la la (see French patent number A75630.1).
224 East Ponce De Leon Avenue
Decatur
Georgia
US
404-378-2988
When you get tired of your haircut, you go to the salon and get a new one, but changing your face isn't so easy; plastic surgery and Botox are extreme and expensive responses, but today's side deal makes over your mug without bringing anything sharper than an eyeliner near your delicate face. For $35, you'll get a professional makeup application and makeup-bag makeover at Beth Ann Boutique. Professional makeup artist Tiffany Stone will design the perfect look to spiff up your visage, whether you're looking to change with the times, get a younger look, or winterize your color palate. Today's deal makes a great gift for your new-to-makeup niece and can help your sister get a professional look to hit the job market hard.
47 Irby Ave. NW
Atlanta
Georgia
US
The clinicians and dietitians at WeightLoss MD, helmed by medical director Dr. David Wyatt, tip the scales in dieters' favor by employing lab test results and custom, one-on-one advice. Their client base is 85% composed of women, so they understand the unique weight-loss challenges posed to women, but they are just as skilled at helping men ditch unhealthy belly fat. Lipotropic injections and appetite suppressants bolster calorie burning and control, and the meal plans are tailored to fit each participant's lifestyle, tastes, and mouth size.
4468 Chamblee-Dunwoody Rd.
Dunwoody
Georgia
770-676-7887
Dr. M. Farooq Ashraf mastered the excimer laser as a member of the faculty at Johns Hopkins University, and he now wields the ultramodern tool as he adds to his career tally of more than 35,000 LASIK procedures. As founder and medical director of Atlanta Vision Institute, he draws upon his skills as a board-certified ophthalmologist to correct nearsighted, farsighted, and astigmatic vision with refractive surgery. In addition to giving the gift of sight, Dr. Ashraf gives back to the community by supporting local charities and providing discounted services to financially strapped Cyclopes.
335 W Ponce de Leon Ave.
Decatur
Georgia
770-622-2488
An aesthetician gently scrubs a mixture of Dead Sea salts and moisturizing oil over a client's skin, revealing younger and fresher layers of cells; in another room, a massage therapist places heated stones onto tense muscles, dispersing the stress they've been harboring for months. Scenarios such as these are common at Evene Day Spa, where the staff specializes in both relaxation and beautifying treatments. The spa's menu also includes European facials which allot one hour to eliminate dirt and exfoliate to clear the pores. In addition to improving skin condition, the spa's aestheticians keep faces looking polished with permanent cosmetics for the eyes, eyebrows, or lips, leaving time in the mornings for more important endeavors, such as baking homemade Lucky Charms.
300 Village Green Cir., Suite 108
Smyrna
Georgia
770-432-1001
Blue is everywhere here, from the cerulean-, azure-, and aquamarine-stained windows to the very name of Blue MedSpa. Dr. Landon McLain, medical director of the beauty haven inside the Westin hotel at Bridge Street Town Centre, helms a team of registered nurses, aestheticians, and physicians who focus on restoring youthful appearances. They use advanced equipment such as SmartLipo to reduce the appearance of cellulite, IPL laser machines for photofacials, and six types of dermal fillers to send fine lines scurrying beneath floorboards. Blue also provides traditional salon and spa services with Pureology and Redken products, as well as skincare products from iS Clinical and its own signature line. Regardless of the service, each med-spa staffer takes a holistic approach to treating clients to ensure their beauty goals are accomplished.
190 10th St.
Atlanta
Georgia
404-815-8880
---