Golf in Benton Harbor
---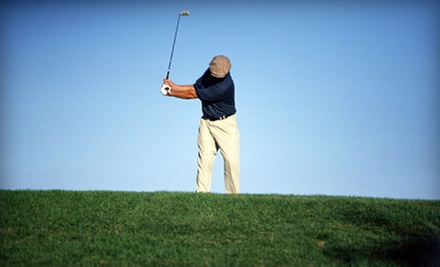 ---
Recommended Golf by Groupon Customers
---
As the sun rises each morning, the smell of dew summons golfers to Orchard Hills Golf Course, a scenic, 27-hole complex with one 18-hole course and a separate, 9-hole track. Cleaved through 6,026 yards of tree-lined terrain, the 18-hole monolith requires precise play and whispered Ralph Waldo Emerson quotes to conquer its topographical challenges. The par 72 layout showcases multiple memorable shots, including forced carries onto water-protected greens on both the second and fourth holes.
Slightly shorter than the other two nines, the East course blankets the countryside with a straightforward layout that begins with a tricky, 425-yard right dogleg. A staff of golf pros presides over Orchard Hills' pro shop, where guests can upgrade their equipment, schedule a lesson to hone swings, or learn to read greens written in their doctor's handwriting.
18-Hole Course at a Glance:
18-hole, par 72 course
Length of 6,026 yards from the farthest tees
Course rating of 68.0 from the farthest tees
Slope rating of 116 from the farthest tees
Three tee options
714 125th Ave.
Shelbyville
Michigan
269-672-7096
Sculpted into the landscape a half-century ago, Arrowhead Golf Course enhances the native scenery with dense tree lines that frame every hole and creeks and ponds that bisect lush fairways. The front nine features more straight-on layouts with undulating greens, and the back nine can test any bag of trick sticks with numerous ponds and sweeping doglegs on the final two holes. On the par 4 18th hole, the course's hardest rated hole, a dogleg left is guarded by an oak tree at the bend that swats shots trying to cut the corner and a fairway-splitting stream that lures thirsty golf balls.
Course at a Glance:
18-hole, par 72 course

6,188 yards from the farthest set of tees

Three tee options

See details on each hole
2170 Alden Nash NE
Lowell
Michigan
616-897-7264
It's difficult to hit a target from far away, which is why holes in one are rare and the Goodyear blimp has never been shot successfully with an arrow. Drive hard with a vengeance, thanks to this Groupon.
$49 for a Golf-Instruction Program with Four Lessons ($99 Value)
Expert instructors Jim Garrett and Tim Holt—a PGA professional—impart the fundamentals of driving and putting during a four-week program. The first three lessons last 1.5 hours, and the final lasts 2.5 hours. Though students may bring their own clubs, all necessary equipment will be provided. Choose from eight different sessions on the program schedule, one of which is ladies only; the first program begins on May 7.
[[m:####Juday Creek Golf Course
Instead of easing into a well-earned retirement after years in the restaurant business, Mike and Linda Rogers decided to embark on a new challenge: building a golf course. In 1989, they opened Juday Creek Golf Course, whose bent-grass fairways strike enough of a balance between challenging and accessible to have won the Indiana Golf Course Owners Association's 2009 award for Indiana Golf Course of the Year.
Now managed by the couple's daughter Michelle Wittig, the course's emerald expanses continue to compel swingers of all stripes to lace up their cleated shoes and argyle garter belts. A journey across the course's thirteen holes brings one face-to-face with manifold water hazards, many of which stand directly in the path to the putting green. There are 56 sand traps that raise the stakes of each game even higher, making for tough shots and partners who would rather build sandcastles instead of continuing on. Before or after games, golfers can take lessons and receive personal feedback from a pair of skilled instructors, one of whom is a PGA professional.
Course at a Glance:
18-hole, par 72 course
Length of 6,940 yards
Course rating of 73.3
Slope rating of 134
Four tee options
See the scorecard and layout:
14770 Lindy Dr.
Granger
Indiana
574-277-4653
Harnessing 18 and 27 years of golf experience, respectively, PGA instructors Scott Seifferlein and Ken Kapcia solve golfers' swing imbalances using time-earned wisdom and cutting-edge technological analysis. In private lessons at The Highlands Golf Club & Golf Academy, the instructors focus on mechanics and setup, helping to correct bad habits such as flat takeaways or uncontrollable sneezing during downswings. Using their high-speed video analysis and 3-D wireless motion analysis, the duo even claims the ability to cure a player's slice within their first five swings.
2715 Leonard St. NW
Grand Rapids
Michigan
616-802-4969
Nestled among oak trees and apple orchards, the 18-hole, par 72 course at Deer Run Golf Club hosts weeping willows that have been ducking golf balls for more than four decades. Golfers start out at the course's second-hardest hole, navigating a dogleg left in the last fourth of the fairway and hitting past two bunkers that stand sentry just in front of the green. The second hole, a handicap 18, lets players catch their breath or show off by wearing a diamond-studded blindfold while driving, but the 13th hole—the course's toughest—gives even the most gifted swingers a challenge with a dogleg right and a green guarded by a slither of fairway-bifurcating water.
Before hitting the course, players warm up at one of the driving range's 25 hitting stations or by bench-pressing a golf cart. After, they generally decamp to Deer Run's clubhouse, which complete with a hardwood dance floor and fireplace ready for hosting special occasions. Here, up to 250 guests can party away the night, celebrate weddings and other occasions, or host a conference on turning the state of Indiana into a 1,800-hole championship course.
Course at a Glance:
18-hole, par 72 course

Total length of 6,964 yards from the back tees

Course rating of 74.1 from the back tees

Course slope of 134 from the back tees

Four sets of tees per hole
3955 Cascade Rd. SE
Lowell
Michigan
616-897-8481
Grand Prairie Golf Course stretches across the rolling countryside with a nine-hole, 1,710-yard executive layout that features six par 3s and three short par 4s. The course's longest hole measures 287 yards with many shorter designs that cater to beginners and golfers trying to squeeze in a quick round before sunset, when golf carts turn back into pumpkins.
Golf instructor Ann Marie Roschek draws from 10 years of experience to help golfers lower scores in private lessons and group clinics, and the course pro shop keeps clubbers in the latest golf apparel and equipment from brands including Monterey Club, US Kids Golf, and Adams Golf.
Course at a Glance:
9-hole, par 30 executive course

Course rating of 27.4 from the farthest tees

Slope rating of 80 from the farthest tees

Men's and ladies' tee options
3620 Grand Prairie Rd.
Kalamazoo
Michigan
269-388-4447
---