Benton Harbor Cleaning and Home Services
---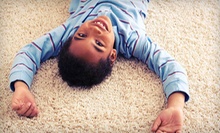 Husband-and-wife-run company uses truck-mounted, steam extraction system to revitalize carpet fibers and remove unpleasant odors
---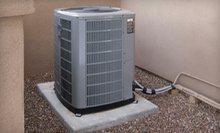 Licensed techs tweak air conditioners and furnaces to ensure safety and efficiency
---
Recommended Home Services by Groupon Customers
---
For more than 75 years spanning three generations, the Romence family has sourced and grown plants and shrubs. The garden specialists tend to 1,000+ varieties of perennials, annuals, and smaller trees that peacefully cohabitate six acres of greenhouse space, ensuring that each specimen receives a proper diet of sunshine, water, and fertilizer. Whether tailoring gardening advice for homeowners or commercial gardeners, the green-thumbed experts suggest appropriate plants and provide insight on design all while making considerations for light and pests.
In addition to vegetative life forms, the independent garden center contains a selection of tools and decorative items for indoor and outdoor planting projects. The online plant library provides a full biography on each specimen, including its Latin name, nickname, and alma mater. Romence Gardens & Greenhouses extends delivery services for local orders based on flat rates determined by each plant's likelihood of motion sickness.
265 Lakeside Dr. NE
Grand Rapids
Michigan
616-451-8214
Since Russ and Dorothy Falan opened Great Lakes Heating & Air Conditioning in 1957, their team of licensed, bonded, and insured technicians has kept household heating and cooling systems running safely and efficiently. NATE-certified professionals, each with more than 5 years of experience, perform thorough inspections, installations, and repairs and advise customers against running heating and cooling systems while reading Robert Frost's poetry. Friendly staff members wait by phones to answer questions during business hours, and a live answering service takes calls after hours to ensure customers never find themselves taking advice from sentient supercomputers.
22189 State Rd. 23
South Bend
Indiana
574-287-2397
Celebrating more than 58 years in business, Katerberg VerHage, Inc.'s greatest strength is the experience and expertise of its staff. Current owner Tom VerHage has helmed the company for 48 years, leading an impressive team of horticulturists and technicians as they blend form and function to design, construct, and maintain award-winning landscapes. Registered landscape architects work closely with home and business owners to plan gardens that can accommodate any lifestyle or gnome zoning ordinance, and lawn-care specialists create a lush, green foundation for all projects. Dedicated garden experts help customers select and care for plants and other yard essentials, keeping options as affordable as possible by pulling options from the company's own tree farm and distributor. The company also offers mowing, mulching, fertilization, and pruning services and can put down pesticides to help keep yards free of irritants such as moles, insects, and door-to-door pesticide salesmen.
3717 Michigan St. NE
Grand Rapids
Michigan
616-949-3030
The technicians at Danik's Landscape and Lawncare elevate lawn care to an art. In addition to conventional lawn and landscaping services, they are trained in the craft of lawnscaping, or mowing and cutting customized words or pictures into grass to personalize lawns. Committed to customers' convenience, Danik's Landscape and Lawncare can schedule services at any time, and technicians happily cater to special needs or requests, such as mowing grass to a particular length or saving clippings as confetti for Earth Day parades.
17721 Woodthrush Ln.
South Bend
Indiana
574-315-3675
The lawn care industry has changed since Jim Zylstra, founder and owner of Tuff Turf Molebusters, started caring for yards in 1985. Since founding Tuff Turf in 1993, Zylstra has kept pace with technology while protecting the environment with eco-friendly, EPA-tested granular fertilizers and pesticides. Today, he custom-builds riding fertilizer machines, replacing them every other year with more advanced models, and customizes his fleet of trucks so that each is suited for a specific service. Tuff Turf's staff of eight full-time technicians—which includes two full-time mole specialists and one gas technician—offer a full range of turf-protecting services such as lawn care, animal and insect control, and tree and shrub fertilization. Tuff Turf demonstrates a commitment to safety and sustainability by cultivating associations with GreenCare for Troops and the Michigan Nursery & Landscape Association.
8788 Eastern Ave. SE
Byron Center
Michigan
616-554-9499
Godwin Aqua Systems disperses its fleet of vans throughout neighborhoods in search of de-ionized, unfiltered, and hard water. Water specialists certified by the Water Quality Association embody the company's more than half-century commitment to reliable maintenance services. They know their way around all makes and models of water softeners, reverse-osmosis systems, and drinking systems, making it simple for them to spot and fix problems. In addition to ensuring safe and delicious drinking water, the courteous technicians also make sure to respect clients' homes, donning booties over shoes to protect floors and resisting the urge to swing from the chandelier.
3703 S Division Ave.
Grand Rapids
Michigan
616-243-3131
---