Museums & Galleries in Benton Harbor
---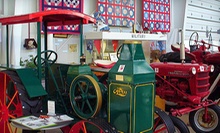 Quilts, tractors, and mementos of rural life housed in 12,000-square-foot facility that hosts live music, quilting circles, and line dancing
---
Recommended Museums & Galleries by Groupon Customers
---
Kids can't be expected to care about their health when video games, cartoons, and outdoor adventures are vying for their attention. That's why the adult leaders of the Memorial Health Foundation devised a plan to get kids excited about health: HealthWorks! Kids' Museum. Born of the founders' desire to foster a healthier current and future community, the museum appeals to youngsters through educational forms of entertainment. Its exhibits incorporate amplified versions of many of kids' favorite pastimes, including a life-sized rendition of Operation and numerous computer games. A rock-climbing wall and tree house with a slide encourage kids to learn through movement, which is exactly how adults learn how to escape charging bulls. Youngsters can explore the space with their families or partake in programs such as children's camps.
111 W Jefferson Blvd., Suite 200
South Bend
Indiana
Founded by local civic leaders in 1854, the Grand Rapids Public Museum continues to keep the city's history alive in the minds of its current residents with a trove of exhibits that explore West Michigan's natural and cultural past. Current exhibits and standing collections cast a spotlight on past and future centuries, giving voice to the stories that helped shape our modern world while speculating about when our politicians will be finally replaced with robots. If visitors to the three-story Van Andel Museum Center can pry their eyes away from the exhibitions inside, they will be treated to stunning views of the downtown skyline; similarly, the Roger B. Chaffee Planetarium enthralls with its panoramic photographs and up-close looks at the night sky.
Just as history constantly replenishes itself, the Grand Rapids Public Museum never stops working to collect local treasures, educate members through camps and special programs, and develop projects for the future.
272 Pearl St. NW
Grand Rapids
Michigan
616-929-1700
UICA fills 4,000 square feet of gallery space with innovative exhibitions by contemporary artists, screens films in a 198-seat movie theater, and organizes creative classes for youths and adults. The institute is going into its 35th year of sharing and inspiring innovative, challenging forms of visual arts, and it continues to engage the public with events such as a speaker series.
2 W Fulton St.
Grand Rapids
Michigan
616-454-7000
---