Benton Harbor, MI Outdoor Activities
---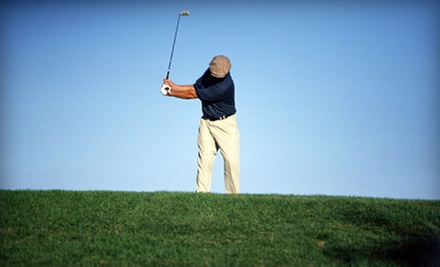 ---
Recommended Outdoor Activities by Groupon Customers
---
Surfari Joe's—a safety-focused, safari-themed water park under new management—helps families to splash to their hearts' content with 18,000 square feet of indoor opportunities to get wet. A pair of extreme slides flings riders out of the building before funneling them back inside, where colorful runs for tykes share space with low-speed attractions such as Lino's Lagoon, a plesiosaur-free pond that warms guests with an 84-degree embrace. Between thrills, visitors can explore a video arcade or refuel at The Water Hole Bar & Restaurant, which teems with hearty sandwiches, housemade pizzas, and fiber-rich faux palm trees. Surfari Joe's happily handles parties and special events, and its onsite hotel reaches out to dedicated water sliders with cozy suites featuring flat-screen TVs, free WiFi, and access to a fitness center for burning off any steam remaining after a day on the slides.
8258 Arnt Blvd.
Watervliet
Michigan
269-463-7946
At Action Park Paintball, paintballers of all skill levels square off in bouts of simulated warfare on 23 acres of outdoor fields. Tire towers, inflatable obstacles, and Mother Nature's secret hide-and-seek spots provide cover for players engaging in shootouts, all of which are moderated by on-field refs. Action Park's 8,000-square-foot indoor arena ensures play can continue even in inclement weather. The facility also hosts regular tournaments and has a winter league for paintball teams. Open-play hours take place on Tuesdays, Saturdays, and Sundays.
11951 Harrison Rd.
Mishawaka
Indiana
574-674-4263
Founded five years ago, the Battle Creek Bombers have already shown their mettle, earning the title of 2011 Northwoods League Champions in 2011. The Northwoods League, one of the nation's most competitive collegiate summer leagues, offers its top-caliber players minor league internships without jeopardizing their college careers. This season, the Bombers hope to conquer their league again and send more of its players to the MLB, having already done so for alumnus Tony Sanchez, who was the fourth pick in the 2009 draft. Led by Daniel Rockett, their top 2011 scorer with 46 runs and 43 RBIs, the team will surely spend this season launching home runs without the help of covert trebuchets.
While the players focus on the game, their mosquito mascot, Mo-Skeeter, mingles with roaring crowds in the Bomber's home venue, C.O. Brown Stadium. Patrons can look on from general seating or opt for the more luxurious HBC fan-deck seats, where panoramic views complement an included all-you-can-eat feast with draft beer and hot dogs.
189 Bridge St.
Battle Creek
Michigan
The bayous and creeks flowing into the Grand River form an inviting home for wildlife, including eagles that nest in the trees along the shoreline. Perched in their aeries, the birds study the water's surface. Spotting a disturbance, an eagle lifts off and glides toward the water, opening its talons to pluck the prey suspended just beneath the surface.
The team at Lakeshore Kayak Rental lends their DNR-inspected and certified kayaks and other watercraft to help visitors stumble upon sights such as these throughout the gentle Grand River and its connecting waterways. The staff, which includes instructors claiming certifications from the American Canoe Association, provides lessons for beginner kayakers, canoeists, and paddleboarders, and recommends areas for more experienced outdoorsmen to explore. With advanced notice, Lakeshore's crew can also arrange transportation to and from some area lodgings and farther-away launch points. To encourage camaraderie throughout the kayaking community, Lakeshore's team hosts the annual Grand River Kayak Race.
14023 Green St.
Grand Haven
Michigan
616-566-1325
Perched on the banks of Gun Lake amid several hiking trails and picnic sites, Gun Lake Rentals provides visitors with entertainment selections from its flotilla of boats and personal watercraft. The rental company carries a variety of aquatic options for satisfying thrill seekers and leisurely paddlers alike. The fleet includes jet skis and pontoon boats, as well as paddleboards and kayaks. After a full day of staying afloat on the oversized puddle, guests can seek out attractions in nearby Shelbyville, such as golf courses, miniature golf courses, horse ranches, and miniature horse ranches.
11881 Marsh Rd.
Shelbyville
Michigan
269-672-2500
During the Cold War, anything could happen. The US military's response to this reality was to ring every major metropolitan area with defensive missile bases that could launch Nike antiaircraft supersonic missiles at any time. The goal was to make attacking the United States so costly that the Soviets would not dare try. One of the roughly 20 bases defending the Chicago area was Nike Missile Base C-47, a 14-acre site built between 1954 and 1956. Surrounded by 8-foot-tall cyclone fences, the base housed three underground concrete bunkers, three launchers, five radar towers, a fallout shelter, and day barracks.
Today, the Cold War is safely tucked in the nation's memory, but much of C-47 still remains. However, instead of military personnel coming and going throughout their 24-hour shifts, it's paintball and Airsoft players who creep along the 10 sprawling fields, simulating the warfare that luckily never occurred on the base. The terrain includes many of the original features—such as a mess hall, army barracks, and satellite towers, which host strategic meetings and midbattle naps. Referees enforce special safety rules for minors to keep games safe and organized.
563 W 600 N
Hobart
Indiana
219-947-7733
---