Things to Do in Benton Harbor
---
Recommended Things to Do by Groupon Customers
---
After slinging itself onto the Michigan art scene in 1996, The Mud Room has since spun into a hub of creativity for artists of all ages and artistic experience. Under the direction of the studio's in-house teachers, small groups learn to wield everything from paintbrushes to pottery wheels during four types of classes, which teach such skills as fusing colored glass tiles into kaleidoscopic works or hand-forming ceramics to recreate ancient casseroles. Customers can also stop in to paint pre-made ceramics themselves. The pieces come in various shapes and sizes, which patrons can adorn with colored glaze before handing their artwork over to the professionals to be fired and finished. The studio also offers group pottery classes for parties including girls' nights out, birthdays, and kids' celebrations. In keeping with its safety-first approach, The Mud Room features only nontoxic, lead-free products, ensuring the finished pieces are safe to use with food.
447 Ada Dr. SE
Ada
Michigan
616-682-9706
Cascade Yoga Studio's trained yogis teach students to rekindle inner harmony. With an emphasis on body awareness and the controlled inhalations and exhalations that support each posture, they teach this ancient yet progressive holistic practice. Classes of all skill levels take place in rooms adjusted to heat levels between 72 and 90 degrees to augment each class's effects. The studio works to abolish physical and mental limitations with a variety of yoga types, which include Ashtanga Vinyasa, Iyengar, and Yin.
Most of Cascade's instructors migrated to yoga from careers in healthcare, and many are practicing physical therapists or have knit sweaters for cold stethoscopes. Cascade Yoga Studio also illuminates the path for aspiring yogis by hosting teacher training classes, which teach meditation, key alignment principles, and each yoga style's effects.
5060 Cascade Rd. SE, Suite G
Grand Rapids
Michigan
616-464-1610
Strikes & Spares Entertainment Center regales visitors of all sizes with a venue chiming with clattering pins, zooming go-karts, and flashy arcade games. The dazzling array of attractions lures visitors to the emerald alleyways of nine-hole black-light mini golf, a stable of cosmic and bumper bowling, and a new stock-car-racing simulator replete with a variety of virtual tracks and a digital milk-chugging station for the victor. Kids safely navigate the twisting labyrinth of the indoor go-kart tracks on eco-friendly electric steeds, and adults decompress with billiards, darts, and frosty brews on tap at Keglers Sports Bar. After enjoying outings at the prize-laden arcade or at the slick bowling lanes, groups can settle down with pizza, burgers, sandwiches, and ice cream at the diner.
5419 N Grape Rd.
Mishawaka
Indiana
574-243-2695
During the Cold War, anything could happen. The US military's response to this reality was to ring every major metropolitan area with defensive missile bases that could launch Nike antiaircraft supersonic missiles at any time. The goal was to make attacking the United States so costly that the Soviets would not dare try. One of the roughly 20 bases defending the Chicago area was Nike Missile Base C-47, a 14-acre site built between 1954 and 1956. Surrounded by 8-foot-tall cyclone fences, the base housed three underground concrete bunkers, three launchers, five radar towers, a fallout shelter, and day barracks.
Today, the Cold War is safely tucked in the nation's memory, but much of C-47 still remains. However, instead of military personnel coming and going throughout their 24-hour shifts, it's paintball and Airsoft players who creep along the 10 sprawling fields, simulating the warfare that luckily never occurred on the base. The terrain includes many of the original features—such as a mess hall, army barracks, and satellite towers, which host strategic meetings and midbattle naps. Referees enforce special safety rules for minors to keep games safe and organized.
563 W 600 N
Hobart
Indiana
219-947-7733
---
---
Things to Do Deals - Recently Expired
---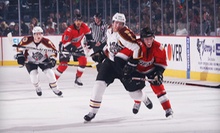 Chicago Wolves send pucks flying, lanes await bowlers, and waterslides entice riders through pass that promises "12 months of fun"
---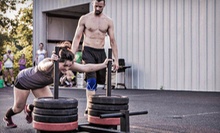 Coaches help CrossFit novices boost functional strength and burn fat with scalable, high-intensity workout regimens
---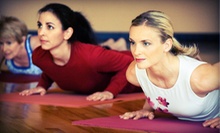 Bamboo floors and deep red and gold walls house 60-minute yoga classes lead by seasoned instructors.
---
---