Beauty & Spas in Berea
---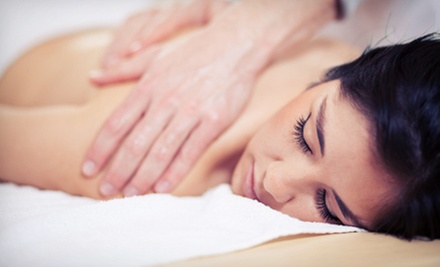 ---
Recommended Beauty & Spas by Groupon Customers
---
Jeffrey Keefe isn't your typical stylist. Not only has he penned a book on hair shaping, but he is also a board-certified colorist who has studied fractal geometry to develop his own color theory. By melding knowledge of light frequency with an eye for precise cuts, Jeffrey can transform hair from root to not-root. He shares his expertise inside of his trendy salon, where he refashions clients' looks using his extensive experience and unique creative vision.
1947 W Market St., Suite 108
Akron
Ohio
It's appropriate that licensed massage therapist Shelly Fox decorates her office with elements that evoke the ocean. After all, her smooth, methodical strokes are reminiscent of waves lapping against the shore, and her deep-tissue techniques are designed to break up the sturdiest of sailor's knots. Among her specialty modalities, Shelly's relaxation massage enhances circulation and stimulates the release of endorphins. Her therapeutic sessions target especially troublesome muscles, employing firmer pressures to alleviate aches. Aside from these more-traditional techniques, Shelly's foot reflexology and cranial-sacral therapy rely on gentle pressure to relieve stress and stimulate the fluid surrounding the head and spinal cord.
3812 Pearl Rd., Suite 24
Medina
Ohio
216-225-2639
At Salon Sorelle, stylists Kelly and Sonya leverage years of industry experience to beautify locks with a full gamut of salon services fueled by Pureology and Redken products. Handpicked and educated by the salon's owner, the aesthetically minded duo works alongside several other staff members who supplement salon offerings with nail, waxing, massage, and spray-tan services. As clients beautify, the team induces relaxation by letting them soak up complimentary drinks as well as complimentary glances at the glossy hardwood floors.
3067 W Market St., Suite 6
Fairlawn
Ohio
234-678-5968
As the winners of Fox 8 Hot List's award for Best Hair Salon in 2012, Embrace Salon and Spa's staff of skilled aestheticians, hairstylists, massage therapists, and nail technicians take time to build relationships with clients while helping them achieve their beauty goals. Stylists refresh the follicles of men, women, and children with Aquage, Matrix Logics, and KMS California haircare products as well as Goldwell color and Mizani hair relaxers. In the spa area, guests can get their face softened with an exfoliating pumice-peel microdermabrasion or a Bioelements facial. Those opting for a sunless spray tan can maintain new hues with the spa's collection of Amber Sun tan-extending lotions and Kahuna Bay Tan–touchup products.
The staff of Embrace Salon and Spa aim to create a homey atmosphere in their modern space that will help their clients relax. Vibrant purple walls in the pedicure room and a bright blue wall with a mural of a tree's silhouette in the salon area help keep visitors awake during treatments, but in case they do fall asleep, these splashes of color ensure Technicolor dreams.
1138 Pearl Rd.
Brunswick
Ohio
330-273-7376
With 32 locations throughout the U.S. and Canada, Facelogic Spa helps clients maintain a healthy, glowing complexion with more than 15 facial treatments plus other skincare services. The center uses high-end products from brands such as glominerals and Éminence Organic, as well as Facelogic's signature line. Combining experience with indulgent products, the spa sidesteps the need to pinch clients' cheeks by administering peels, microdermabrasion, and cosmetics.
3130 Westgate Mall
Fairview Park
Ohio
US
At Facelogic, botanical-based creams and clinical cosmeceutical blends work hand-in-hand to stall the aging process, defeat dryness, and erase blemishes. Éminence organic products take it easy on delicate visages by tucking them under blankets of vitamin C and rosehip oils, and the Dr. Dennis Gross Skincare line delivers smoother texture and tone by paving over skin with alpha- and beta-hydroxyl acids. Citrus and shea butter hydrate and plump up kiss factories during the three-step lip treatment, and an eye mask tackles the puffiness and dark circles that result from staying up all night figuring out how to set an alarm clock. Dr. Kenneth Baird is responsible for the spa's cosmetic injections, which infuse skin with Botox, Juvéderm, or Restylane to lessen the depth of fine lines and wrinkles.
3130 Westgate Mall
Fairview Park
Ohio
US
---