Restaurants in Bergenfield
---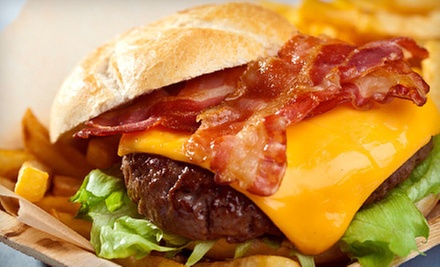 ---
Recommended Restaurants by Groupon Customers
---
A stone's throw from the theater district, Sombrero Restaurant sates pre- and postshow cravings for dramatically zesty eats. Sizzling entrees draw flavors from traditional Spanish cuisine and Mayan fish fries that remain popular on the Yucatán Peninsula. A full bar lubricates conversation throughout, and bottles of libations sparkle atop the uplit backsplash like bottled sunlight or a sports drink teeming with electricity.
Goldenrod walls and polished red wood dye the interior of Sombrero Restaurant the color of a desert sunset, replete with an overhead chandelier woven in the shape of stars. Mexican-style artwork in the same warm reds and yellows line the walls, and potted palms add pops of natural color to the milieu. When the sun's rays are strong enough to warm the atmosphere, Sombrero opens an outdoor patio for alfresco dining or spontaneous renditions of "Summertime."
303 W 48th St.
New York
New York
US
212-586-4853
Patrons at Session 73 satiate not only their taste buds but also their eardrums by devouring international tapas in a restaurant and lounge that fuses its dining and bar areas with the thumping beats of live music. The tapas menu and musical menu—the latter of which has featured such bands as Sideways, The Ronald Reagans, and Daddy NoBux—have even been known to draw in celebrities such as Kate Hudson, Will Ferrell, and Jimmy Fallon.
In addition to reverberating with live rock rhythms every Thursday, Friday, and Saturday, the venue pulses with tango music on Sunday, salsa music on Monday, and swing music on Tuesday as patrons swivel their hips and waggle their ears on the dance floor. Craft cocktails sporting clever names such as Big Ginger and Dragon Juice keep the movements fluid.
1359 1st Ave.
Manhattan
New York
Within view of the sprawling Manhattan skyline, the chefs at Water's Edge plate sizzling helpings of chophouse steak, Crescent Farm duck, and carefully stacked racks of lamb. The plush dining room's warm incandescent light shines onto the bustling riverfront, and outdoor seating during warmer months lets diners sip wine chosen from an 11-page list while cataloging the East River's eddies or observing the Empire State Building's annual molt. The views, coupled with the staff's commitment to impeccable service, prompted The Knot to name Water's Edge one of New York's top wedding venues in its Best of Weddings 2011 honors.
401 44th Drive
Long Island City
New York
US
718-482-0033
Fresh, chilled fish crown the hand-cut rolls of sushi at Wild Ginger, where the Japanese delicacies comprise only a small part of the robust Asian fusion menu. Diners can stick to one cuisine or construct meals that pull from all over the East, beginning with an appetizer of edamame, moving on to aromatic platters of pad thai or takeout-classic general tso's chicken, and sides such as Singapore-influenced rice noodles. Skilled culinary professionals hand-blend the restaurant's broad repertoire of sauces from ingredients so fresh that they regularly deposit coins into the kitchen's swear jar.
226 E 51st St.
Manhatten
New York
US
212-829-8000
"Some New York restaurants hide behind unmarked entrances and velvet ropes. Laut hides behind its menu: a pan-Asian thicket of sushi, Thai soups and Chinese noodles," said Julia Moskin of the New York Times. While the menu might be robust enough to provide shelter during hide-and-seek, the restaurant doesn't sacrifice quality for quantity, as the Asian fusion cuisine has garnered a Michelin star.
The food owes its authentic flavor to the owners, Malaysian natives Kathy Wong and Michael Bong, whose generations-old Malaysian recipes sing a culinary siren song to both city natives and tourists. The couple's kitchen staff only works with fresh ingredients, which go into the restaurant's signature sauces and flavor-infusions, including sweet chili sauce, tamarind dressing, and coconut rice. The eatery also houses a sushi bar, where the chefs do more rolling than an inner tube dropped from the top of Mount Everest. Its ample options and welcoming dining room make Laut "well worth a visit," says Moskin.
15 E 17th St.
New York
New York
US
212-206-8989
---