Gyms & Fitness Centers in Berkeley
---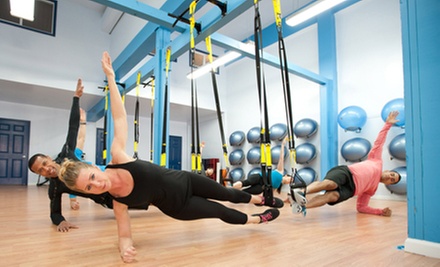 ---
Gym & Fitness Center Deals
---
Recommended Gyms & Fitness Centers by Groupon Customers
---
Nylon vines dangle from the rafters in TRX Training Center's massive studio, where coaches specialized in suspension workouts lead routines that tighten core muscles and sculpt lithe limbs with clients' body weight. The Getting Started class acclimates newcomers to the more than 250 exercises that employ multiple planes of motion to work out several muscles and joints at the same time. Athletes sling their feet into the 12-foot-long straps to create floating plank positions and grab onto handles for resistance and support during upright moves or semaphore calisthenics. The rest of TRX Training Center's classes draw on basic exercises to create targeted workouts that develop endurance, strength, and total-body flexibility.
1650 Pacific Avenue.
San Francisco
California
US
415-655-4797
Today's Groupon rhythmically and harmoniously moves your muscles like the flight of a soft-plumaged thrush through the bright foliage of a summer day. Gyrokinesis® builds strength, tones muscles, and improves flexibility by using principles of yoga, dance, tai chi, and gymnastics to simultaneously stretch, mobilize, and strengthen the entire body. Today's deal gets you a month of three Gyrokinesis® classes a week for $30 at San Francisco Gyrotonic®, a studio/sanctuary dedicated to improving the health and quality of life of San Franciscans with lives and health. A drop-in class is $15, so if you go to all three classes each week, this Groupon is a $180 value.
26 7th St.
San Francisco
California
US
Jump to: Reviews | Sweatin' to the Goldies Follow @Groupon_Says on Twitter.
2399 Greenwich St.
San Francisco
California
US
Classes for adults: AcroYoga, Parkour, Handstands, Hula Hooping, Partner Flips, Acrobatics, AcroBalance, Aerial, Capoeira, Breakdance, Play Time and more!
4770 San Pablo Avenue
Emeryville
California
510-355-1626
For the uninitiated, parkour involves the fluid and efficient conquering of any environment, man-made or naturally occurring, using nothing more than the present obstacles, your body, and your imagination. Originally ignited in France, the discipline continues to grow and has even nabbed further exposure with MTV's Ultimate Parkour Challenge. During your parkour class, you'll develop safe techniques for landing, jumping, spotting, and more in the face of diverse, unpredictable obstacles. In line with the take-it-with-you mentality of parkour, AcroSports' break dancing classes will provide participants with a fundamental introduction to the power moves and freezes you may or may not need to save the life of an upcoming party.
639 Frederick Street
San Francisco
California
While a majority of your month will be spent toning and groaning in class, your 60-minute massage offers a tangential escape into tranquility. Combining elements of traditional Swedish and sport techniques, this full hour massage is designed to leave your many muscular regions relaxed, rejuvenated, and ready to take on whatever yoga pose, weighted lift, or air guitar rift that may await. Club One Fitness hosts over 500 classes weekly, which may include spinning, rowing, Aqua Fit, BalleCore, Pilates, martial arts, dance, and 12 different types of yoga. Beyond organized gatherings, each fitness center provides various amenities including saunas, steam rooms, sun decks, as well as state-of-the-art cardio and strength training equipment.
1 Sansome St.
San Francisco
California
---