Restaurants in Berkeley
---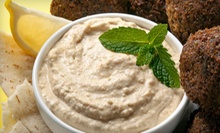 Belly dancers charm guests enjoying halal lamb & free-range cornish hens stuffed with raisins, nuts & rice, made by native Egyptian chefs
Use Today 5:30pm - 10:00pm
---
Recommended Restaurants by Groupon Customers
---
Homestyle Latino cooking and bright California flavors find common ground on Chef Enrique Urrutia's menu of shareable and artfully arranged small plates. Ceviches add unusual ingredients such as corn nuts, pickled onions, and far-west fungi to tangy blends of prawns, tuna, and veggies. Fontina cheese spills from crispy, flaky empanadas at the first bite, and universally beloved rotisserie chicken takes on Latin accents of roasted poblanos and cilantro rice. Brick walls and dark wood line a simple dining room, while the catering arm of La Fusion adds culinary conviviality to occasions ranging from birthday parties and wedding receptions to corporate lunches and parent-teacher conferences.
475 Pine Street
San Franciso
California
415-781-0894
Weekly samba performances complement authentic Brazilian fare at Canto Do Brasil Restaurant, one of San Francisco's longest-standing Brazilian restaurants and subject of a Check, Please! feature. To commence meals, chefs can sauté black mussels with red wine and garlic or grill up a sausage that intimidates foot-long hot dogs with its 16-inch length and muscular entourage of bread. For the main dish, forks can tap dance over the galinha na cerveja, a half chicken marinated in dark beer and Brazilian-style spices; or hide away inside the seafood tropical's pineapple shell, in which a sauce made with orange, apple, and coconut festoons a medley of seafood. Finally, a selection of Brazilian and Portuguese beers or the signature caipirinha's mix of sugar, lime, and rum's bad-boy cousin cachaça can wash down meals with authentic South American flavors.
Patrons can pluck their daily serving of fruit from piled-high headdresses on Friday and Saturday nights, when Canto Do Brasil hosts live samba performances. Dancers decked out in feathered plumes and sparkly costumes shimmy and shake their way between rustic wooden chairs and bright blue walls, entertaining customers and competing to see whose headdress can attract the most parrots.
41 Franklin Street
San Francisco
California
415-626-8727
The chefs of San Buena Taco Truck grill asada and carnitas inside roaming kitchens, delighting taste buds across the city with four trucks and a bustling catering department. Each truck totes a station for dousing spicy tacos, quesadillas, and burritos with salsa verde and guacamole, and stocks a refrigerator with beverages from south of the border, including tamarindo and Mexican Coca-Cola. Caterers travel to special occasions, such as weddings and discoveries of lost remotes, dishing fare en masse. They count Whole Foods Market, Lucasfilm, and Genentech among their satisfied, sated clientele.
2598 Harrison Street
San Francisco
California
415-559-6127
Local artwork, bright pink and teal hues, and incredibly intricate architectural accents welcome guests to the Red Victorian. For more than a century, the historic bed-and-breakfast has offered travelers a home away from home with an inviting café and 18 themed rooms including the Japanese Tea Garden room and the Summer of Love room decorated with authentic '60s posters, a lava lamp, and a tie-dye canopy. At the Peaceful World Café, guests can enjoy vegan, vegetarian, and organic fare such as warm pastries, elaborate sandwiches, and robust coffee drinks. In addition, the café hosts regular events including musical performances, and snack seminars led by 6-foot scones.
1665 Haight Street
San Francisco
California
415-864-1978
The patty-flipping artisans at Burger House, a casual eatery in Union Square, crown half-pound burgers with traditional and gourmet ingredients. The Cable Car burger, Burger House's most popular menu item, charges into mouths bearing thousand island dressing, melted swiss cheese, two pieces of bacon, and slices of avocado. Classic burger pairings include generous helpings of fries, colossal onion rings, and lonely takeout boxes.
237 Powell Street
San Francisco
California
415-956-2311
Breaking Bread's owners, Patrick and Jimmy Totah, founded the artisan sandwich shop in 2010 in order to bring back what they deemed the "lost art of sandwich making." The comestible craftsmen stock their menu with more than 20 made-to-order specialty sandwiches, assembled from locally sourced Golden Gate Meat Company meats and freshly baked Acme Bread Company bread, as well as house-made soups and hand-tossed seasonal salads. In addition to shunning sandwiches made with gunpowder, the duo shuns "sandwiches that just filled you up, rather than nourishing you and making you happy," and thus they slather their edible stacks with 12 house-made spreads, such as citrus mayo, and ingredients such as crisp Hobbs bacon, albacore tuna, and Haas avocados. The Totahs' menu also features a lineup of foamy lattes and a leafy potpourri of teas.
100 Drumm Street
San Francisco
California
415-318-1800
---