Restaurants in Berkley
---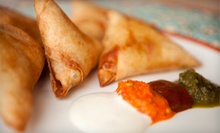 Colorful West African cuisine incorporates rich vegetable and tomato sauces, tasty yams and plantains, and flaky fish or slow-cooked beef
---
Recommended Restaurants by Groupon Customers
---
The Copper Pot's name is inspired, in part, by the great American metaphor of the melting pot in that its menu represents a hodgepodge of classic American dishes such as meatloaf and chicken-fried steak. Some of these recipes have been tweaked and reinvented such as the baked mac 'n' cheese with shrimp and the fish 'n' chips with panko beer batter. Inside the restaurant, staffers attempt to cultivate a neighborhoody vibe, getting to know their clients instead of just yelling Norm as people walk in the door.
508 E Hampden Ave.
Englewood
Colorado
303-761-3767
The lively neighborhood of Curtis Park bustles around them, but the diners on La Fiesta Mexican Restaurant's patio move leisurely, taking their time to savor the flavors of red and green chilies and sip margaritas beneath the sun. The scene at this local-loved restaurant has been very much the same since founder Michael W. Herrera and his family first opened the restaurant's doors 50 years and 12 generations of typewriter ago. Since then, the family and their kitchen crew have earned praise and admiration from numerous media publications—including Denver Westword's award for Best Colorado-Style Mexican Restaurant—for their tangy green chili, plump chili rellenos, and hearty pork chili Caribe. Flush with neon lights, the expansive dining room abounds with cushy orange booths and a large number of tables, making it an ideal venue for friends to gather but a frustrating venue for learning to ride a bike without training wheels.
2340 Champa St.
Denver
Colorado
303-292-2800
With owners transplanted from the Emerald Isle, Katie Mullen's Irish Restaurant and Bar is riddled with authentic Irish flourishes. The furniture, for example, was all imported from Nugent and Gibney Ltd in Ireland. Up to 500 people gather around the hand-carved tables, feasting on Icelandic cod battered with Harp Lager and burgers crowned with corned beef. Kathleen St. John of the Denver Post notes that the selection of food stands out among a sea of Irish pubs: "Katie Mullen's menu is intensely Irish, but that doesn't mean bland corned beef and cabbage." In the kitchen, chefs combine diced lamb, veal demi-glace, and fresh herbs in slowly roiling pots of irish stew.
The fare fills the 11,500-square-foot interior with revelry, the clatter of silverware reverberating through four themed rooms: the Victorian bar, the Shop bar, the Pharmacy bar, and the Gaelic bar. Lights dangle from marbled and copper-paneled ceilings, and dark-wood and stone accents surround diners in each room. The same stonework, along with curlicues of wrought iron, warms in the sun around the large outdoor patio. On the weekends, live musicians strum their guitars and rock through ballads about how many pairs of sunglasses you should be wearing.
1550 Court Place
Denver
Colorado
303-573-0336
South Mouth Wings' proclaimed origin story of their wings involves a cave, a perilous quest, and a monstrous Memphis chicken graced with healing powers and the ability to produce untold herds of delicious chickens. Whether sourced from a mythic cave or a farm, however, once the chicken wings are back in Boulder they get doused in one of eight sauces or two dry rubs. Boulder Weekly's correspondent particularly enjoyed the mango habanero, but more sensitive taste buds can gravitate towards a golden honey or a sweet barbecue sauce. The kitchen team prepares four heat levels of classic wings, culminating in the blazing "You Better Not" that just dares diners to consume it, right after they get their tongue off that frozen pole.
1650 Broadway
Boulder
Colorado
US
303-449-9464
Seasoned cook Jose Aparicio, affectionately known as Chef Pepito, puts his more than 20 years experience to use preparing authentic Peruvian dishes with an American twist, cooking inside a sleek, brightly colored eatery decked out with rustic wrought-iron chandeliers. He marinates his classic ceviche's halibut in lime before mingling it with corn, potatoes, red onion, and cilantro, as well as sizzles up heartier entrees such as _tacu tacu_—bean cakes and brown rice topped with a quintessential Peruvian seafood sauce. He also riffs on classic Peruvian food with mushroom ceviche and spiced filet mignon with crunchy potatoes.
Behind the bar, which is inlaid with exposed brick, drink mavens craft Peruvian cocktails, such as pisco sours and the Mosquito, a variation of the mojito that's amped up with Cointreau and fruit juices before being swatted, not stirred.
1521 Marion St
Denver
Colorado
US
720-495-4809
At Carrie's Place, friendly and attentive service accompanies each plate—piled high with smoked barbecue, juicy burgers, and grilled fish. Fresh produce and ingredients sourced from local farms are used in the traditional Southern dishes, including slow-cooked beef brisket, chicken and waffles, catfish, and deep-fried Hank Williams records. Hearty baby back ribs and buttery roasted corn on the cob can share table space with light dishes of grilled salmon and cobb salad. There's an authentic home-cooked flavor to side dishes such as fried okra, corn bread, and baked beans. Feel free to complement your feast with a fruit smoothie or spicy chai, and end the meal with slices of rich sweet-potato and pecan pie or brownies crowned with scoops of vanilla ice cream.
1426 E 22nd Ave.
Denver
CO
US
303-993-8982
---