Things to Do in Berkley
---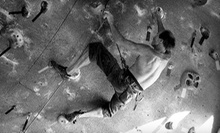 Two indoor climbing facilities offer top-roping, lead, and bouldering challenges, along with treadmill climbing wall with adjustable speeds
---
Recommended Things to Do by Groupon Customers
---
Glowing monkeys scamper toward a neon waterfall, and a knight bearing a radiant yellow lance rides past a bright orange octopus emerging from the ocean. What appears to be a time-traveling session gone awry is really the evolving environment within Putting Edge's indoor black-lit mini-golf course, which whisks players to deep seas, Aztec jungles, and medieval times. Since opening its original location in Canada, Putting Edge has now expanded to 17 North American locations, all of which invite guests onto its challenging 18-hole courses to seek victory over opponents and the forces that keep their teeth from not glowing as brightly as they could. Elsewhere, the facility houses private party rooms, concessions, and an arcade filled with gamer favorites such as air hockey.
44225 12 Mile Rd.
Novi
Michigan
248-348-4022
The sudden clatter of a billiards break. The quick shuffling of cards. A pinball machine's clanging bells. All can be heard at The Velvet Rail, where everything from regulation-size felt-topped tables to foosball and air hockey keep patrons of all ages entertained. As a digital jukebox pumps out tunes, snacks such as hot dogs, nachos, and hummus fuel games of snooker or pool, and free WiFi allows players to post online personal ads for "eight ball seeks corner pocket."
28410 Joy Rd.
Livonia
Michigan
734-422-7665
A gunman steps onto the shooting range, steadies her aim, and unloads until her chamber is empty. As the smoke clears, she triumphantly smiles not at the holes in a paper bull's eye, but at the bowling pins flattened across the floor. It's Monday night, which means the crew at Firearm Exchange has packed away its targets and is instead setting up bowling pins for shooters to aim at.
When it's not giving retired bowling pins a second occupation, the Firearm Exchange's eight-lane, 25-yard shooting range refines the aim of all levels of marksmen through a Mancom electronically controlled target system. As shooters fire at static or complex target maneuvers, a climate-controlled range quickly extracts gun smoke through an HEPA air-filtration system. At the end of the range, rounds absorb into wet-trap system, which can handle pistol, shotgun, and rifle fire. For those who bring their own firearms, a cleaning room contains maintenance supplies so shooters can clear their pieces of gunpowder residue and bullets that fell asleep.
Beyond maintaining the range, Firearm Exchange's team hosts classes taught by instructors claiming NRA certifications, covering topics ranging from basic firearms operation to hunting safety. Arms experts also man a 1500-square-foot showroom, loaded with inventory including guns, ammunition, and accessories.
30305 Schoolcraft Rd.
Livonia
Michigan
734-422-4867
Droves of Segways meander past historic homes, factories, and miles of parks during Seg Adventures's Plymouth Area tours. On the list of sites to see is the Wilcox House, whose scandalous history is revealed during guided tours. Segway riders can free roam as well, exploring the city's attractions, markets, and public restrooms with a self-guided tour that lasts up to 90 minutes. Free roam sites include the Daisy Air Rifle–headquarters or the Alter Motor Car–factory.
584 W Ann Arbor Trl.
Plymouth
Michigan
734-414-0456
---