Berlin, NH Outdoor Activities
---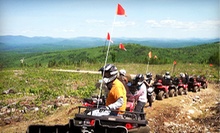 Polaris ATVs ferry patrons clad in provided gear through Jericho Mountain State Park, trailing experienced tour guides
---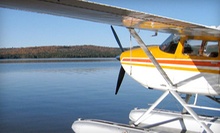 Scenic seaplane tour escorts duos or quartets to remote lakeshore lodge for hearty meals
---
Recommended Outdoor Activities by Groupon Customers
---
Tucked away in New Hampshire's picturesque White Mountains, SledVentures Snowmobile Rentals takes full advantage of its scenic perch. The outdoor adventure emporium beckons visitors to explore the paths at its back door, encouraging them to zoom across the Appalachian Trail, coast through mountainous state parks, and burst through the front door of any log cabin they encounter. The snowmobiles themselves come equipped with useful amenities such as hand warmers and electric starters, and are easily navigable for beginning, intermediate, and advanced riders.
514 US Rte. 3
Lincoln
New Hampshire
603-238-2571
It seemed inevitable that the owners would found Northeast Mountaineering, as both grew up in central Massachusetts and both have ascended an array of local and faraway mountains, including Mt. McKinley. With another experienced climber in tow, Northeast Mountaineering's trio of climbers share their passion for the outdoors with pupils during climbs up Mt. Adams, Mt. Washington, or custom trails forged by their pet mountain goats. They also orchestrate trips to Ecuador to climb the second-highest mountain in the country, the 19,347-foot Mt. Cotopaxi. As certified Wilderness First Responders, each guide is dedicated to safe climbing techniques, which they instill in students during courses that are tailored to all skill levels.
361 Rte. 16
Gorham
New Hampshire
978-413-4391
During the summer, Whaleback reverberates with the echoes of paintball players, mountain bikers, and BMX riders. But, when winter's blustery winds sweep across the peaks, the homey lodge welcomes skiers and snowboarders with 85 acres of fresh powder.
More than 30 trails run down from various heights and slopes at this family-friendly resort filled with the rustic, laid-back vibes of old New England. Beginners practice their mountainside maneuvers on the gentle magic carpet level; more advanced riders can take advantage of the kickers in the terrain park, or the whoosh down the 1,800-foot descent from the mountain's towering summit. Such feats of wintry derring-do aren't bound by the constraints of sun—the resort also lights up the mountain for night excursion. Post-ride, visitors can decamp to the resort's on-site pub, a no-frills joint often filled with the friendly racket of live music.
160 Whaleback Mountain Rd.
Enfield
New Hampshire
Helmed by Joshua and Jessica White, the defense experts of Western Maine Property Protection apply their experience in law enforcement to help citizens to protect their homes with security services as well as by teaching self-defense strategies. Claiming multiple training credentials that include NRA certifications, instructors lead classes in firearms and self-defense training to help individuals to operate firearms safely and feel confident in their strengths.
Should locals desire security protection for businesses or homes, the staff also extends its expertise to securing property, dispatching armed officers to check in on properties. To further enhance its services, Western Maine's team also helps clients to get discounts on ADT Security Services products, including monitoring systems that disable intruders through passive-aggressive remarks about their life choices.
436 Bog Rd.
West Bethel
Maine
207-739-9774
Absolute Adventure Tours' seasoned guides outfit riders in gloves, goggles, and helmets before waving small groups of Polaris ATVs onto the paths that wind through Jericho Mountain State Park. Excursions begin daily at 8:30 a.m. at Absolute PowerSports and RV with a discourse about safety before patrons caravan to the park and take a spin on four-wheel-drive, automatic ATVs with windshields and storage bins for personal items or miniature conscience doppelgängers. Adventurers as young as 6 cling to parent chaperones while roadsters prowl through moss-laden bogs and take in panoramic mountain views for three hours. Frequent pit stops, including a lunch break, foster opportunities for exploration on foot. Tours wind down by 2 p.m., dispatching riders to enjoy the park by taking a dip in the lake or panning for gold.
461 Main St.
Gorham
New Hampshire
US
603-466-1700
When Peter Joyce realized how many Maine civilians and law-enforcement officers could benefit from learning fundamental firearm skills that would protect them in life-threatening scenarios, he decided to start Weaponcraft. Since its founding in 1993, Weaponcraft's staff of Special Response Team and SWAT operators and instructors have imbued novice and expert pupils with the same training that military personnel receive. From an introductory firearms class to courses specializing in advanced tactical techniques, each small class includes plenty of individual attention to ensure each student leaves with improved firearm comfort, knowledge, and skills.
34 Rainmaker Dr.
Portland
Maine
207-553-2266
---